Posted on February 28, 2022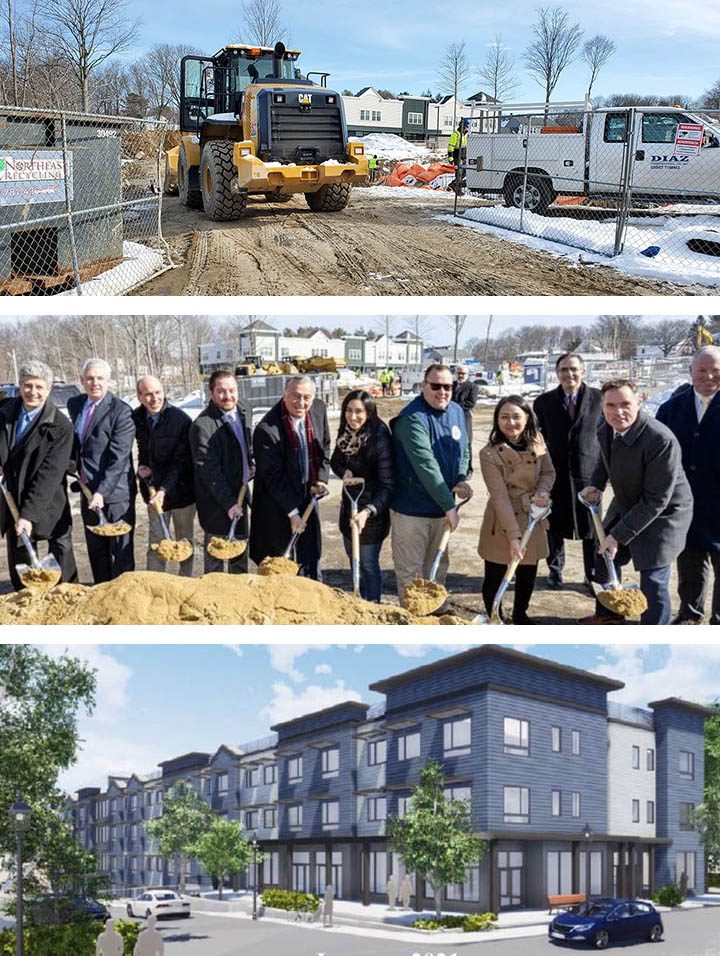 HOLBROOK --- Continuing its focus on supporting housing that is affordable, walkable and energy efficient, the Massachusetts Housing Partnership (MHP) has committed $4.5 million in long-term financing to support the development of Holbrook Center Senior Housing.
Developed by NeighborWorks Housing Solutions, the development will transform two aging downtown commercial sites into a modern apartment building with 72 affordable apartments for residents 62 and older. The new homes will be within walking distance of a number of town services and a block away from the town's senior center.
MHP is providing this financing through its Green & Healthy Housing Programs, which provides lower interest rates and other financial incentives for owners who invest in increased energy efficiency and healthy building design. Launched in 2019, MHP has made 25 loan commitments to affordable housing developers who plan to pursue incentives through MHP's green and healthy programs. Holbrook Center Senior Housing is designed and being built to meet an efficient energy-use standard known as Passive House, a performance-based certification that focuses on dramatic reduction of energy use for heating and cooling.
NeighborWorks Housing Solutions is one of the top affordable housing organizations in southern Massachusetts. Established in 1981 to revitalize a single neighborhood in Quincy, it has grown into a regional housing leader with housing or housing services in more than 25 communities, including Brockton, Fall River, New Bedford, Quincy, Taunton and Attleboro.
4th MHP loan to NeighborWorks
This is the fourth loan commitment MHP has made to NeigbhorWorks Housing Solutions, totaling nearly $7 million for the financing of 186 apartments. MHP also provided financing support to NeigborWorks Housing Solutions to support its merger with Housing Solutions for Southeastern Mass. in 2019.
"We are excited to be working once again with NeighborWorks Housing Solutions to bring more affordable housing to the region that will be energy efficient and within walking distance of services residents need," said Clark Ziegler, MHP's executive director.
The $28 million development is being financed primarily with federal and state low-income housing tax credits, and other state funding awarded by the Department of Housing and Community Development (DHCD). Eastern Bank is the construction lender. The project development team consists of Narrow Gate Architecture, NEI General Contracting, and property manager Maloney Properties
A groundbreaking ceremony was held at the site at 120 North Franklin St. on Feb. 16. Speakers and guests included Roger Herzog of CEDAC, state Sen. John Keenan (Quincy), MHP Senior Loan Officer David Hanifin, NeighborWorks real estate director Tim Doherty, state Rep. Mark Cusack (Braintree), House Speaker Ron Mariano, Holbrook Select Board Chair Lindsy Vayda, Select Board member Dan Lee, NHS real estate committee member Sherry Zou, NHS CEO Rob Corley, NHS board member David Kilnapp and Holbrook Town Administator Gregory Hanley.
For more information about this development and MHP's loan programs, contact MHP Director of Business Development Nancy McCafferty at nmccafferty@mhp.net or Senior Relationship Manager Alma Balonon-Rosen at almabr@mhp.net.
About MHP: MHP offers a variety of capital sources to provide permanent financing for affordable housing, including bank funds and lending programs offered by Fannie Mae, the Federal Housing Administration (FHA). Since 1990, MHP has provided over $1.4 billion for the financing of over 26,000 apartments and has helped over 21,000 low- and moderate-income households buy their first home through the SoftSecond and ONE Mortgage programs, resulting in over $3.7 billion in mortgage financing. MHP has provided support and technical assistance to over 300 communities. In 2017, MHP created the Center for Housing Data to support all its work and promote policies to allow more housing in response to demand.
Related news