Posted on February 17, 2020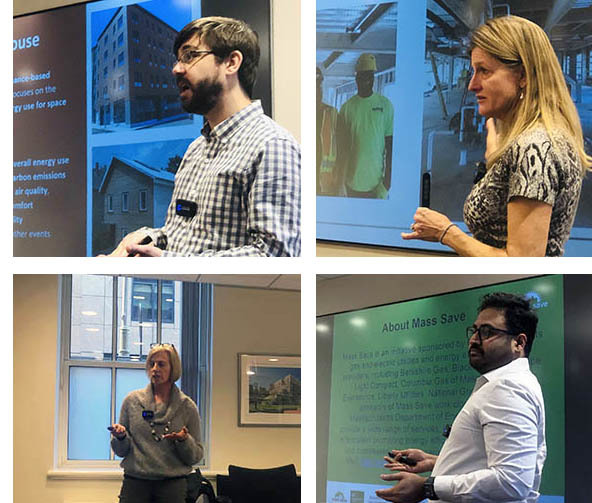 BOSTON --- Teamwork, new funding and a crucial acronym called EUI were three of the many takeaways from the Passive House 101 training held recently at MHP.
Attended by approximately 30 project managers and development personnel, the session was a fact-filled crash course on how to pursue energy efficiency in affordable housing development.
In fact, there were so many facts and so much note scribbling that MHP promised to make available the power points and the video for those who attended and those who could not make it. Here are the materials:
Key takeaways from the training included:
Both Gunderson and Apigian's presentation included the concept of Energy Use Intensity or EUI. Apigian said EUI is to housing energy efficiency what miles per gallon (MPG) is to a car. EUI expresses a building's energy use by calculating annual energy use by square foot. This video explains EUI.
Gunderson noted that the Pennsylvania Housing Finance Agency's decision in 2015 to award points for Passive House in the scoring of affordable housing applications for federal low-income housing tax credits has resulted in 23 Passive House projects receiving tax credit awards. He voiced hope that the same would happen in Massachusetts now that it is also awarding points for affordable housing tax credit applications that plan to pursue Passive House.
HRI's Carbone and Icon's Apigian used their collaboration on Finch Cambridge to provide a picture of how Passive House happens in practice. Key takeaways were HRI's three-decade commitment to energy efficiency and Apigian's pitch for teamwork and hands-on involvement with builders to ensure that Passive House techniques are done right.
MHP hosted the training as part of its effort to encourage more sustainable affordable housing through its new Green and Healthy Housing Programs. Since launching the program last May, MHP has committed long-term permanent financing to 12 affordable housing developers who are planning to pursue energy-efficiency certifications and additional incentives from MHP. This includes two developers who are planning to build to Passive House standards – North Shore Community Development Corp. for Harbor Village in Gloucester and Dakota Partners for Depot Village in Hanson.
MHP's Green and Healthy Program incentives work well with new MassSave incentives. Carbone said MHP's emphasis on green is encouraging for developers who are trying to go green and finance at the best interest rate possible. "MHP now is taking the lead on green products," she said. "I think they're ahead of the game."
For more information about this event, MHP's programs and future Passive House trainings, contact MHP's Senior Relationship Manager Nancy McCafferty at 857-317-8556 or nmccafferty@mhp.net.