Posted on August 17, 2021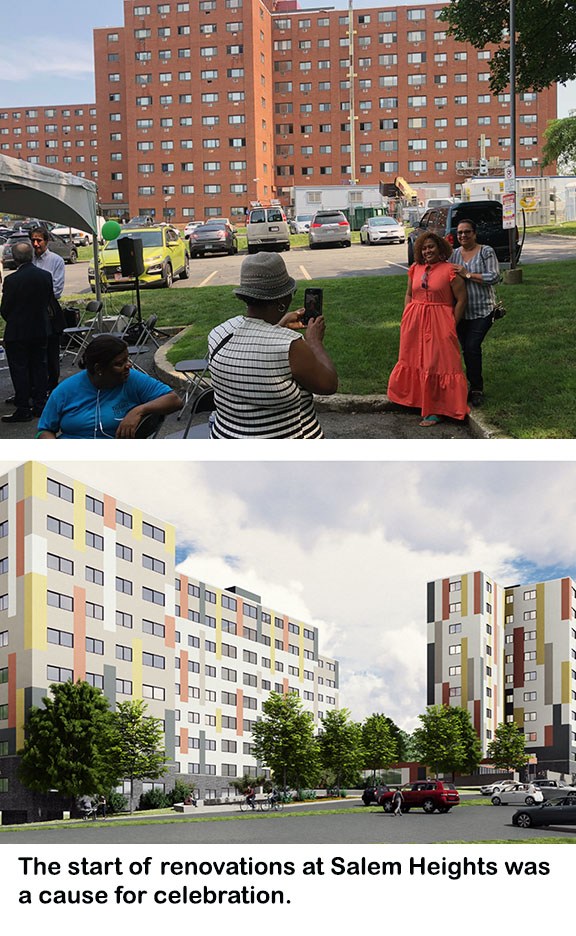 SALEM ---- For the third time in 18 years, the Massachusetts Housing Partnership (MHP) has stepped up to help stabilize one of Salem's largest affordable housing communities for families, this time committing $32.1 million in permanent financing to support a thorough, energy-efficient focused renovation of Salem Heights Apartments.
The loan, coupled with federal Low-Income Housing Tax Credits awarded by the state Department of Housing and Community Development (DHCD) and tax exempt bonds issued by MassDevelopment, will enable longtime owner Preservation of Affordable Housing (POAH) to do a $40 million renovation of the 283-unit property, which is home to over 500 residents.
"We hope this renovation will be a model for how to achieve energy efficiency," said POAH Executive Director Aaron Gornstein at an Aug. 11 ceremony to mark the the start of the renovation.
POAH plans to replace the building envelope, upgrade apartment and common areas, and add new ventilation, filtration and cooling units in 95 one- and 186 two-bedroom apartments. Fifteen apartments will be made accessible and two apartments will be converted into management and community space. In addition, POAH will expand the community space, the exterior landscaping, and add a playground for the 170 children who live at Salem Heights. POAH also plans to install broadband internet, which will provide a more affordable high-speed internet option of for all residents.
"What's really important and attractive working with POAH is their stewardship," said MHP Executive Director Clark Ziegler. "For POAH, these are not apartment buildings, they are communities and POAH has been a national model in how to manage affordable housing in a way that lifts up tenants and helps them achieve more economic opportunity."
Longtime Salem Heights resident Alicia DePena echoed Ziegler's comments, praising the management's responsiveness before and during the pandemic, and recalling a time 16 years ago when she was a single mother with no place to go.
"I came to Salem Heights divorced and with a three-year-old child," she said of her son, who is now 19 and bound for Salem State. "I was insecure of what I was going to be able to do for him because it was my responsibility to put a roof over his head. I called and talked to someone named Julie, came in on a Monday and I had an apartment by Wednesday."
Stewardship dates back to 2003
POAH's stewardship of Salem Heights began in 2003 when it stepped in to purchase the property to prevent it from being sold to a market-rate developer. The original $25.2 million purchase was financed with tax-exempt bonds issued by MassDevelopment. MHP supported this initial purchase with $7.2 million in permanent financing and letters of credit to back the bonds. This enabled POAH to finance the purchase at the lowest-possible interest rate and do modest renovations averaging about $11,000 per unit. It was the first of many bond financings with 4 percent tax credits that MHP would do with MassDevelopment.
MHP restructured the original bond financing in 2010 and is partnering once again with MassDevelopment and four private banks to provide financing for this renovation. This time, MassDevelopment issued $55 million in tax-exempt bonds, $32.1 million of which will comprise MHP's permanent financing through the Fannie Mae M.TEB program. Created in 2015, this program provides a Fannie Mae mortgage backed security (MBS) as collateral for the $32.1 million in tax-exempt bonds and enabled POAH to get its financing on more affordable terms than other bond offerings.
"We've had a superb working relationship with MassDevelopment using tax-exempt financing," said Ziegler. "We've provided hundreds of millions of dollars when we have partnered together and we're anxious to do more."
This is third time that Fannie Mae M.Teb financing has been used in Massachusetts. It's the first time MHP has used the product and it is the first time it's been done in Massachusetts with a forward commitment, meaning the terms of the permanent loan were locked in at the time of the construction loan closing.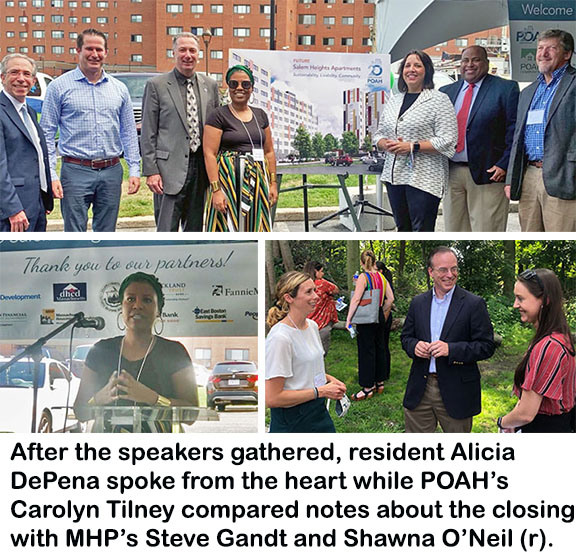 Additional support from banks & City of Salem
Rockland Trust --- in coordination with Eastern Bank and East Boston Savings Bank --- is providing the construction financing. Boston Financial Investment Management is the tax credit syndicator, with People's Bank among the investors in the fund that will hold the tax credits. The property's renovation is also being supported by subordinate loans from DHCD and a real estate tax agreement from the City of Salem.
"Salem Heights was built in the 1970s during the heyday when affordable housing like this was built," said Salem Mayor Kim Driscoll. "POAH came in and saved it in 2003 and we are pleased with their approach to managing the tallest building in the neighborhood by trying to build a community."
Remarks were also made by U.S. Rep. Seth Moulton, MassDevelopment President and CEO Dan Rivera, state Rep. Paul Tucker and Josse Valentin, spokesperson for U.S Sen. Ed Markey.
"Expanding affordable housing is critical to tackle homelessness, promote economic growth and empower our communities," said Congressman Moulton. "Thanks to POAH's leadership, we're making this happen. I'm excited to celebrate this important milestone for the City of Salem, and I look forward to continuing the work to build sustainable and equitable housing."

For more information about Salem Heights and MHP's financing options, contact Director of Business Development Nancy McCafferty at nmccafferty@mhp.net or Senior Relationship Manager Alma Balonon-Rosen at almabr@mhp.net.