Posted on August 28, 2023
Partner Profiles is a periodic series by MHP that takes a look at people and organizations that are creating affordable housing and making their communities stronger
BOSTON --- It's understandable why the Preservation of Affordable Housing, Inc. (POAH) has been an important partner of MHP for more than two decades. Its mission "to preserve, create, and sustain affordable, healthy homes that support economic security, racial equity, and access to opportunity for all" aligns with MHP's objectives.
POAH is a national nonprofit developer, owner, and operator of more than 13,000 affordable homes across 11 states and the District of Columbia. It plays a critical role in preserving affordable housing stock, stepping in with its development and renovation expertise to prevent existing affordable housing from market rate conversion and physical deterioration. POAH's expertise is also used to maintain high sustainability standards across its new construction and revitalization portfolio.
POAH is a top-tier green developer, often leading the charge on implementing multifamily sustainable building work, such as Passive House and deep-energy green retrofits. Across POAH's high-performance, resident-comfort buildings, the property managing arm of POAH—POAH Communities—is a leader in delivering integrated, dedicated resident services ranging from financial independence, health and wellness, and workforce/education programs.
POAH is a Certified Organization for Resident Engagement & Services (CORES) organization and has recently been awarded grants to implement its innovative Trauma-Resilient Communities project, which is a breakthrough resident-centered process to deliver trauma-informed care to affordable housing communities.
Over 20 years, MHP has provided POAH with more than $17.5 million in permanent financing to construct and preserve 405 affordable homes and has further committed to financing an additional $37 million for 325 units.
"What's really important and attractive working with POAH is their stewardship," said MHP Executive Director Clark Ziegler. "For POAH, these are not apartment buildings, they are communities and POAH has been a national model in how to manage affordable housing in a way that lifts up tenants and helps them achieve more economic opportunity."
Since POAH's founding in 2001 it has greatly benefited from MHP's deep knowledge and customer service orientation of its staff across all departments, said CEO and President Aaron Gornstein. "MHP's outreach and technical assistance to municipalities have not only helped POAH immensely, but this critical work has assisted countless other affordable housing developers across the state. Going forward, we know we will continue to rely on MHP to further affordable housing production and preservation in the Commonwealth."
Decades-long, strong partnership in the Cape
POAH has built a successful partnership with Housing Assistance Corporation (HAC) to co-develop affordable housing on Cape Cod. Finding adequate, affordable housing there has been a long-time challenge for the year-round residents and workforce population, a situation exacerbated by the pandemic and economic downturn. The housing crisis presents unique challenges and demands unique solutions, highlighted in HAC's 2018 report Housing on Cape Cod: The High Cost of Doing Nothing.
POAH and HAC have joined forces on nine housing developments over the past 15 years, building a total of 214 units to date, including Clay Pond Cove in Bourne and Melpet Farms in Dennis, both of which are supported by MHP as the permanent lender. MHP is proud to continue our commitment to POAH and HAC's strong partnership by serving as permanent lender for two new projects on the Cape, Brewster Woods in Brewster and Cape View Way in Bourne.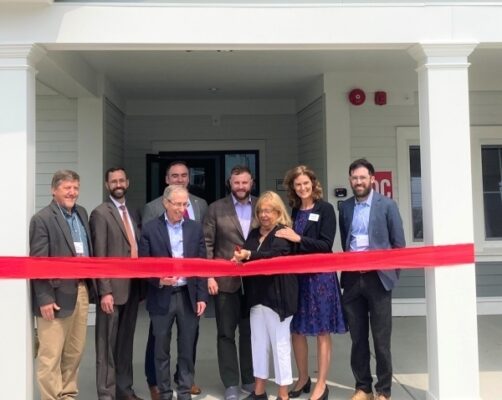 Brewster Woods --- Brewster Woods is a crucial, 100 percent affordable development in Brewster. The "friendly 40B" tax-credit development is garden style with a shared community space, eight one-bedroom units, 19 two-bedroom units, and three 3-bedroom units. All 30 apartments are affordable to households at or below 60 percent AMI, except for one unit that has been set aside for an on-site manager. All utilities are owner-paid, which helps ease the cost-of-living burden on the residents. HAC CEO Alisa Magnotta remarked, "Brewster Woods is an important step toward filling a huge need–affordable rentals for Cape Cod's workers and seniors who live here year-round".
MHP's Community Assistance team laid the groundwork for this development – including providing technical assistance for predevelopment work, creating the RFP with the Housing Authority, and assisting with the developer selection process. MHP is the permanent lender for Brewster Woods, securing a $2.4 million permanent loan using private bank capital funds.
Brewster Woods has also achieved Passive House certification, one of the highest building standards for energy efficiency and overall carbon footprint. In recognition of this accomplishment, MHP provided the development with an interest rate discount and commissioning reimbursements through MHP's Green and Healthy Housing Program. Brewster Woods is a testament to POAH's and HAC's commitment to provide affordable housing that is environmentally conscious for vulnerable communities across the Cape.

Cape View Way --- Continuing their strong partnership, POAH and HAC are proposing to construct a 42-unit, 100 percent affordable multifamily development on historically vacant land in Bourne.
MHP will support this Cape town development with $4.5 million in long-term financing through the FHA FFB Risk Share Program, which provides the lowest interest rates on long-term fixed-rate multifamily housing loans currently available in the marketplace. MHP can provide long-term forward rate commitments using an interest swap program and proposes to arrange a 36-month rate lock for Cape View Way.
Located on Cape View Way less than two miles from Sagamore Beach, the subject site is vacant and deeded to the Bourne Housing Authority to be set aside for affordable housing. The proposed "friendly" 40B tax-credit development is an elevatored three-story building comprising nine one-bedroom units, 28 two-bedroom units, and five three-bedroom units. All 42 apartments will be affordable to households earning at or below 60 percent AMI with seven apartments further restricted to households earning less than 50 percent AMI and eight units further restricted to households earning less than 30 percent AMI.
The apartment development will also include a small play space and community garden for the residents. A Cape Cod Regional Transit Authority (CCRTA) bus stop is just outside the site, providing residents convenient access to transit systems with service to Falmouth, Hyannis, and Boston. Continuing their commitment to constructing high-performance, environmentally conscious affordable housing, POAH and HAC's proposal is designed to Passive House certification standards. In addition to limiting the building's overall carbon footprint, there are onsite septic systems and extensive stormwater treatment facilities that will ensure that the surrounding wetland habitat will not be negatively impacted.

Salem Heights --- POAH's work to build communities goes beyond constructing new apartments on the Cape – POAH is also the long-time owner of Salem Heights Apartments, one of the largest affordable housing communities in Salem. POAH's stewardship of Salem Heights began in 2003 when it stepped in to purchase the property to prevent it from being sold to a market-rate developer. The original $25.2 million purchase was supported by MHP with $12.58 million in permanent financing. This original loan enabled POAH to finance the purchase at the lowest-possible interest rate and do modest renovations averaging about $11,000 per unit.
In 2021, MHP committed $32.1 million in permanent financing to enable POAH to embark on a $40 million renovation of the 283-unit property, which is home to more than 500 residents. The scope of work is an extensive, energy-efficient and resident comfort-focused renovation of the apartment complex. Salem Heights now has an innovative panelized system that replaced the aging exterior building envelope, new triple-paned windows, and on-site solar – making it one of the pioneering high-performance deep-energy retrofit projects. The renovation scope also upgraded the quality of the apartments and common areas, as well as added new ventilation, filtration and cooling units for all 95 one- and 186 two-bedroom apartments. In addition, POAH has expanded the community space, enhanced the exterior landscaping, and added a playground for the approximately 170 children who live there. POAH has also installed broadband internet, providing a free high-speed internet option for all residents. A leader in green building and community engagement, POAH continues to put its all into its developments. Salem Heights is an exemplary effort by POAH to lead the movement toward deep-energy retrofits, a crucial green building component that must be carried out across existing buildings for the Commonwealth to meet its net-zero goals.
MHP's $32.1 million commitment is sourced through the Fannie Mae M.TEB program, which provides a Fannie Mae mortgage-backed security (MBS) as collateral for the $32.1 million in tax-exempt bonds and enabled POAH to gets its financing on more affordable terms than other bond offerings. Salem Heights marks the first time that Fannie Mae M.TEB financing has been used in Massachusetts with a forward commitment in place, which has locked in the interest rate and other terms of the loan during the deep-energy retrofit and renovation period.
For more information about MHP's financing programs, current interest rates, and how MHP supports its partners, contact Director of Business Development Nancy McCafferty at nmcafferty@mhp.net or Senior Relationship Manager Alma Balonon-Rosen at almabr@mhp.net.