Posted on February 16, 2023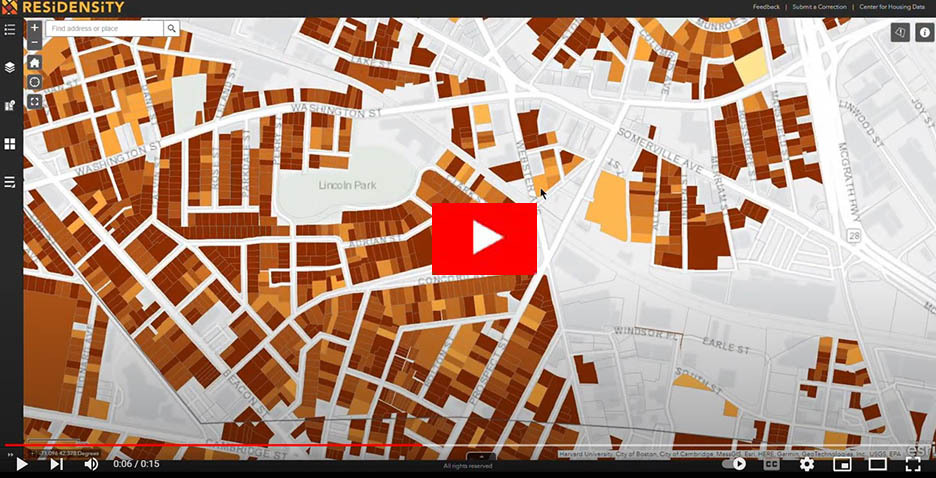 BOSTON --- MHP's Center for Housing Data has launched Residensity, a user-friendly map platform tool that allows users to explore and analyze residential density anywhere in Massachusetts.

With a unique, searchable database of over 2 million parcels, Residensity can quickly display housing density and land-use patterns at both the parcel and neighborhood level. Check out Residensity at www.mhp.net/residensity
"With increased focus on building housing near transit, downtowns and economic opportunities, we created Residensity to build an understanding of how density has been used to create great neighborhoods," said Tom Hopper, MHP's director of research and analytics. "By harnessing this data in one place, we hope to help researchers, planners and communities envision how they can replicate these development patterns to better address our housing and climate challenges."
This tool can be used in a variety of ways, including:
Residents will be able to explore density of their neighborhoods.
Planners will be able to use this to compare existing housing stock with what zoning allows or do an analysis of how many homes are within a ½ mile of a transit station or downtown.
Researchers will be able to explore the relationship between residential density and socioeconomic diversity, as Rappaport Fellow Aja Kennedy did with our data base in the summer of 2022.
All of the parcels in Residensity's database are interactive. That means with just a click of a mouse, you can see information about a parcel's acreage, building type and density.
In addition, Residensity's neighborhood analysis tool allows you to estimate density and total unit counts for any area you choose, be it a downtown, a few streets or the area around a transit station.
Residensity was developed by MHP's Tom Hopper and Matija Janković. It is the first tool of its kind to calculate density across the state with a methodology that allows its database to be kept up to date.
Residensity expands on methodology MHP developed to create Transit-Oriented Development Explorer (TODEX) in 2019, which estimates housing density around all Greater Boston's 261 transit stations.
CHD also created and administers DataTown, which provides up-to-date housing and demographic information which can be downloaded as data or as data visuals.
For more information, contact Matija Janković at mjankovic@mhp.net or Tom Hopper at thopper@mhp.net.
More on Residensity
Learn more about Residensity & tell us how to improve it
MHP's Hopper: New tool will help show how density shapes great neighborhoods
Rappaport Fellow uses Residensity data base to show equity & residential patterns