Posted on November 30, 2022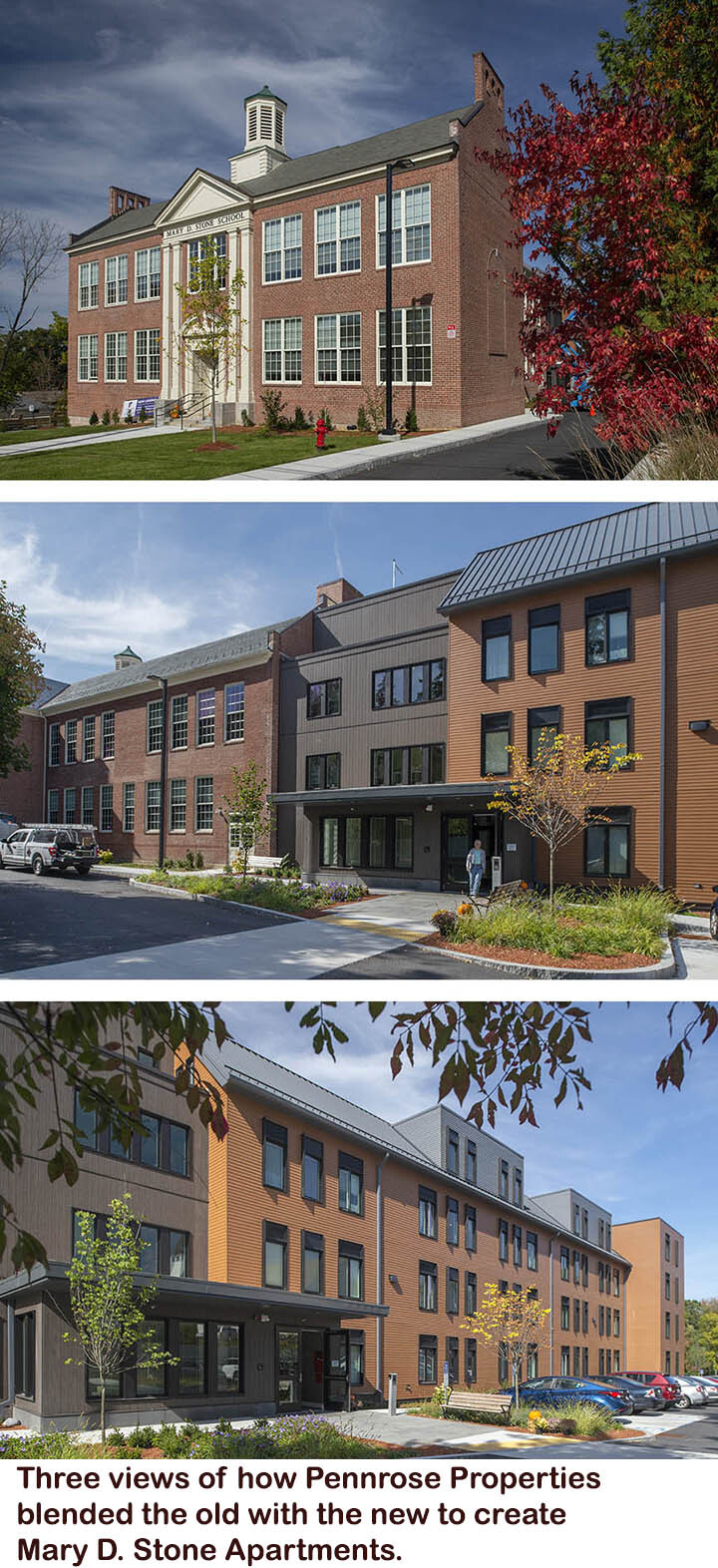 One of MHP's housing partners has been nationally recognized for seamlessly preserving a historic school and reinventing it as much-needed mixed-income housing.
Pennrose Properties' redevelopment of the Mary D. Stone School in Auburn was recently voted as the overall winner in Affordable Housing Finance's annual Readers' Choice Awards. It was also named the AHF winner in the historic rehabilitation category. Winners were determined by the votes of AHF newsletter and magazine subscribers.
Video: Adams on Pennrose's historic rehab vision

"Designing a new construction addition that was compatible with the historic schoolhouse was our biggest challenge and greatest accomplishment," said Pennrose Regional Vice President Charlie Adams told AHF Magazine. "Not only did the exterior have to be aesthetically compatible, but the interiors also had to flow seamlessly from the historic to the new."
Working with the architectural firm DiMella Shaffer and NEI General Contracting, Pennrose rehabilitated the 1920s-era brick school, demolished two later additions and added a modern attached wing, resulting in 55 apartments for seniors 62 and older, 45 affordable and 10 at market rate. It is located in a village-type setting that includes the Auburn town offices, a playground and a church.
The Town of Auburn made all this possible by allowing the zoning for multifamily through the granting of a Ch. 40B comprehensive land use permit. "The town's dedication, passion, and support is what really made this special," said Adams. "Many of our residents are former students, teachers, or staff of the school."
The Mary D. Stone School was financed primarily with state and federal low-income housing tax credits, awarded by the state Department of Housing and Community Development (DHCD). The state also provided historic tax credits and additional funding through its Affordable Housing Trust, Housing Stabilization and Community Based Housing funds. Citizens Bank was the construction lender.
MHP continued its record of supporting affordable housing sponsored by Pennrose, providing a $1.8 million permanent loan from its bank-funded loan pool. Previously, MHP provided a $4.4 million loan for the Village at Nauset Green, a 65-unit mixed income development in Eastham. MHP has also committed $6.6 million in financing to support Pennrose's transformation of a Boston public school in Hyde Park into The Pryde, which will feature 74 LGBTQ-friendly senior apartments.
"We value our relationship with Pennrose because their team, led by Charlie Adams and Karmen Cheung, works really hard," said MHP Director of Business Development Nancy McCafferty. "They never work an eight hour day, it's always 10 and 12 hours, with the sole purpose of developing affordable housing because they believe it creates better lives for people. This national recognition is a tribute to their dedication and expertise at preserving a town's history and memories by transforming historic buildings into safe, attractive housing people can afford."
Mary D. Stone Apartments celebrated its grand opening on May 5, 2022. Speakers inclued Lt. Gov. Karyn Polito, U.S. Rep. James McGovern, DHCD Undersecretary Jen Maddox, state Sen. Michael Moore, state Rep. Paul Frost, longtime Town Manager Julie Jacobson and other local officials.
Mary D. Stone was a teacher in Auburn in the 1870s and later became a long-serving member of the school committee. She served on the school board with Julia Bancroft, another fondly remembered Auburn education supporter who also had an elementary school named after her. Pennrose is now in the process of working with architects from DiMella Shaffer to turn that former school into a 60-unit mixed-income development for seniors.
For more information about this development and MHP's financing options, contact MHP's Nancy McCafferty at nmccafferty@mhp.net.