Posted on July 12, 2022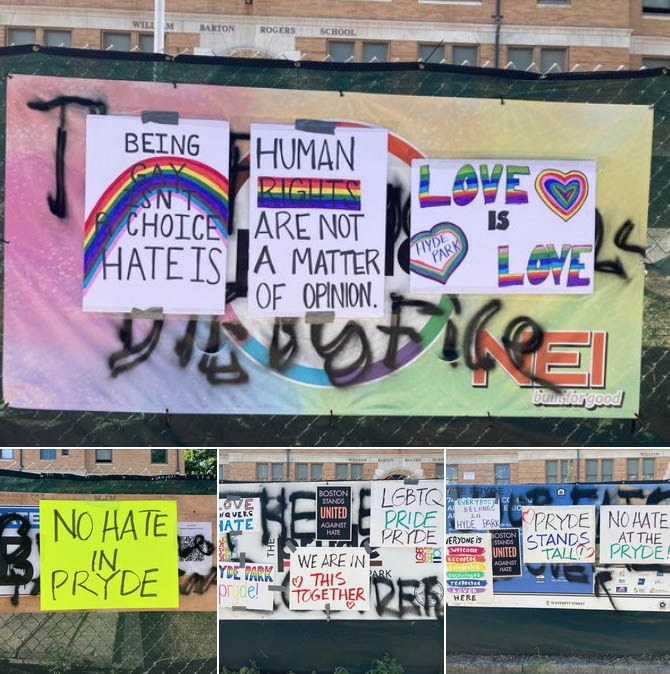 The Massachusetts Housing Partnership (MHP) stands with the hundreds of people who have expressed their continuing support for The Pryde, an LGBTQ-friendly senior housing development in Hyde Park, after the construction site was vandalized this past weekend with hate speech and threats that were spray-painted on virtually every sign surrounding the property.
As sad and outraged as we were to learn about this unconscionable vandalism, we were inspired by the quick action of LGBTQ Senior Housing Inc. in pulling together an afternoon rally in which Hyde Park residents covered up the hate speech with posters urging the neighborhood to come together, showing once again that this development is a catalyst for all that is good in the community.
When asked why the hate speech and threats were left visible for some hours until the community could come together to denounce them, LGBTQ Senior Housing Executive Director Gretchen Van Ness said her organization decided to leave the messages up to show people why LGBTQ senior apartments are so needed. "It's for people who have faced discrimination throughout their lives. The Pryde will be welcoming and safe for them," she said.
As a strong, mission-driven affordable housing organization, MHP is dedicated to promoting diversity, equity and inclusion in everything we do. That's why we're excited to be one of the main financial supporters of the effort by Pennrose Company and LGBTQ Senior Housing to turn the former Barton Rogers School into 74 mixed-income apartments for seniors, and the first LGBTQ-welcoming affordable senior housing in Boston.
MHP is all-in on creating safe and welcoming housing across the Commonwealth. We join with the LGBTQ community and the residents of Hyde Park in condemning this cowardly act and we are steadfast in our support of the inclusive affordable housing that The Pryde will bring to the city.