Posted on May 11, 2022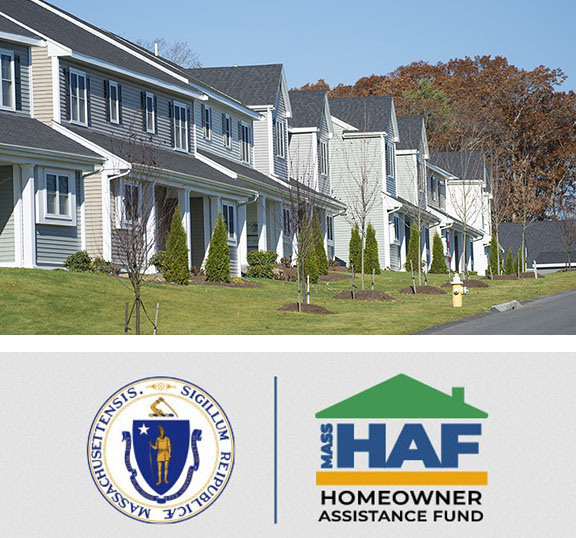 By Lisa Braxton
BOSTON --- Massachusetts homeowners who may be struggling to pay their mortgages received some good news recently as new federal guidelines stated that foreclosure activities will be suspended for up to 60 days if eligible residents have applied for assistance through the U.S. Treasury Department's Homeowner Assistance Fund.
This is viewed as a big win across the country and here in Massachusetts where to date over 3,400 completed applications have been submitted for the Massachusetts Homeowner Assistance Fund (MassHAF).
"We've advocated for this 60-day suspension of foreclosure activities on our national calls," said MHP's Maureen Flynn, program director for MassHAF. "This will make a huge difference to applicants and applicants won't have to have their HAF applications approved before a foreclosure proceeding can be paused."

MassHAF is for eligible homeowners who have experienced a COVID-related impact to their finances on or after January 21, 2020, that caused them to miss three or more mortgage payments. The program is being administered by the Massachusetts Housing Partnership (MHP) and MassHousing, two of the state's quasi-public affordable housing organizations.
Eligible homeowners can receive aid for housing-related costs such as mortgage and property charges. Mass HAF Program funds may be used to bring homeowner mortgage accounts current, and to repay amounts advanced by the lender or servicer on the borrower's behalf. The goal of HAF is to prevent foreclosures and displacements of eligible homeowners. The suspension of foreclosure activities for up to 60 days will also help keep people in their homes.
MassHAF started accepting applications in December, 2021. MHP facilitated the creation of www.massmortgagehelp.org, a secure web-based portal homeowners can use to apply for assistance. The site helps applicants connect with a fully staffed, bilingual call center which provides case management, underwriting, payment processing, and quality control/quality assurance personnel. The program started making payments in February when the U.S. Treasury issued the final OK for MassHAF to use federal funds to support homeowners.
MHP also took the lead on training program stakeholders, including mortgage servicers, housing counselors, advocates and community-based organizations. Mortgage servicers are key as they are the ones who access the portal to secure federal funds for borrowers who have missed mortgage payments. More than 160 mortgage servicers have signed up for the program, which is believed to be more than any other state in the U.S.
MassHousing is coordinating the digital, paid-ad and face-to-face marketing of the program, working with nonprofits and community-based organizations around the state to ensure that homeowners in need of losing their homes due to COVID-19 are aware of this program.

Over 400 homeowners have received Mass HAF funds already. Over 93 percent of applicants are below 100 percent of area median income (AMI). Check the MassHAF dashboard for updates.
ONE+Boston continues to reach encouraging numbers
While administering this new statewide mortgage relief program, MHP continues to make strides with the City of Boston to increase homeownership in the city.
ONE+Boston closed 13 loans in March 2022, bringing the total number of ONE+Boston loans closed to 177 since the program began in June 2020. Six lenders offer the ONE+Boston program: Boston Private, an SVB Company; Cambridge Trust; Citizens Bank; City of Boston Credit Union; Rockland Trust; The Cooperative Bank.
Statewide ONE Mortgage numbers

The statewide ONE Mortgage Program helped 46 buyers close on their first home in March, bringing the total number of ONE Mortgage loans closed to 144 in 2022.
Though mortgage rates are ticking up, ONE Mortgage borrowers always receive a discounted interest rate for their 30-year fixed rate mortgage.
To figure out what you can afford, check out the ONE Mortgage calculator.
(This notebook was compiled by MHP Communications Coordinator Lisa Braxton. MHP Program Manager Isabel Cruz contributed to this report. Questions or comments? Email lbraxton@mhp.net).