Posted on September 23, 2022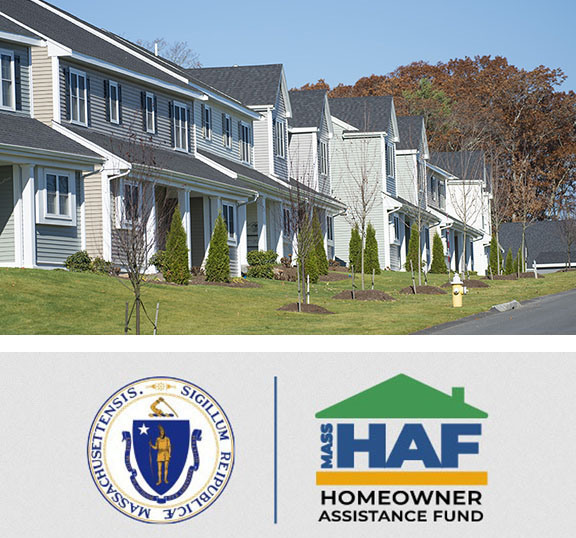 Below are the mortgage servicers who are currently participating in the Massachusetts Homeowner Assistance Fund (Mass HAF), a federally-funded housing assistance program for homeowners impacted by COVID-19.

On behalf of the Commonwealth of Massachusetts, MHP would like to thank all mortgage servicers for their participation in the program and their commitment to keeping homeowners in their homes.
As an administrator of Mass HAF, MHP is responsible for recruiting and training mortgage servicers. It has registered 231 lenders since August, 2021.
The success of Mass HAF depends on mortgage servicers big and small. For participation information, go to MHP's information page for mortgage servicers.
List of participating mortgage servicers as of 09/23/22:
21st Mortgage Corporation
802 Credit Union
Abington Bank
Academy Mortgage Corporation
AHP Servicing
Alden Credit Union
Align Credit Union
Alliant Credit Union
Alltrust Credit Union
American Finance House
American Pacific Mortgage Corp.
Amerihome Mortgage
AmeriNat
AmWest Funding
Apex Bank
Arrha Credit Union
Arvest Central Mortgage Company
Avidia Bank
Aura Mortgage
Bank of America
BayCoast Bank
Berkshire Bank
Boston Private Bank, An SVB Company
Bluestone Bank
BMO Harris Bank
BOKF
Bristol County Savings Bank
Broker Solutions Inc.
Buzzards Bay Area Habitat for Humanity
BSI Financial Services
Caliber Home Loans Inc.
Cambridge Savings Bank
Cambridge Trust
Cape Cod Five Cents Savings Bank
Capital for Change Inc.
Capital for Mortgage Services of Texas
Cardinal Financial
Carrington Mortgage Services LLC
Cascade Financial Services
CeLink
Cenlar
CIS Home Loans
Citizens Bank
City of Boston Credit Union
Chicago Mortgage Solutions
CIS Financial Services
Clinton Savings Bank
Coastal Heritage Bank
Community Loan Servicing LLC
Cornerstone Bank
Country Bank
County Mortgage, LLC
Dean Bank
Cross Country LLC
Dedham Institute for Savings

Direct Federal Credit Union
East Cambridge Savings Bank
East West Bank
Eastern Bank
Easthampton Savings Bank
Emigrant Mortgage Company
Enterprise Bank & Trust
Envision Bank
Equity Resources Inc. Mortgages
Essex Mortgage
Fairway Independent Mortgage Corporation
Fall River Municipal Credit Union
Fay Servicing LLC
FCI Lender Services Inc.
Fidelity Bank
Fidelity Cooperative Bank
Fifth Third Bank, National Association
First Bank Mortgage
First Citizens Federal Credit Union
First Home Mortgage
First National Bank of America
First Republic Bank
First Savings Bank
Flagstar Bank
Florence Savings Bank
Freedom Credit Union
Freedom Mortgage Corporation
Gateway First Bank
Gitsit Solutions LLC
Greater Springfield Credit Union
Greater Springfield Habitat for Humanity
Greenfield Cooperative Bank
Greenfield Savings Bank
Gregory Funding
Greylock Federal Credit Union
Guaranteed Rate Inc.
Guild Mortgage Company, LLC
HarborOne Bank
Hingham Institution for Savings
Holyoke Credit Union
Homebridge Financial Services, Inc
Hometown Bank
HSBC Bank
JB Nutter
JPMorgan Chase Bank, National Association
Lakeview Loan Servicing
Leader Bank
Lee Bank
Lending Club Bank
Leominster Credit Union
LoanCare
LoanDepot.com LLC
Madison Management Services, LLC
Main Street Bank
Martha's Vineyard Bank
Mascoma Bank
MassBay Credit Union
MassHousing
Mechanics Cooperative Bank
Member Advantage Mortgage LLC
Member First Mortgage LLC

Metro Credit Union
Metrowest Community Federal Credit Union
Mid America Mortgage Inc
Middlesex Savings Bank
MidFirst Bank
Midwest Loan Servicing
Millbury Federal Credit Union
MIT Federal Credit Union
MMS Mortgage Services
Monson Savings Bank
MountainOne Bank
Movement Mortgage
Mr. Cooper
MyCUmortgage
M&T Bank
Navy Federal Credit Union
NESC Federal Credit Union
New Bedford Credit Union
New Rez c/o Shellpoint
North American Savings Bank
Norcom Mortgage
North Brookfield Savings Bank
Northeast Home Loan
Northern Bank & Trust
North Shore Bank
Pennymac Loan Services LLC
People's Bank
PHH Mortgage Corp.
Pittsfield Cooperative Bank
Plant Home Lending
PNC Bank
Poli Mortgage Group Inc
Polish National CU
Primary Residential Mortgage Inc
ProBuilder Financial LLC
Provident Funding Associates LP
Quincy Credit Union
Reading Cooperative Bank
Regions Bank
ResiCentral LLC
Rockland Trust Company
Rocket Mortgage LLC
Round Point Mortgage Servicing
Rushmore Loan Management Services
Salem Five Mortgage Company
Sanford Financial Trust
Santander
Savers Bank
Seamens Bank
Select Portfolio Servicing
Selene Finance LP
ServiceMac, LLC
Servis One Inc.
Sharon & Crescent United Credit Union
SN Servicing Corp.
South Shore Bank
Specialized Loan Servicing LLC
Statebridge
StonehamBank
Taunton Federal Credit Union
TD Bank
The Cooperative Bank
The Money Source
Tremont Credit Union
Truist Bank
UMassFive College FCU
UniBank for Savings
Union Home Mortgage
US Bank
USDA Rural Development
Vanderbilt Mortgage and Finance
Webster Bank
Webster Five Cent Savings Bank
Wells Fargo
Westfield Bank
Winchester Co-Operative Bank
Winchester Savings Bank
Workers Credit Union Bank