Posted on November 7, 2022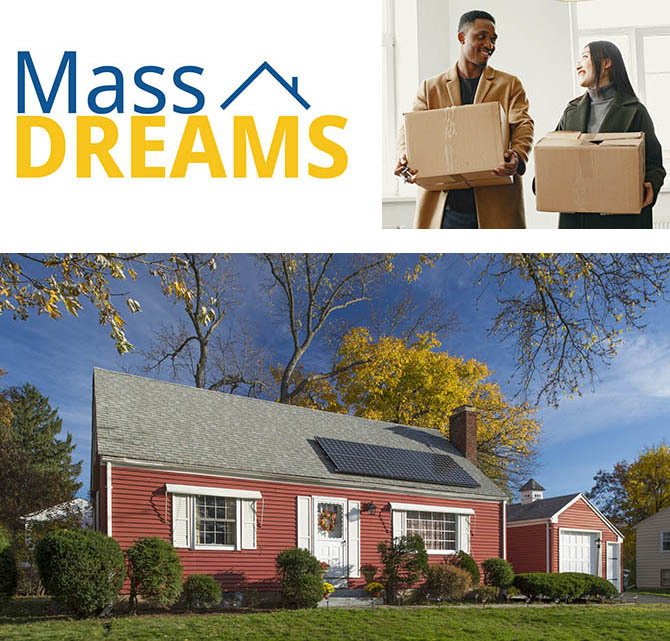 By Lisa Braxton
A new program from the Commonwealth will put homeownership within reach for many low- and moderate-income buyers who have seen their buying power reduced by rising interest rates and home prices.
MassDREAMS is a $65 million federally funded down payment and closing cost assistance program that is being administered by MHP and MassHousing. The maximum award is $50,000.
Funding is limited to first-time homebuyers who are utilizing a first mortgage from MHP's ONE Mortgage or ONE+Boston programs or mortgage programs offered by MassHousing. MassDREAMS grants may also be used with other down payment assistance programs. While MassDREAMS is restricted to current residents of disproportionately impacted communities, recipients may purchase a home anywhere in the state.
Homebuyers interested in applying should first fill out the MassDREAMS pre-screening questionnaire. This can be found at MyMassHome, a one-stop online resource where homebuyers can find important information regarding homebuyer education, types of mortgages, and down payment assistance. This web site is being administered by the Citizens' Housing and Planning Association.
Interest in using MHP's ONE Mortgage with MassDREAMS has been strong. Currently, 31 ONE Mortgage lenders are also ONE-MassDREAMS participating lenders and over 250 households have applied for ONE Mortgage and MassDREAMS financing. This combination increases their chances of buying a home as they are in better poistion to qualify for financing from an income, debt and credit perspective. It also means homebuyers will be better positioned in the long run.
"By helping with things like closing costs, we're helping people keep money in their pocket, so that when they purchase they're not buying a new home with zero dollars in their savings account," said MHP Homeownership Director Elliot Schmiedl in a recent interview with the Boston Globe. "This program isn't just about achieving homeownership, it's about helping folks sustain it, so that they don't end up in a property that they can't afford down the road."
The MassDREAMS program is funded through a state legislative appropriation of federal funds from the American Rescue Plan Act (ARPA). Program funds will be distributed as grants with no repayment requirements, in order to maintain consistency with ARPA requirements.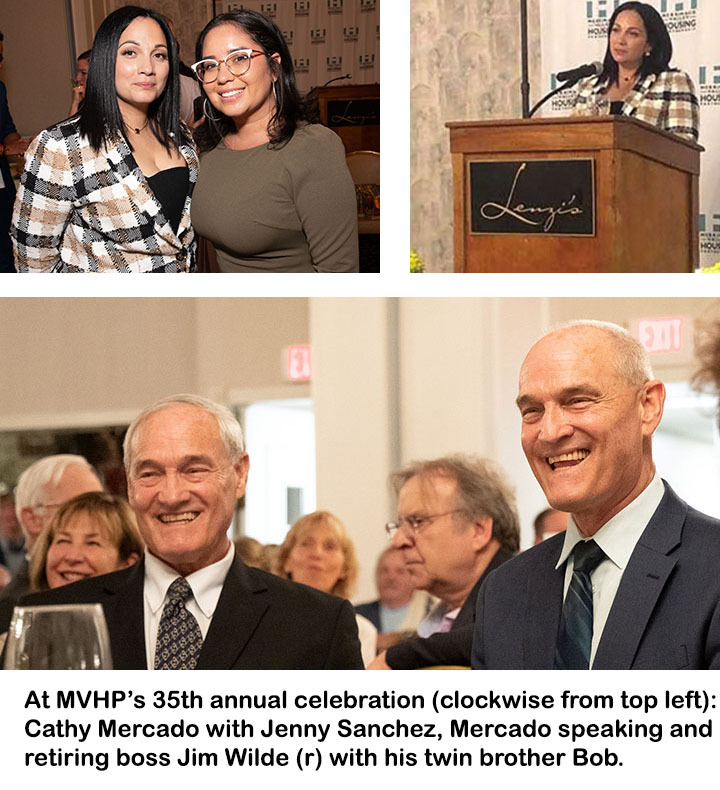 MVHP celebrates 35 years
The community came together recently to celebrate three Merrimack Valley Housing Partnership (MVHP) milestones:
MVHP's 35th anniversary of leadership in homebuyer education and its impact on homeownership for lower- and moderate-income households in the Greater Lowell area
Former Executive Director Jim Wilde's retirement after 30 years of leading the organization.
Cathy Mercado's leadership as executive director and her vision for MVHP.
"I cannot overstate how wonderful this experience has been," Wilde said before a room of more than 300 at a ballroom in Dracut. "It thrills me to have been a part of the work that MVHP does. The biggest reward is knowing how many lives have been positively affected by what this organization does. Thank you to all the people and organizations that have been a part of this collaboration."
Wilde let everyone else define what homeownership means and focused his speech on thanking his many partners in the room who helped support MVHP's success, including MHP which provided grant funds to get MVHP started back in the early 1990s. A major reason why MHP's SoftSecond and ONE Mortgage programs have been able to help more than 24,000 low- and moderate-income homebuyers purchase their first home is the commitment of its nonprofit partners like MVHP that offer classes that help guide buyers down the path to successful homeownership and wealth building. In 30 years, more than 20,000 have graduated from MVHP's homebuyer education program and many have bought homes, including Vladimir Saldana, a member of MVHP's board, who spoke during the celebration.
"Mr. Wilde insisted that it (homeownership) was possible," Saldana said. "At 24 I bought my first multifamily property. And that's not the only one I own. The organization as a whole is doing God's work."
Mercado reflected on current homeownership challenges and the work that lies ahead.
"Today's real estate market can be challenging, particularly for first generation homebuyers," she said. "I'm a first-generation homebuyer myself and can proudly say my daughter is a homeowner. My purpose is to advocate for housing. We need to do all we can to eliminate this housing crisis for everyone."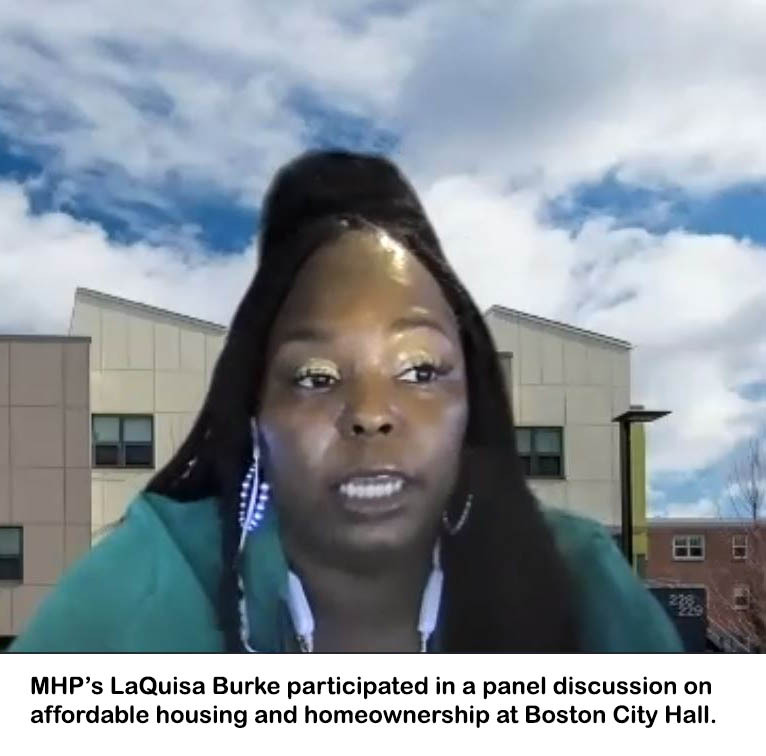 MHP's Burke featured on panel
A group of housing experts, including MHP's LaQuisa Burke, shared the virtual stage recently as part of a panel discussion on how residents of the Greater Boston community can navigate housing and homeownership challenges. The virtual panel was sponsored by the Psi Omega Chapter of Alpha Kappa Alpha Sorority, Inc. (AKA).
Burke was joined by Leslie Credle, founder and executive director of Justice 4 Housing, Michelle McCarthy, deputy director of housing policy and compliance for the Boston Planning and Development Agency, and Cherai Mills, a community organizer for Mass Alliance of HUD Tenants. Burke provided details on the One Mortgage, One+Boston and MassDreams programs.
The panel was moderated by Boston City Councilor at-large Ruthzee Louijeune. A staunch affordable housing and homeownership advocate, Louijeune has practiced law in Boston Housing Court, representing families facing eviction and foreclosure.
"This is a pressing issue in our city that demands our attention," she said in opening remarks. "Black and brown people are leaving our city in record numbers, folks who want to become homeowners."
Three key points from the discussion
Advocates and supporters of affordable housing and homes need to work together, form coalitions to have a stronger voice.
Not enough people research the programs that offer down payment assistance or help with affordable apartments. They could be receiving help if they knew the programs existed.
Self-esteem problems are a big issue for people being released from the prison system. In addition, discrimination against those formerly incarcerated makes it even harder for them to persevere to purchase their first home.
The AKA Day at City Hall panel drew an audience from across the Greater Boston area.
Over 80 foreclosures postponed due to Mass HAF program
MHP is administering the state's Homeowner Assistance Fund (Mass HAF), which is continuing to provide aid to homeowners behind on their mortgage payments. The goal of HAF is to prevent foreclosures and displacements of eligible homeowners.
The program has provided $49.1 million in assistance to 2,454 households. Ninety-three percent of those served are at or below 100 percent of the area median income. Eighty-two foreclosure sales have been postponed.
Mass HAF is available to homeowners who are behind on their mortgage payments by at least three months because of the COVID-19 pandemic. Assistance can be provide up to $50,000. The homeowner's servicer (whoever they pay their mortgage to) may be able to help with a plan to help the homeowner get caught up on the remaining amount owed.
A key to the program is signing up and training mortgage servicers because these companies apply for assistance on behalf of homeowners. So far, 238 have agreed to participate and 225 have been fully onboarded.
If you are a homeowner who needs mortgage assistance, please visit the Mass HAF web site at massmortgagehelp.org. If you are servicer, please go to MHP's mortgage servicer home page.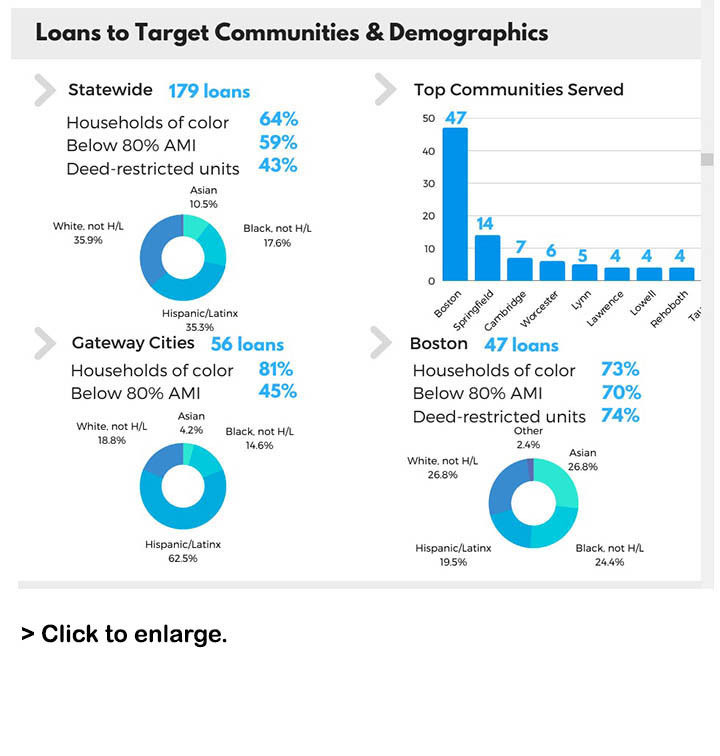 ONE+Boston continues to reach prospective homeowners
MHP's partnership with the City of Boston to offer an enhanced version of ONE Mortgage continues to help more first-time homebuyers purchase a home in the city. Since the program's inception in 2021, 245 ONE+Boston loans have been closed.
ONE+Boston combines the low-cost features of the statewide ONE Mortgage program with city funds. With these funds, ONE+Boston is able to offer heavily discounted 30-year-fixed interest rates and increased down payment assistance. Nine lenders offer the product with Webster Bank closing their first ONE+Boston loan recently.
Since July 1, ONE Mortgage has closed 179 loans statewide, totaling $58.3 million. Citizens Bank, Rockland Trust, Eastern Bank and Cambridge Trust lead the way.
(This notebook was compiled by MHP Communications Coordinator Lisa Braxton. Questions or comments? Email lbraxton@mhp.net).