Posted on February 10, 2021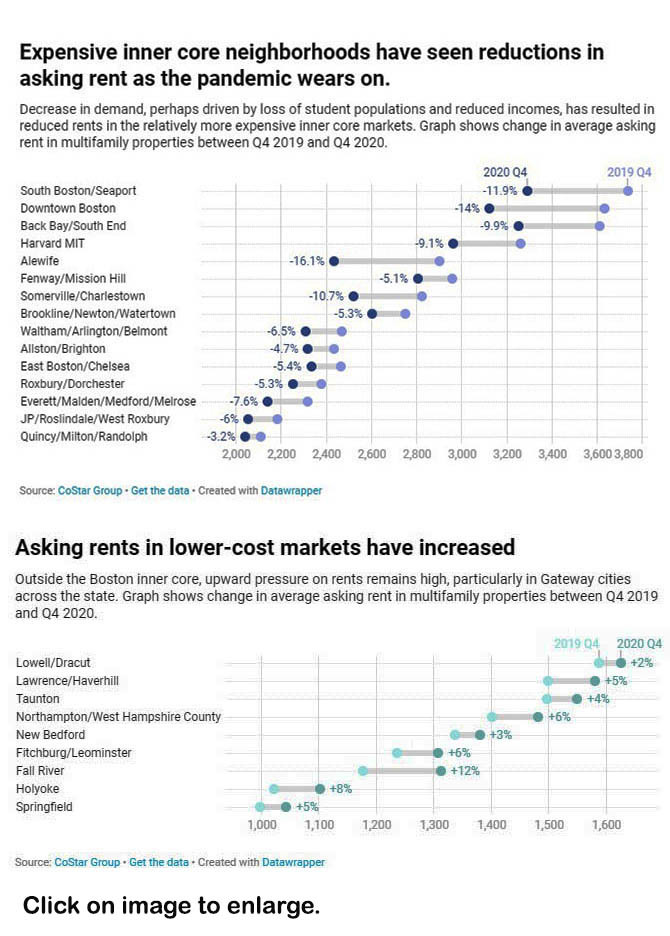 BOSTON --- In the latest brief for the COVID Community Data Lab, Tom Hopper of MHP's Center for Housing Data teams up with Gateway Cities expert Dr. Tracy Corley to examine shifting housing pressures in Gateway Cities and explores techniques to stabilize and engage existing residents while fostering inclusive approaches to housing development that will continue post-pandemic.
The brief identifies market pressures and opportunities for Gateway Cities in the context of the pandemic. The authors note that while asking rents have dropped in expensive inner core neighborhoods (16.1 percent decrease near Alewife Station, Cambridge) they have increased in Gateway Cities (12 percent increase in Fall River).
Hopper and Corley also note that Gateway City residents are more likely to work in industries vulnerable to pay cuts, hour reductions, layoffs, and furloughs as well as industries where teleworking is more difficult.
The authors warn that a combination of increased housing demand with more economically vulnerable residents could lead to widespread displacement in the future. The brief concludes with a discussion on the need to complement housing development opportunities with income supports, enhanced civic engagement initiatives, and community-led planning with an eye towards better thought-out infrastructure projects and programs.
The COVID Community Data Lab was created by MHP and Boston Indicators, the research initiative of the Boston Foundation. The site features research on employment, housing, transportation, and more, along with data and graphs on a wide array of COVID crisis indicators. For more on the efforts of the COVID Community Data Lab, go to the CCDL site.
For additional information about the CCDL housing research, contact Lucas Munson at lmunson@mhp.net.
Also from MHP's Center for Housing Data:
DataTown - Demographic and housing data visuals for all 351 Massachusetts communities. This user-friendly site allows you to compare communities, print out the graphics for presentations and download the supporting information in excel.
TODEX - Transit-Oriented Development Explorer maps housing densities around all 261 Greater Boston transit stops. Like DataTown, TODEX is easy to use. You can print the graphics, explore the methodology and access the GIS files to explore or use the data for your own work.