Posted on December 6, 2021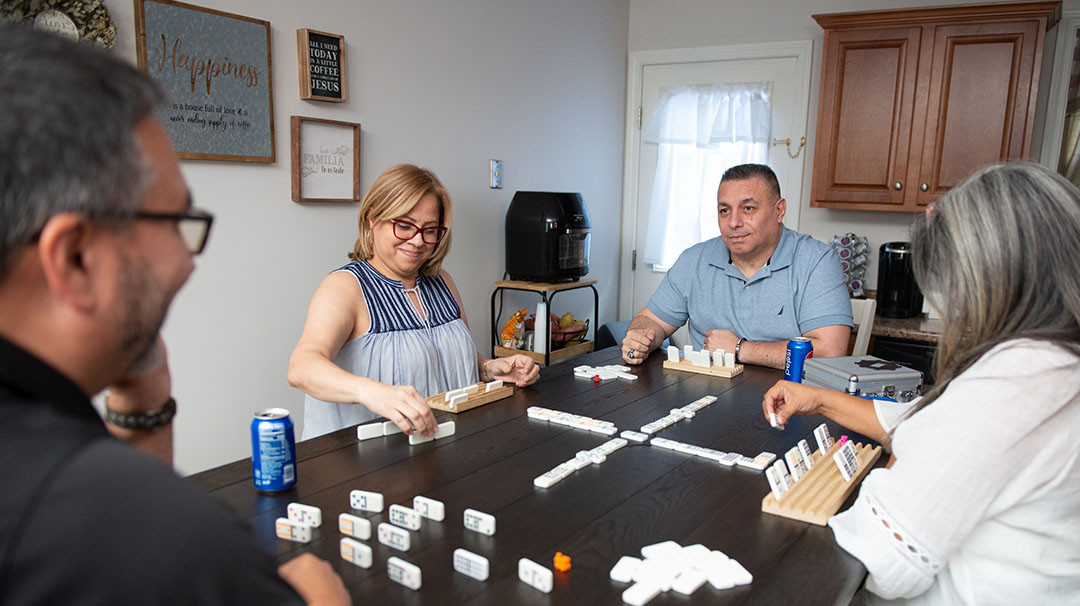 By Lisa Braxton
TYNGSBOROUGH --- On Sunday afternoons it's not unusual to hear trash talking, whoops, cheers and palms slapping in high-five's at the townhome of Carlos Santiago-Melendez and his wife Brenda. The Tyngsborough couple isn't in front of the TV reacting to the drama unfolding between rival sports teams. They're facing off with each other and Brenda's sister and brother-in-law in a friendly game of Mexican Train.
Video: Homebuyer education helped Carlos, Brenda realize dream

The game follows the same basic rules of most domino games; the dotted tiles being placed end-to-end with matching halves touching each other. In Mexican Train, each player builds a train-like chain of dominoes that branches off a central hub, or station. The winner is the person who has matched all of their dominoes into trains.
When the game is over, Brenda's sister Liza Cruz and brother-in-law Hugo don't say their good-byes and head to their car. Instead, they climb the stairs to the second floor guest room where they've been staying for months, which is a role reversal from several years ago when they were able to offer Carlos and Brenda a place to stay.
Carlos and Brenda have been able to return that favor thanks to a low-cost mortgage from MHP's ONE Mortgage Program. Developed in 1990 to address racial disparities in mortgage lending, the program has helped more than 23,000 low- and moderate-income families buy their first home. It is the state's most affordable mortgage product and more than half of all loans have been made by people of color. Participating lenders offer below-market fixed interest rates. A state-funded loan loss reserve means borrowers don't have to buy costly private mortgage insurance, saving hundreds more each year.
No room to move
Before the move to Tyngsborough, the couple rented a 509-square-foot one-bedroom apartment in Lowell. "It was cramped. We didn't have any space," said Carlos, who works in customer service at Home Depot. "We didn't have any closet space. The kitchen and the living room were together. We had to get a real small table."
"Our [adult] children could not visit us because there was no space for them," Brenda said in Spanish, her husband providing translation. "We needed to get something bigger and we were paying too much for rent." A re-stocker at Wal-Mart, she says a co-worker told her about the MHP website and the ONE Mortgage program.
"We were afraid," added Carlos. "I thought it would be too expensive to get a house. But when we took the classes, it opened our eyes. It's not as expensive as you would think."
More: Carlos & Brenda's journey in pictures

They registered and received homebuyer education training from the Merrimack Valley Housing Partnership (MVHP), and won an affordable housing lottery to purchase the 1,395-square foot, 2-bedroom townhome. The loft provides additional space for visiting children. The couple was able to put 3 percent down, and didn't have to pay private mortgage insurance. They obtained a conventional 30-year loan from Citizens Bank, one of more than 40 lenders that offer the program.
"Carlos and Brenda are a family I will never forget," said Cathy Mercado, MVHP's deputy director. "They went through the many highs and lows of the homeownership process. Our role was to help them through the challenges and encourage them not to give up. Because of their drive and the dedication of the staff at MVHP, MHP, Citizens Bank and loan officer Leslie Torres, Carlos and Brenda are now happy homeowners."
"This house is more than we ever thought we could ever get," Carlos added. "It's everything we wanted. We thank God for it."
Hoping to pay back favor
They are also thankful to the Cruz's. Years ago when Carlos and Brenda faced financial difficulties in their native Puerto Rico, they moved in with the Cruz's, who were renting in Billerica at the time, and stayed for about a year.
"Family. That's why we did it," Hugo Cruz said. "Family is the most important thing."
For Carlos and Brenda, Mexican Train is more than just a parlor game. It's symbolic of the chain they are building, encouraging co-workers, friends, and family—including the Cruz's— to come aboard and get on track to also reach the destination of homeownership. They feel that owning one's home is "just the ticket" to building generational wealth, as do the Cruz's.
"We feel blessed," said Hugo Cruz. "It's hard to get a home loan. And by us being able to stay here with them we're actually able to save up a little money and get our own home. It's been a long time. It will be our first home."
(Lisa Braxton is communications coordinator at MHP. For more information about ONE Mortgage, email her at lbraxton@mhp.net).