Posted on March 28, 2023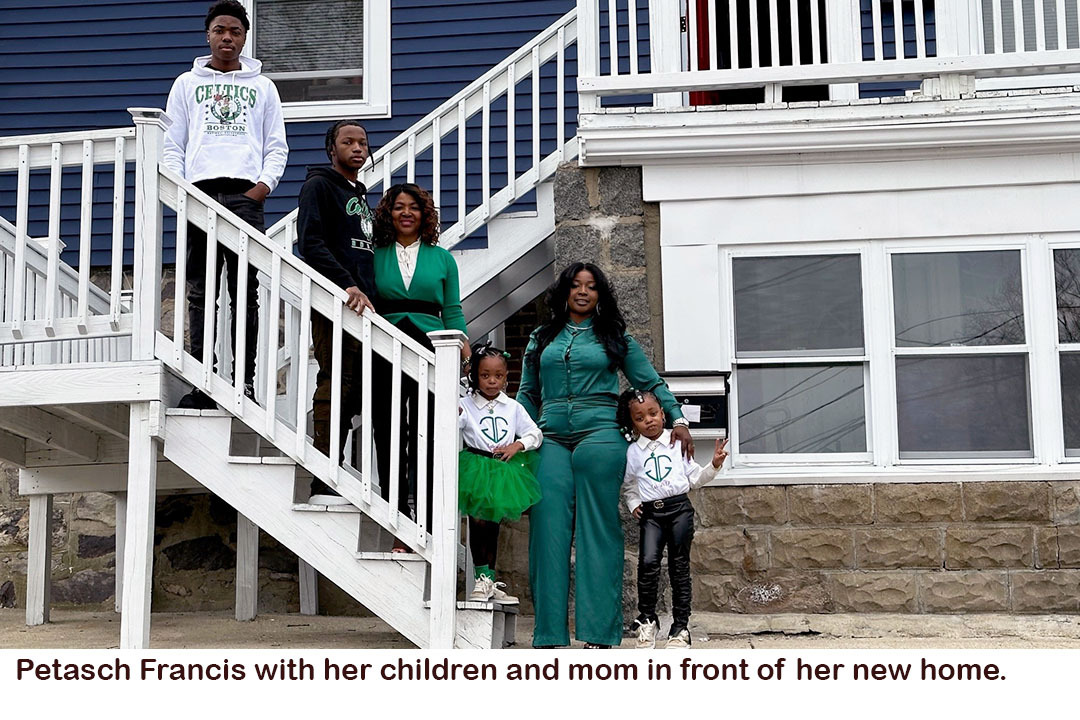 By Lisa Braxton
BOSTON --- Petasch Francis can tell you the moment she fell in love. It was during a showing of a single-family, five-bedroom house in the Mattapan neighborhood of Boston.
Picture essay: Family enjoys new home
It took some convincing by her realtor, Erica Davis, for the first-time homebuyer to view the house. She assumed it was out of her price range.
"I said, 'No way. That's probably going to cost about a million dollars' and she [Davis] said, 'No, check it out, it's something that would be a good fit for your family.'"
Once she did, Francis said she knew that the house was the right one for her.
"I said, 'Erica, I'm in love.'"
Francis, a supervisor for the MBTA, had been renting a four-bedroom house in Mattapan for $2,600 a month. She'd been saving for years to buy a house.
In 2022 she completed first-time homebuyer classes with a Boston-area affordable housing nonprofit, and pursued her goal of purchasing a 2-family house and renting out one floor. Not finding anything in her price range convinced her to listen to the advice of her realtor.
She bought her Mattapan home for $530,000. Just as interest rates were rising, Petasch secured a fixed rate of 3.875 percent, a rate deeply discounted as part of her ONE+Boston loan from Eastern Bank. This locked in her mortgage payment at just over $2,200 per month for the next 30 years. Putting in less than $8,000 of her own money, she was able to access almost $44,000 in down payment assistance as well as additional funds to help pay for closing costs, courtesy of ONE+Boston as well as the Federal Home Loan Bank of Boston's Housing Our Workforce program.
"The financial assistance that I received and the fact that I locked in the interest rate for a home that I thought I could never buy touches my heart," she said. "I tear up that I now have this home."
The house provides enough rooms for her 5-year-old twin daughters, her two sons, 15 and 17, and her mother. She's converting a first-floor "in-law suite" into an accessible dwelling unit to rent out.
The house also offers heartwarming reminders of her childhood. Francis grew up on the same street two houses away at 201 Savannah Avenue.
"I have always dreamed of owning on my street because I loved my childhood," she says. "Everybody was so family-oriented. We weren't just neighbors. We were family. Now my children will be able to grow up on the street where I grew up."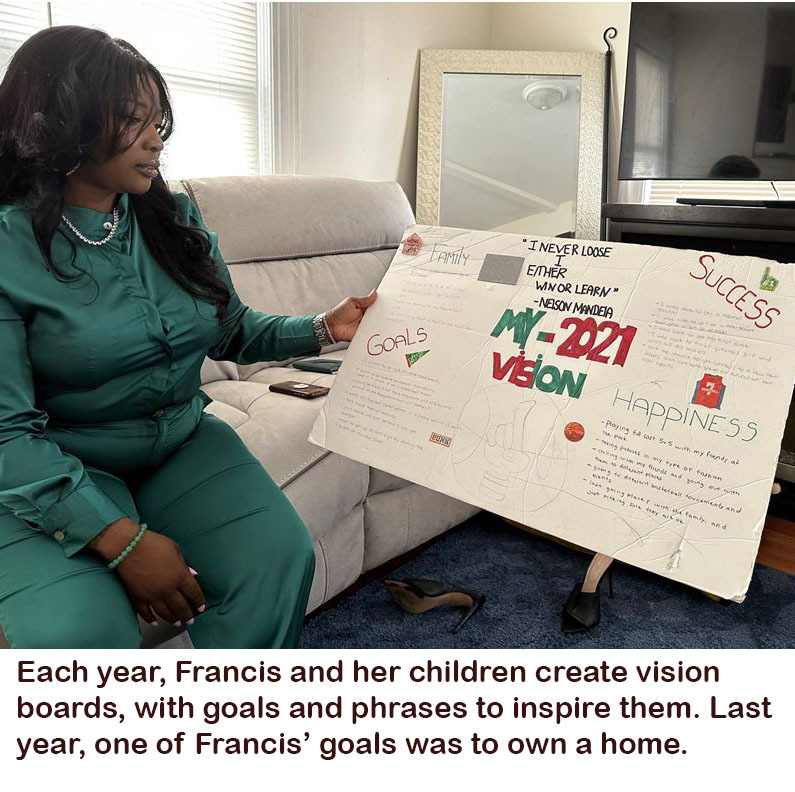 After purchasing the house, she bought a projector and is making plans to have movie nights in the backyard. "I've got the glow lights, glow-in-the-dark bracelets, dream chasers and bean bags."
Each year she and her children create vision boards, collages of images and words representing their wishes or goals to motivate and inspire them. A vision board Francis created last year included her goal of becoming a homeowner.
Now that she's fulfilled her dream, Francis is determined to help others. She shares her homeownership journey on social media and is in talks with a local financial institution to give presentations on home purchasing. "Dreams are just thoughts until you make them a reality," she said. "I want people to know that if I can do it, they can do it."

(Lisa Braxton is MHP's Communications Manager. She can be reached at lbraxton@mhp.net)