Posted on February 6, 2023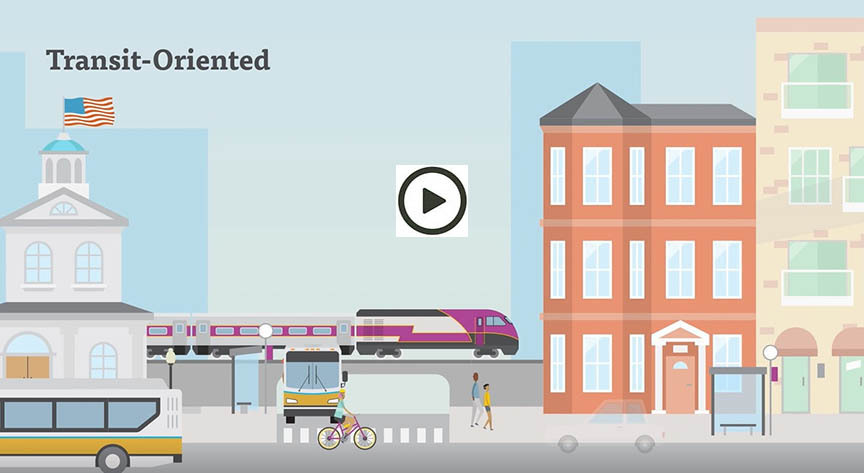 BOSTON --- To help communities understand the state's MBTA zoning mandate, The Massachusetts Housing Partnership (MHP) has produced a three-minute video that explains the merits of the new zoning requirement.
MHP's public affairs, community assistance and data teams produced the introductory video, "Why MBTA multifamily zoning law makes sense for Massachusetts," with support from the Barr Foundation. A combination of animation, graphics and maps are used to make the point.
The video details the state's housing crisis. It will help cities and towns zone for more housing near transit, increase economic opportunity, reduce sprawl and lessen the impact on the environment.
The new law requires that an MBTA community shall have at least one zoning district of reasonable size in which multifamily housing is permitted as of right and meets other criteria set forth in the statute:
Minimum gross density of 15 units per acre
Located not more than 0.5 miles from a commuter rail station, subway station, ferry terminal or bus station, if applicable
No age restrictions and suitable for families with children
Some of the many merits of the new law that the video describes are that it enables communities to build complete neighborhoods—charming, walkable main streets where people can connect and meet their daily needs—reduce traffic and promote better health.
The video was produced by Ben Oldenburg, an interdisciplinary designer who specializes in creating visual content to support research, development and advocacy efforts. MHP's Rus Lodi was the lead script writer, with contributions from Tom Hopper, Callie Clark, Lisa Braxton and Katy Lacy. Braxton narrated the video.
For more information, contact Lisa Braxton at lbraxton@mhp.net.