Posted on January 25, 2023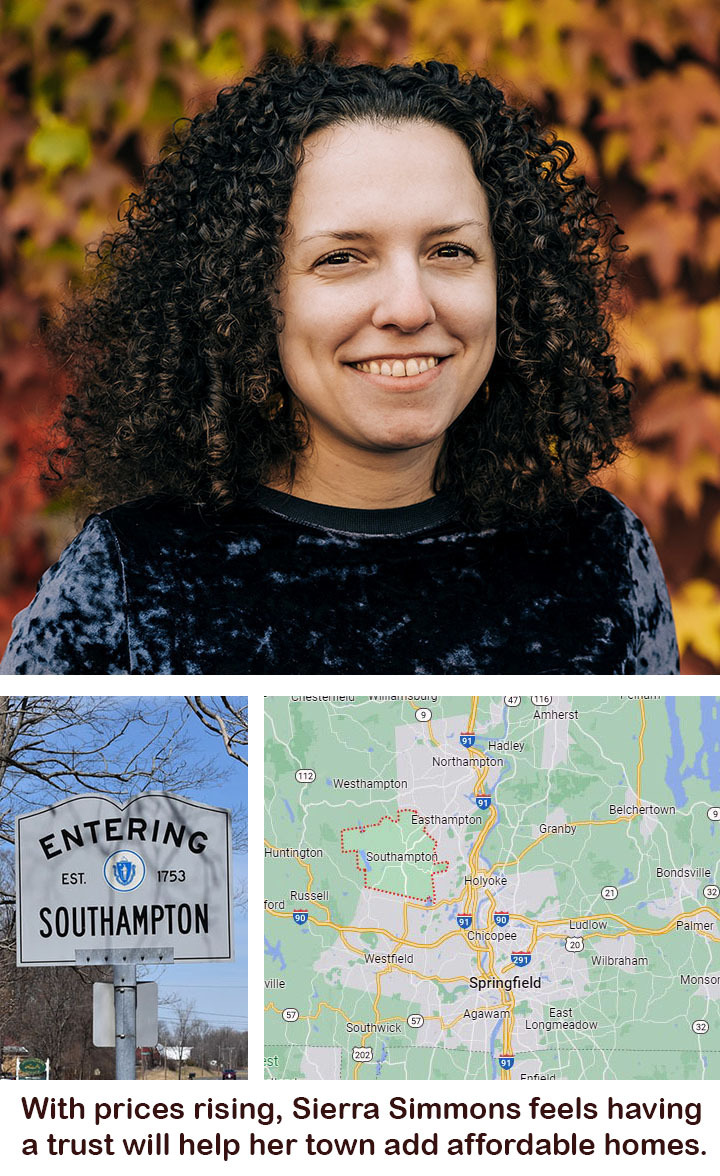 SOUTHAMPTON -- Sierra Simmons wants Southampton to be a place where children can grow up in a racially and economically diverse community, where individuals who have been historically marginalized can live in rental housing they can afford or purchase a home and build generational wealth.
Simmons, a Southampton Housing Authority member, may be on her way to realizing her dream thanks to the results of a vote by residents at a Special Town Meeting in December.
Voters in this small town of just over 6,000 people approved establishing a municipal affordable housing trust, which helps municipalities create and preserve housing for low-to-moderate income households. At least 135 communities in Massachusetts have established a trust fund.
Creating affordable housing has been a high priority since the town's 2010 housing production plan and a goal outlined in the town's master plan, updated in 2021. The priority gathered momentum in the spring of 2022 when MHP's Community Assistance team selected Southampton as one of three communities to receive intensive affordable housing trust technical assistance as part of its continuing effort to help communities use local funds for affordable housing.
"The project was an idea for a really long time, but it wasn't until we partnered with MHP that it actually started happening," said Simmons, who brings her experience as associate director of a nonprofit to her housing authority post. "It kicked our butts to get us to do the work. I could read all of the literature about it, but we really didn't know what the steps were to go from wanting a housing trust to making it happen."
MHP Senior Program Manager Shelly Goehring and Program Assistant Emma McGurren provided resources: a memo outlining early questions to ask when establishing a trust, examples of trust structure, a promotional flyer, a news release and talking points to use at Special Town Meeting.
"They took the ball and ran with it"
MHP held a Municipal Affordable Housing Trust 101 training for Southampton municipal staff, board members and residents. The training provided an overview of the trust fund statute, tips for setting up a new trust and ideas of programs and projects a trust can support.
"So much of our role at MHP is to support communities in building their housing infrastructure," said Goehring. "Sometimes having a little outside support can help nudge a community forward. We offered that to Southampton, and they took the ball and ran with it."
Launched in 2021, MHP's Affordable Housing Trust Fund Technical Assistance Program builds upon MHP's history of helping communities start and operate effective trusts. This effort began in 2005 when the state legislature passed the Municipal Affordable Housing Trust Law, simplifying the process of establishing a local housing trust fund.
Since then, MHP has published Community Preservation Act and housing trust guidebooks and reached dozens of communities each year through technical assistance, trainings and targeted local workshops.
Currently, about 2 percent of Southampton's homes are considered affordable. In addition, nearly half of renters in town spend more than 50 percent of their income on housing. Average home sales have risen by 29 percent since 2010.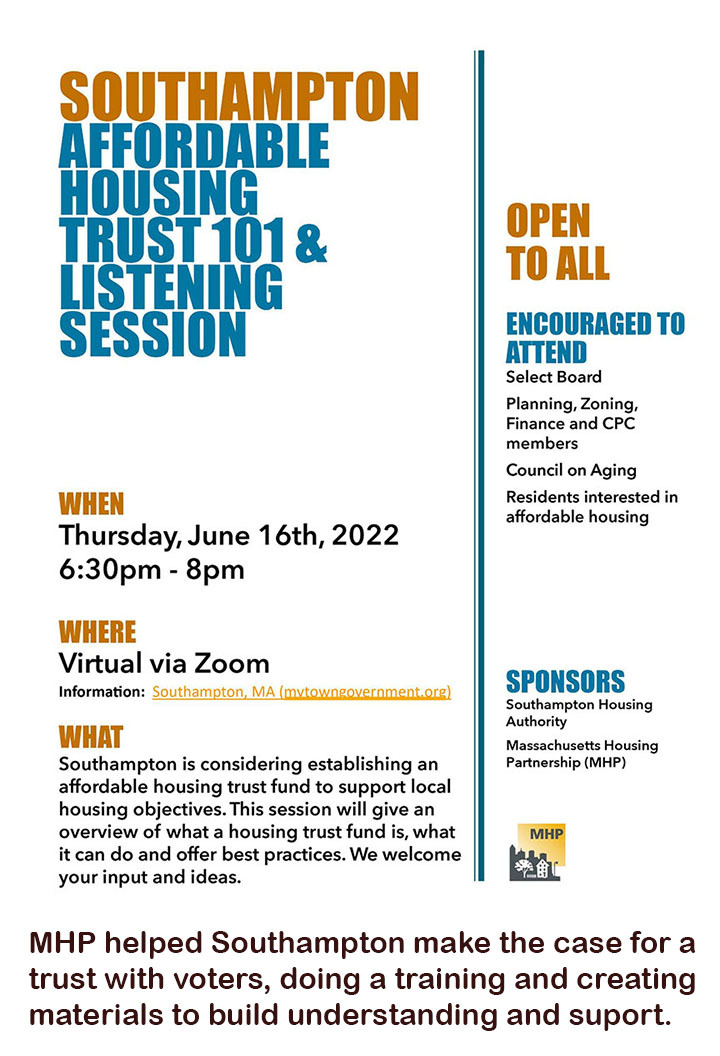 "With property prices skyrocketing, it's really been hard for people who aren't wealthy to purchase a home," Simmons said.
Funding for the trust can come from a number of sources including Community Preservation Act (CPA) funds. The trust can request CPA funds which will give it the ability to be more nimble with property purchases. Simmons said in the past the housing authority would see properties it wanted to acquire, but they would be purchased by private entities before the housing authority could bring the proposed purchase before town meeting for approval.
Select Board support key
Simmons cites Select Board member Joy Piper, who also serves on the housing authority, with championing the trust effort with the select board. "She was a great bridge because she was really for it so she spearheaded it in the select board," said Simmons.
After the vote to establish a housing authority, the Special Town Meeting became a scene of jubilation. Members of the housing authority, select board smiled, congratulated each other, expressed gratitude to those who supported the effort to get the bylaw passed. "We were so psyched," Simmons said. "We were high-fiving. It was awesome."
For more information about how MHP can help your community use local funds for affordable housing, contact Shelly Goehring.