Posted on June 9, 2022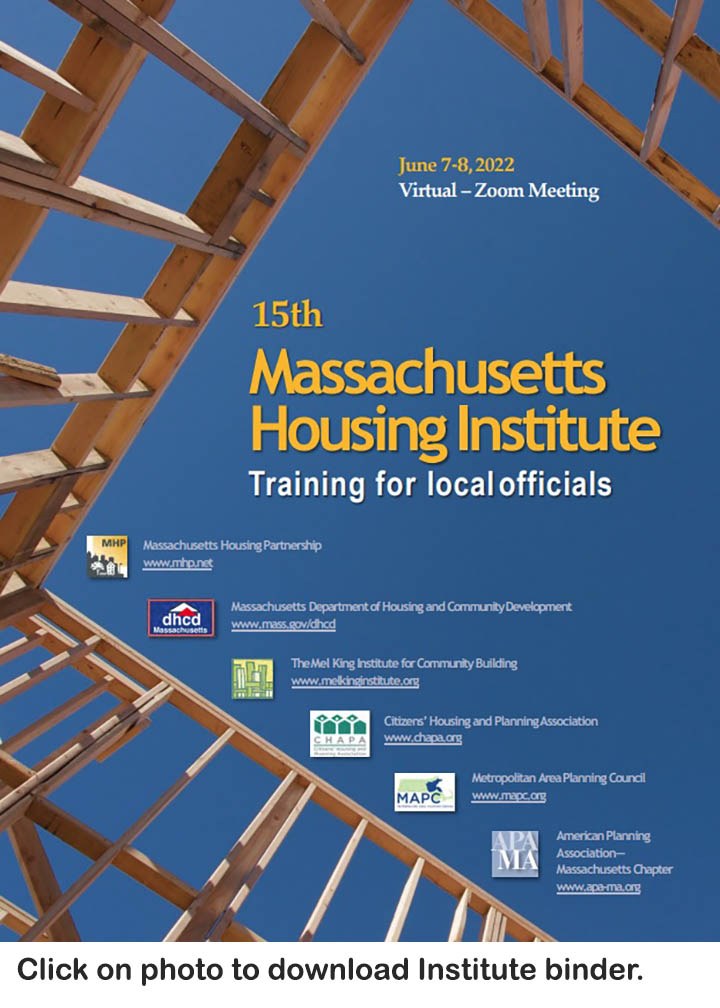 BOSTON --- If you missed MHP's 15th Housing Institute or wanted to rewatch one of the sessions, videos of both days and all materials are now available online.
Held on June 7 and June 8, the Housing Institute is an intensive training for local officials and volunteers.
This year's event was entitled "Complete Neighborhoods: It all starts with home," and featured a variety of sessions on topics ranging from housing, climate and health, housing design, wastewater solutions and building a community engagement strategy.
On Day 1, MHP's Center for Housing Data previewed Residensity, a new web-based tool that will use a statewide database to estimate residential units and lot-level residential density for every parcel in the Commonwealth.
This tool promises to be especially useful in helping communities visualize how to comply with the state's new zoning requirement for MBTA communities, and for any community looking to build more housing near downtowns and peoples' daily needs. A beta site is expected to go live soon.

On Day 2, the Housing Institute resumed its tradition of honoring local leaders with Housing Hero Awards. This year, it honored the communities of Chelsea and Wellfleet, the nonprofit advocacy group Engine 6 of Newton and longtime planner and community development professional Jennifer Raitt.
MHP announces 5 Complete Neighborhood partnerships
Also on Day 2, MHP announced the first participants in its Complete Neighborhoods Partnership, a new program that is using state funding to support communities and regions in the creation of walkable neighborhoods near economic opportunities, transit and daily needs.
The five that were chosen are Brockton, Fitchburg, and Chelsea, and joint efforts by North Attleboro and Plainville, and six counties in Franklikn County - Greenfield, Montague, Deerfield, Orange, Erving and Whately.

The Complete Neighborhoods Partnership is part of MHP's Complete Neighborhoods Initiative, a comprehensive effort to help MBTA communities comply with the state's new multifamily zoning requirement, and support the development of walkable, sustainable neighborhoods throughout the Commonwealth.
The 2022 Housing Institute was originally slated as a hybrid event, all virtual on Day 1 and live at the Devens conference center on Day 2. In late May, MHP switched it to all virtual due to rising COVID rates. Despite this switch, participation was strong as attendance ranged from 130 to 150 on Day 1 and 110 to 130 on Day 2.
Related news
Meet the 2022 Housing Heroes & all the heroes through the years