Posted on April 1, 2022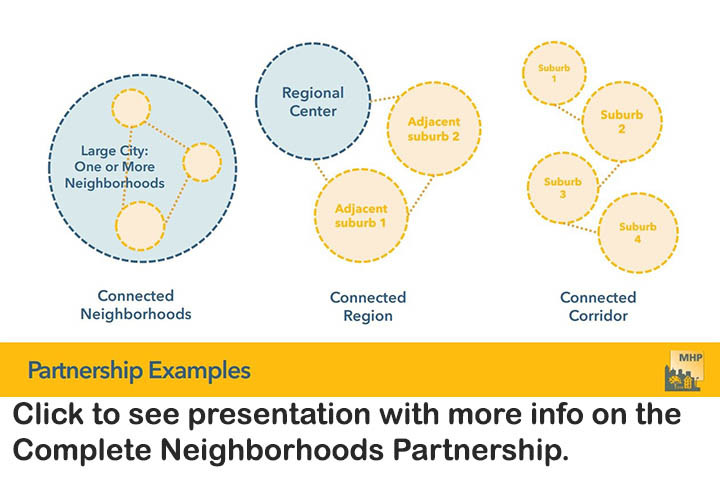 MHP's Complete Neighborhoods Partnership (CNP) is state-funded program will select up to 12 communities to receive up to $150,000 each in technical assistance for a total of $1.8 million over a five-year period of the program.
Five were selected in 2022 and another application and funding round is planned for 2023. Services will be performed by MHP staff and/or third-party consultants.
The 2022 selectees were announced on June 8 at MHP's 2022 Housing Institute. They were Brockton, Chelsea and Fitchburg and regional applications from North Attleboro/Plainville and six towns in Franklin County - Greenfield, Montague, Deerfield, Orange, Erving and Whately.
Here are responses to some frequently asked questions about the program.
Q: Are regional planning agencies (RPAs) eligible to apply on behalf of communities in their region?
A: Since RPAs can potentially be a service provider for the program, they are not eligible to apply. However, an RPA can join as a member of the partnership program after the award and/or be a lead consultant for the duration of the program. As a service provider to the program, RPAs can leverage their state Direct Local Technical Assistance funding (DLTA) or other resources to supplement the program (e.g., MBTA zoning compliance analysis). That said, RPAs can support communities in preparing the application.
Q: Is there a minimum size requirement or distance from transit for a proposed Complete Neighborhood?
A: No, the program does not impose limits to the size or number of proposed neighborhoods, its specific distances from transit, or the number of communities included in a regional application. However, we do recommend applicants consider areas that have been identified in previous planning efforts as priority investment areas for housing and/or have ongoing projects that cannot be advanced but for the support of CNP's resources.
Q: Our planning & community development staff currently does not have the capacity to take on a long-term grant. How much time commitment should we anticipate from staff, if selected?
A: Aside from the drafting of the application (which was designed to be simple and straight-forward), the most amount of time expected from staff and partnership members would happen during the first 4-6 weeks of the 30-month program. We anticipate the partnership meeting for up to 90 minutes 3-4 times during this startup period to develop and finalize a 30-month work plan. Following this period, the CNP program manager at MHP (Christine Madore) will oversee management of consultants and coordinate once-monthly meetings and correspondence for the selected partnerships. Communities will not receive direct funds and therefore do not need to procure or manage consultant services.
Q: Are mixed-income projects eligible for the capital funds available under this Initiative?
A: Capital funds are made available through state Department of Housing and Community Development's routine notices of funding availability (NOFAs) under the "transit-oriented development" category. Developments must originate from the Complete Neighborhoods Partnership in order to qualify. For mixed-income projects, funds can only be used towards deed-restricted affordable units. Affordability requirements: 25 percent of the units must be affordable to households making 60 percent of area median income (AMI); funds can be used towards units affordable to households making no more than 110 percent AMI.
Q: What are example documents that can demonstrate community support?
A: We are looking for evidence of political will or history of community engagement exercises that paint a compelling picture of community buy-in for the proposed projects. This evidence should be paired with narrative that explains how the CNP program's resources can advance community goals. Community support can be demonstrated in a number of ways:
Letter of support from the legislative body (Select Board, City Council, etc.)
Letter of support from the town executive (TA, etc.)
Qualitative and/or quantitative data showing public support for specific programs/initiatives (survey results, feedback from public meetings, etc.)
Evidence of public investment in dollar amounts or in-kind services
Q: Our community does not have transit service. Can we still apply?
A: For communities that do not have existing transit but have been making recent strides in introducing or improving mobility infrastructure to reduce auto-dependency, we recommend joining forces with one or more adjacent communities that have made similar investments in transportation to catalyze regional mobility.
Q: Can I have a PDF copy of the application form?
A: The PDF version of the application form is available to download via the link below. Please note that the PDF form is for discussion purposes only; applications must be submitted using the online form, which can be saved as you populate the fields.
Q. Who can I speak to and where can I get more information about this program?
A. Feel free to reach out to Christine Madore, MHP Senior Development Manager at cmadore@mhp.net or 857-317-8538. The recording of the Complete Neighborhoods Initiative kickoff webinar is available on MHP's YouTube channel. You can also download the presentation.
Sign up to receive updates and announcements about the Complete Neighborhoods Initiative.

(This program is funded by the Commonwealth's 2021 Economic Development Bond Bill through the Massachusetts Department of Housing and Community Development and Executive Office of Housing and Economic Development).