Posted on March 22, 2022
(Note: To mark the March 25, 2022 groundbreaking for Tavernier Place, we are reposting presentation remarks made by Undersecretary for Housing Aaron Gornstein when he presented a Housing Hero Award to longtime Acton resident and housing advocate Nancy Tavernier at the 2013 MHP Housing Institute. Lowell-based Community Teamwork Inc. is recognizing Tavernier's work by naming the 30-unit affordable housing development after her).
Time does not permit us to list all the things Nancy Tavernier has done for the Town of Acton. It would be quicker to list what she hasn't done – at least not yet.
"Nancy is the go-to person for affordable housing in Acton and in our region," says Lauren Rosenzweig-Morton, a former town selectman.
"You haven't just made an impact through the affordable housing you've created, but your work also sends a message to your legislators that housing is important," said state Sen. Jamie Eldridge.

Reading over her accomplishments, it's easy to see why. Starting in 1987 when she was appointed to the Acton Community Housing Corporation board while serving as selectman and continuing when she became volunteer chair in 2000, Tavernier's list of contributions includes:
Working with 40B developers to ensure they get a fair hearing and to make sure those developers account for resident concerns. This "friendly 40B" process has resulted in adding 314 rental homes to the town's affordable housing inventory.
Created a down-payment and closing-cost assistance program for homebuyers.
Has been a strong advocate for town-initiated housing developments, most notably the transformation of the old high school into 15 affordable rental homes.
Has supported the use of CPA and other local funds to provide critical funding for affordable housing.
Had the town join a regional service network so it could better monitor its stock of affordable homes.
Initiated and worked with other town boards to develop a 40B comprehensive permit policy that encourages greater density near town centers.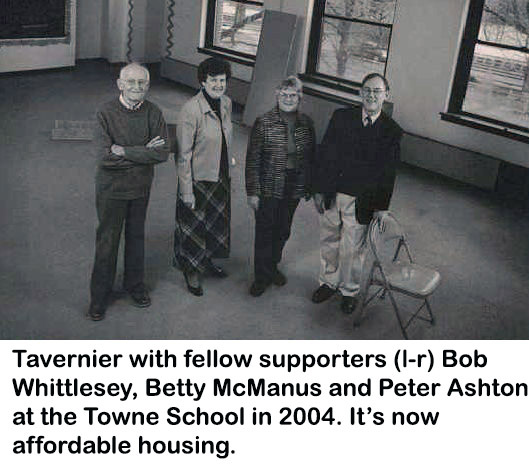 Nancy Tavernier says her passion for affordable housing began when she attended her first housing lottery information session. "We had 100 interested buyers," she recalls. "I have never forgotten the hope in their eyes. That is what hooked me."
She said in addition to passion, you also need perseverance and equally dedicated people around you. "Affordable housing is not easy. You have to believe in it and you have to have the patience to slog through all the process and programs. But you do it because of the looks you see on the faces of the people who benefit from the affordable housing."
She added success isn't done alone. "Working with dedicated people who believe in affordable housing has always made my job much easier."
This is why Nancy Tavernier is a Housing Hero.