Posted on April 14, 2022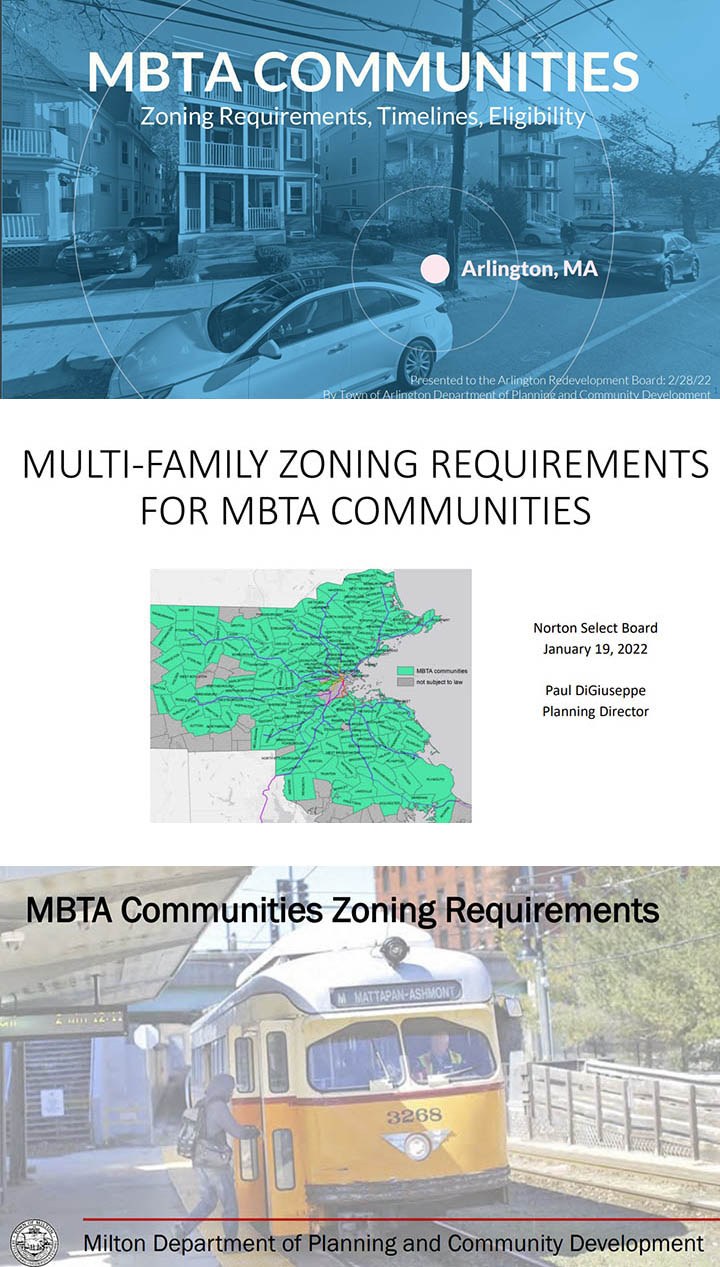 In its effort to help MBTA communities comply with the new multifamily zoning requirement, MHP's community assistance team has been compiling presentations that planning and community development staffs have been providing to local officials.

In all, MHP has collected municipal presentations of varying types, from big towns to small towns, some with maps and charts and some that are mostly text-driven documents. All provide key information about requirements and deadlines to comply.
The new multifamily zoning requirement was passed early in 2021 as part of a $262 million economic bond bill. It directs all 175 MBTA communities to adopt zoning where multifamily is permitted by right. In December, the state issued draft guidelines, which are open for public comment until March 31, 2022.

Included in the draft guidelines is a requirement that cities and towns must make a presentation to its governing body by May 2, 2022 to achieve "interim compliance." This is outlined in MHP's recently-released advisory entitled 8 steps MBTA communities can take while guidelines are being finalized.
To support community compliance and the creation of walkable neighborhoods near transit, MHP - in partnership with the state - has launched the Complete Neighborhoods Initiative featuring technical assistance to comply with the law, sustained technical assistance for selected districts through its Complete Neighborhoods Partnership and capital investment through the state's annual housing funding rounds.
"Right now, the focus of our compliance technical assistance is building a clearinghouse of resources to help communities understand the law and what they can be doing now, while the guidelines are being finalized," said Katy Lacy, MHP's senior planner and leader of MHP's zoning compliance effort. "For community planners who are working to bring their elected officials up to speed, these presentations will give them ideas on how to explain this new law and how to comply."
MHP will continue to post helpful municipal presentations as it receives them. For more information about MBTA zoning, go to MHP's Complete Neighborhoods Initiative web page or email Senior Planner Katy Lacy at klacy@mhp.net.
More MBTA zoning resources
MBTA Zoning & Complete Neighborhoods web page
8 things communities can be doing while guidelines are being finalized
Our take: Work to be done, but law is major step forward for Commonwealth
Compliance deadlines for MBTA communities