Posted on December 16, 2022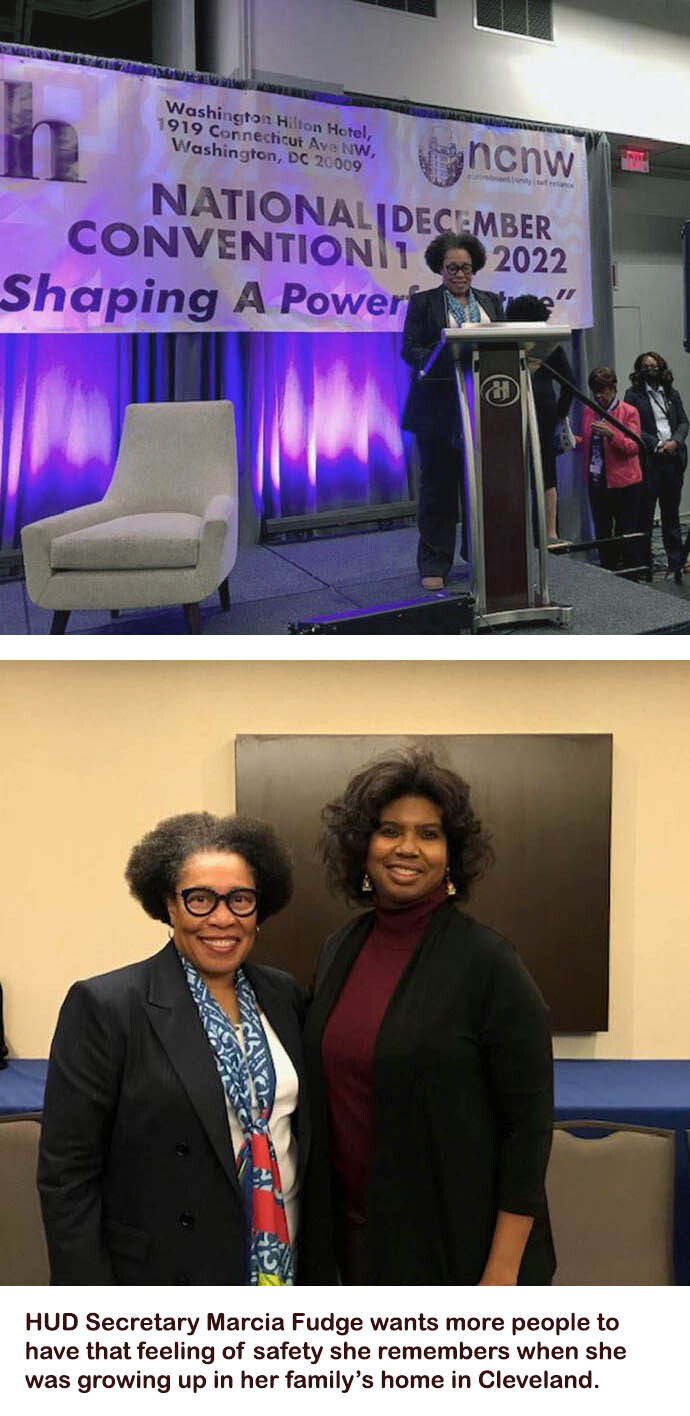 WASHINGTON, D.C. --- Marcia Fudge, Secretary of the U.S. Department of Housing and Urban Development, is determined to make sure everyone who wants a home can have one. She made remarks during the National Council of Negro Women (NCNW) 60th national convention in Washington, D.C. I was one of 700 people in attendance. She said her mission is personal and reminisced about her childhood home in Cleveland, Ohio.
"I grew up in a family that didn't have much but what we had was a home. There were a whole lot of people in that home, but we had a home. One thing about that house was it made me feel safe. It was a place I could go and never be questioned about who I was or where I was going or what I was good enough to do."
She said that HUD is asking for $100 million under the HOME Program for the FirstHOME Downpayment Assistance Initiative that would provide funding to states and local areas to better support sustainable homeownership for first-generation and/or low-wealth first-time homebuyers.
She added that rental history can now be used as credit when pursuing a home purchase.
"We know most people who rent don't have a credit history," she said. We're going to use rental payments as credit so that you pay your rent on time, it's going to create credit for you. We announced that to all of our lending institutions. I need us to catch up and I'll do everything I can to help us catch up."
She spoke of the need to counter racial bias in the home appraisal process that keeps people of color from building generational wealth. Data confirms that racism is taking money out of black homeowners' collective pockets to the sum of $156 billion.
"Black and brown people's homes are routinely undervalued by appraisers depriving us as a people of billions of dollars in equity and wealth," she said.
I spoke with her during a reception following her speech. She was pleased to hear about the mission of MHP, ONE Mortgage and other programs throughout the state designed to close the income-related homeownership gap.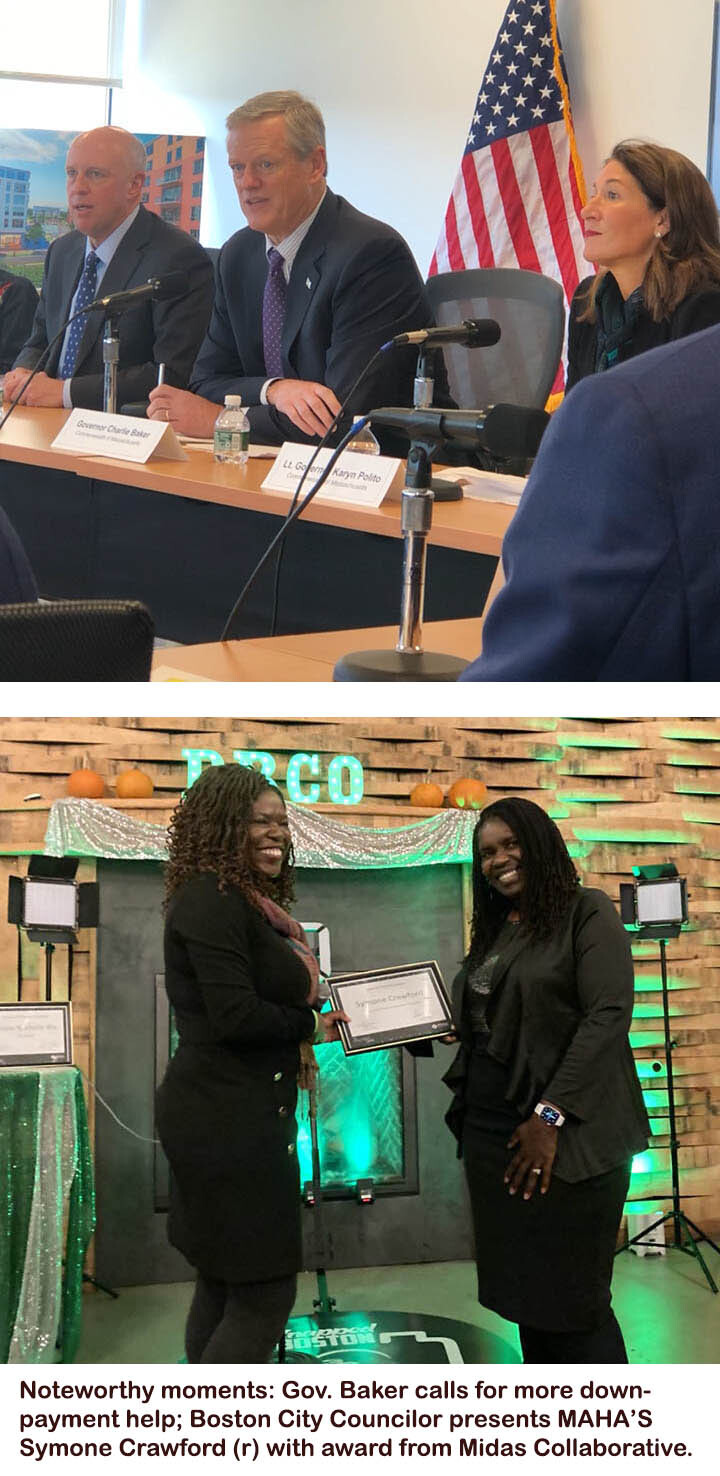 Governor is proud of record, but wants more to be done
During a celebration of the Baker Administration's support of affordable housing, Governor Charlie Baker spoke about the need to undo years of mortgage and zoning discrimination.
"It is an absolute travesty that has to be addressed," he said. "This issue around homeownership, which is the primary way that most people build wealth in America is a door that desperately needs to be open and stay open, especially for communities of color people of color because this is not a door that has been available to them literally for decades."
The governor spoke before municipal leaders, developers, housing agencies and advocates in downtown Haverhill at one of his last forums before he leaves office. He reflected on his administration's request for $300 million from the legislature for down payment assistance for prospective homeowners and receiving $60 million for the MassDREAMS down-payment and closing cost assistance program.
"I'm really proud of the work that we've done in this space, but there's much more that needs to be done," he said. "I certainly hope that people will continue to build on that platform going forward."
MAHA executive director honored during gala
Massachusetts Affordable Housing Alliance (MAHA) Executive Director Symone Crawford, who purchased her first home with an MHP SoftSecond loan, was honored during a gala hosted by the Midas Collaborative for her work helping first-time and first-generation homebuyers achieve their goal of homeownership and her efforts to close the racial homeownership gap.
Before becoming MAHA executive director, Crawford was the director of STASH, a matched savings program for first-generation homebuyers, and homeownership operations at MAHA.
The mission of Midas's matched saving programs is to advance asset building opportunities for people across Massachusetts. Boston City Councilor and housing advocate Ruthzee Louijeune presented Crawford with the service award.
Report Card: Renters squeezed out of affordable homeownership

The Boston Foundation reached a milestone this year with its 20th Greater Boston Housing Report Card. As in years past, it laid out the persistent realities about the region's housing crisis and offered ideas for adjustments to policy and practice to improve the market for people living in it.
Here are key findings from Boston Indicators, the research center of the Boston Foundation:
Home prices have reached unprecedented heights, and not just at the high end
Renters and owners who are barely making rent and mortgage payments face the prospect of eviction, foreclosure, or in worst-case scenarios, homelessness
The wealthy suburbs lag behind on housing affordability efforts
Greater Boston's rental and homeowner vacancy rates have remained well below the national average
Price increases paired with mortgage rate increases have squeezed roughly 130,000 renter households out of affordable homeownership.
Policy recommendations include creating a Massachusetts office of fair housing to reduce policy fragmentation and providing a central institution to lead on fair housing working with the incoming Governor-elect Maura Healey and Attorney General Andrea Campbell.
Close to 90 foreclosures postponed due to Mass HAF
MHP is administering the state's Homeowner Assistance Fund (Mass HAF), which is continuing to provide aid to homeowners behind on their mortgage payments. The goal of HAF is to prevent foreclosures and displacements of eligible homeowners.
Since its launch in Dec. 2021, the program has provided $55.7 million in assistance to 2,787 households. Ninety-three percent of those served are at or below 100 percent of the area median income. Eighty-eight foreclosure sales have been postponed.
Mass HAF is available to homeowners who are behind on their mortgage payments by at least three months because of the COVID-19 pandemic. Assistance can be provided up to $50,000. The homeowner's servicer (whoever they pay their mortgage to) may be able to help with a plan to help the homeowner get caught up on the remaining amount owed.
A key to the program is signing up and training mortgage servicers because these companies apply for assistance on behalf of homeowners. So far, 238 have agreed to participate and 225 have been fully onboarded.
If you are a homeowner who needs mortgage assistance, please visit the Mass HAF web site at massmortgagehelp.org. If you are servicer, please go to MHP's mortgage servicer home page.
ONE+Boston continues to reach prospective homeowners
MHP's partnership with the City of Boston to offer an enhanced version of ONE Mortgage continues to help more first-time homebuyers purchase a home in the city. Since the program's inception in 2021, 264 ONE+Boston loans have been closed.
ONE+Boston combines the low-cost features of the statewide ONE Mortgage program with city funds. With these funds, ONE+Boston is able to offer heavily discounted 30-year-fixed interest rates and increased down payment assistance. Ten lenders offer the product with more expressing interest on a regular basis.
As of December, ONE Mortgage has closed 256 loans statewide, totaling $82.9 million. Citizens Bank, Rockland Trust, Eastern Bank and Cambridge Trust lead the way.
(This notebook was compiled by MHP Communications Coordinator Lisa Braxton. Questions or comments? Email lbraxton@mhp.net).