Posted on June 17, 2021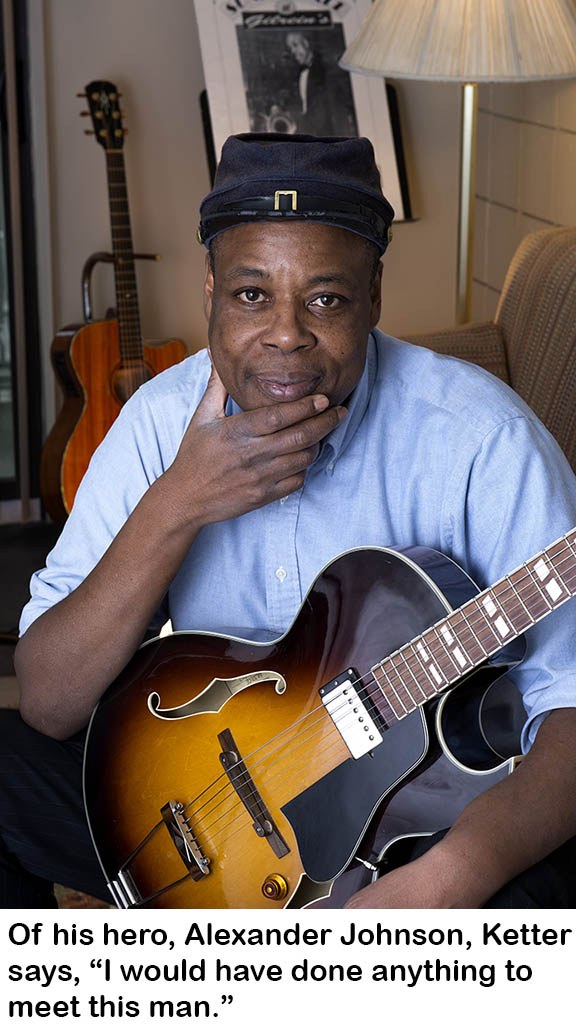 By Rus Lodi
WORCESTER --- Whenever Worcester's Charles Ketter gets a chance to talk about, teach or play music, he'll often wear his Union Army cap and tell his audience his family nickname is "Banjo."
He does this because he knows that these details are incongruous with his 6-foot-6 frame and his five-decade presence in the Worcester jazz scene. He does this because he knows these details will raise questions and give him a chance to talk about Worcester's Black history, its music and his hero, Civil War drummer Alexander Johnson.
The 58-year-old Ketter, a lifelong Worcester resident and professional musician, was only too happy to carve out time this week to talk about Johnson in advance of Saturday's Juneteenth holiday, which commemorates the ending of slavery and the continuing fight for freedom and equality. He sees Johnson and the hundreds of Black men who volunteered to join the Massachusetts 54th Regiment as not only heroes who risked their lives to end slavery, but also a reminder that the battle still needs fighting.
"The celebration of Juneteenth is important because it commemorates enslaved people being informed of a government proclamation, but what Alexander Johnson and those other men did was equally important," said Ketter. "They didn't wait for Lincoln to free them. They took their liberation into their own hands. That's why I celebrate Alexander Johnson."
Joined the all-Black 54th Regiment
Alexander Johnson was born in New Bedford in 1846, the adopted son of William Henry Johnson, one of the state's first Black lawyers. At age 16, Alexander Johnson was among the hundreds of Black men who volunteered for the 54th Regiment, one of the first Union regiments of Black soldiers to see major combat in the Civil War. He volunteered as a musician because he played a drum, including one time as a child when he joined a street protest after the hanging of abolitionist John Brown. According to historian Ronald S. Coddington, the young Johnson was likely compelled to join the army because his father advocated for African Americans to be allowed to serve in the Union Army.
The 54th Regiment was commanded by Colonel Robert Gould Shaw, the 26-year old white son of a prominent abolitionist Boston family. The 54th trained at Camp Meigs in Boston and marched in a parade at Boston Common before embarking by boat to fight the war in the south. A bronze memorial to Shaw and his troops stands across from the State House, with a drummer in the front representing Johnson and the other drummers of the 54th.
According to a story by Worcester historian David Williamson Sneade, Johnson participated in the battles of Oulstee, Honey Hill, Boykins Mills, James Island, Fort Wagner, and Sherman's "March to the Sea." Fort Wagner at Charleston Harbor was the 54th's most significant action. Colonel Shaw was killed and roughly 40 percent of the regiment were killed, wounded or missing. According to a story by Boston Globe's Brian MacQuarrie, former slave William Carney retrieved the regiment's flag at Fort Wagner after the original standard-bearer had been killed. For his heroism, Carney became the first Black soldier to be awarded the Medal of Honor. After the war, he delivered mail in New Bedford for 32 years. The 54th Regiment's achievements are celebrated in the movie "Glory," starring Morgan Freeman, Denzel Washington and Matthew Broderick.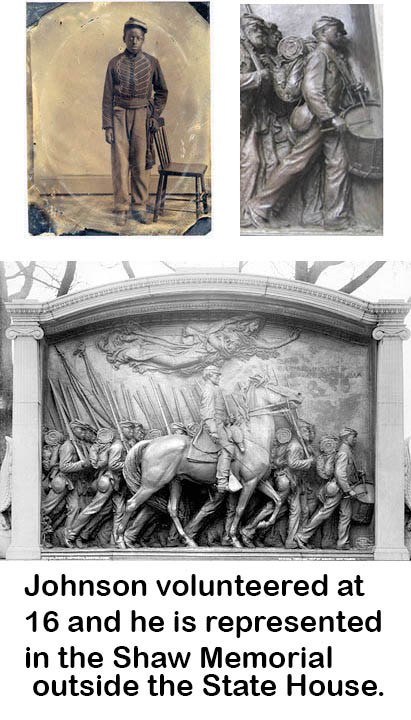 After the Civil War, Alexander Johnson settled in Worcester and lived there for 60 years at homes on Central and Orchard streets. He started the city's first drum corps, and marched in parades in Worcester and around the state. According to Sneade, his group also played at political rallies, reunions, circuses, country fairs, holiday parties and vaudeville. In the years prior to his death in 1930, he taught drums and proudly told the Worcester Telegram that one of his pupils was his grandson, James E. Landers, a drummer at Commerce High School.
Worcester's most well-known drummer
Johnson's reputation as a drummer is how Charles Ketter first heard about his hero. Following the footsteps of his own father, Ketter started playing music at age 4. By the time he was a teenager in the late 1970s, he started sitting in as a bass player with legendary Worcester musicians like Barney Price, Emory Phelps and drummer Reggie Walley. After gigs, Ketter would sit and listen to his mentors talk about "Major" Johnson and his drum corps leading Worcester parades down Main Street. Legend has it Johnson insisted on being called "Major" because he was a drum major. It also served to remind people he fought in the Civil War for one of the first Black regiments to see combat action.
As the years went on, Ketter began to appreciate both Johnson's war service and his influence on his musical mentors like Walley. He says when he played the bass, Walley would shift into a rapid military style and drown out Ketter's bass. At first, Ketter was angry. He thought his musical mentor was showing off. Now, he thinks Walley was imitating the martial style of Alexander Johnson's drum corps, which Ketter calls "the Worcester sound."
"Alexander Johnson is the root of it all," said Ketter. "Think about it. A Black man comes back from the Civil War, starts a drum and bugle corps in Worcester, leads every parade right down Main Street and insists he be called 'Major.' I mean this is 60 years before Civil Rights. I would have done anything to meet this man."
When you talk to Ketter about Johnson's Civil War experience and his connection to the Worcester music scene, you get the feeling that he senses that Worcester's Black history is all around him and he somehow wants to capture it for future generations. When MHP first spoke to him early last year at Fruit Sever Apartments – recently rehabilitated by The Community Builders with financing from MHP – Johnson told us that some of the 20 or so veterans who returned to live in Worcester after the Civil War lived a few blocks away on Bowdoin and John streets. He told us that he wore his Union cap to honor Major Johnson's drumming and his Civil War record. He wants to keep those memories alive. He would love to find the drum that Johnson marched into battle with and put it in a museum.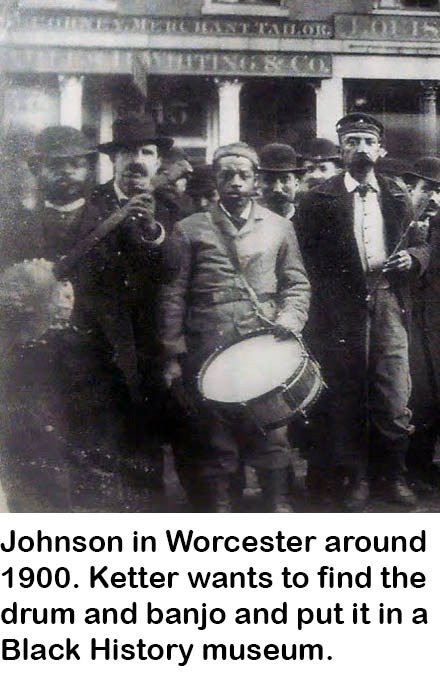 The meaning of the drum & banjo
He is fascinated by a picture taken in around 1900 of Johnson in Worcester with his drum and the man next to him holding a banjo because he knows that banjo originally came to this country on slave ships and then the instrument was trivialized by white people doing Black face, and then appropriated by white country music singers.
This is why he wears the Union cap when he talks, teaches or plays music at gigs, so people will ask him why he wears it and then he can tell the story of Alexander Johnson.
This is why in addition to playing guitar, the bass and the trombone, and being good enough to attend the Berklee School of Music, he also plays the banjo and why he tells people his nickname is Banjo because he wants to reclaim the banjo as part of his Black history.
"I've always been drawn to early Black folk music, even though there's kind of an embarrassment about it," he told us this week. "People cringe when they see Black musicians playing the banjo, but I don't care, I liked all folk music, the banjo, the jug music, drum music, the hamboning. The people in my family who used to call me 'Banjo' derisively now use it as a term of endearment. It's flipped around and I'm trying to do that with the community at large. We don't have to be embarrassed about the music we played during the Civil War, and the clothes we wore. We should take pride in that because we own it."
Sounds like something Major Johnson would say.
(Rus Lodi is MHP's director of public affairs).
Charles Johnson talks about Juneteenth and the example of Alexander Johnson (2 minutes)