Posted on December 22, 2021
By Lisa Braxton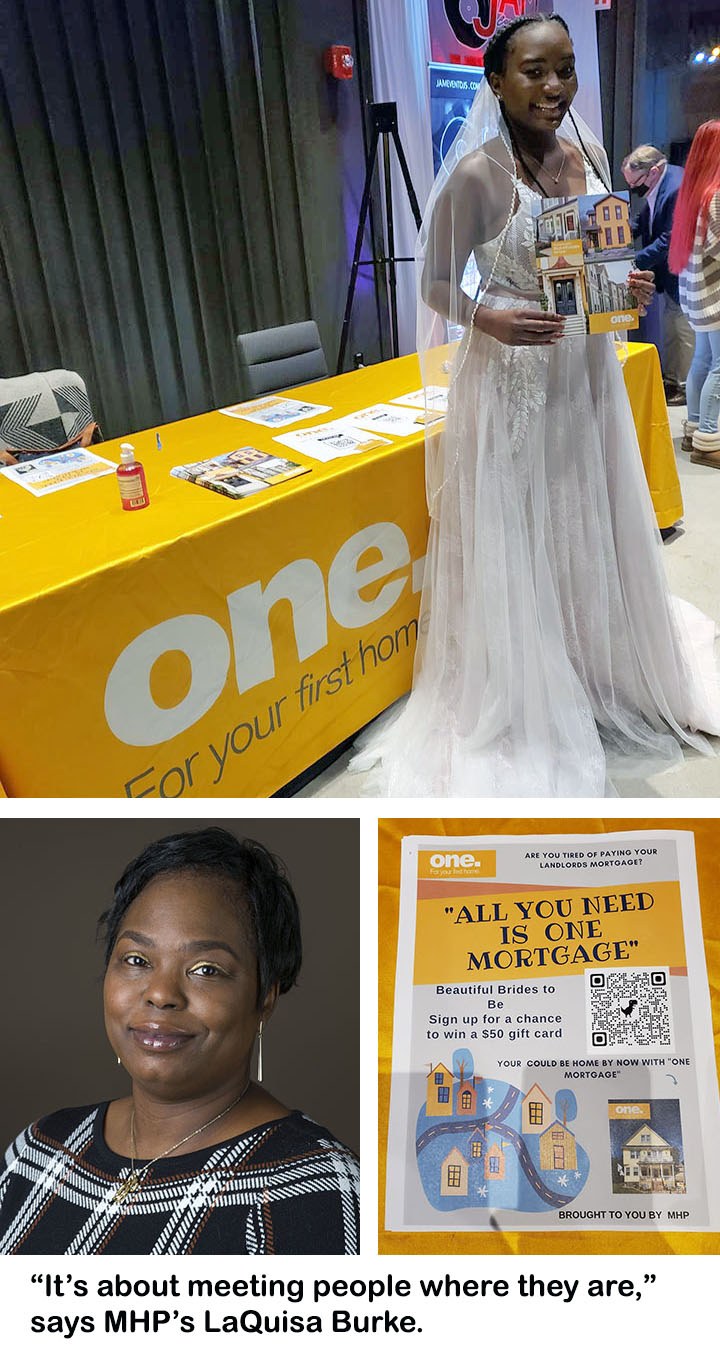 Most would agree that buying a first home is no laughing matter, but MHP's LaQuisa Burke thinks otherwise. Comedy can play a meaningful role in the homebuying journey, says the community engagement officer. That's why you can find her onstage at Boston's McCumba Latina nightclub for "Tickle Me Tuesday" comedy shows, not delivering zingers and one-liners but explaining the path to homeownership.
After the emcee warms up the crowd, Burke stands before the mike and gives a brief presentation on MHP's ONE Mortgage program and invites the audience to stop by her exhibit table to pick up literature and chat with her about first-time homebuying opportunities.
"It's about meeting people where they are, getting to them as much as possible," she says, "even if it's an event like a comedy show."
She says some audience members have questioned the relevance of a homeownership presentation at an event designed to tickle people's funny bone.
But others have asked her for information for their children who are in the market for their first home.
Burke is strategic, pursuing events and locations where there will likely be a significant number of people of color, part of MHP's ongoing effort to close the racial homeownership gap. In 2019 she organized a ONE Mortgage event at Slades Bar and Grill in Boston's South End. This led not only to people signing up for more information, but also a connection with iHeart Media, Inc., the number one audio company in the country, of which Slades is a client. As a result, iHeart has been managing ONE Mortgage's advertising campaign, which brings the ONE Mortgage message to a broad audience, including communities of color.
Created in 1990 to address widespread racial discrimination in mortgage lending, MHP's ONE Mortgage has helped over 23,000 low- and moderate-income families purchase their first home, half to people of color. Despite this success, Massachusetts has one of the lowest rates of homeownership to people of color in the nation, which is what drives Burke to seek new marketing opportunities. There's no telling where Burke will turn up next. She recently exhibited at a bridal show and a holiday toy drive.
"The person who won't go to a homeownership event because they don't think it's possible, it's getting them to believe that it's actually possible and that there are programs out there that will help," she said.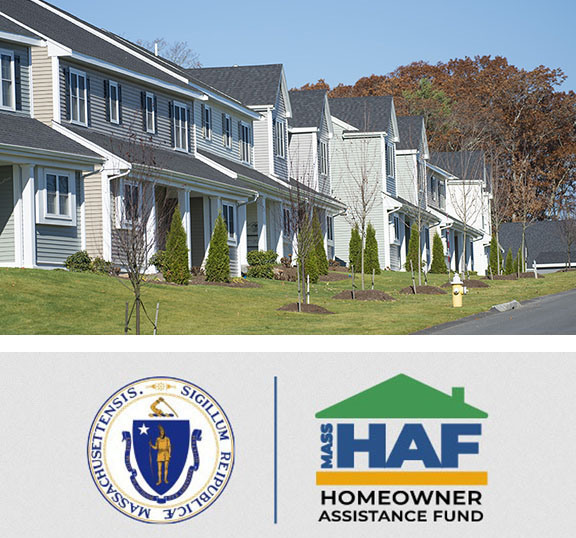 Homeowner Assistance Fund gearing up
MHP has been working with the state on a new federally-funded program that will provide financial assistance to homeowners who are in danger of losing their home due to the impacts of COVID-19.
Called the Massachusetts Homeowner Assistance Fund, the program will be for eligible homeowners who have experienced a COVID-related impact to their finances on or after Jan. 21, 2020 that caused them to miss three or more mortgage payments. For more information on the program and how to apply, go to www.massmortgagehelp.org.
MHP is administering the program in collaboration with the state. MHP has hired a third-party vendor to create www.massmortgagehelp.org. This site is a secure web-based portal that will be used by Massachusetts homeowners to apply for assistance. The site will also help applicants connect with a fully staffed, bilingual call center which will provide case management, underwriting, payment processing, and quality control/quality assurance personnel. Mortgage servicers will access the portal to secure federal funds for borrowers who have missed mortgage payments.
Additionally, MHP is in the process of contracting with 11 housing counseling agencies to provide application assistance, in-depth counseling, and legal services to homeowners.
MHP has taken the lead on training program stakeholders, including mortgage servicers, housing counselors, advocates, and community-based organizations. It held two on-line trainings for mortgage servicers in November and created web page where mortgage servicers can access training videos and fill out the necessary agreements to participate in the program.
To support the new program, MHP hired Maureen Flynn as program director for MassHAF. Flynn is a longtime housing professional who most recently worked for the City of Boston as Deputy Director of Neighborhood Development and ran the Boston Home Center. Previously, she was general counsel for the state's Executive Office of Housing and Economic Development and deputy director of the Massachusetts Association of Community Development Corporations.
Schlorholtz retires from Boston Private Bank

A pillar of affordable housing in Massachusetts was recently lauded during her virtual retirement party. Esther Schlorholtz, director, community investment and senior vice president at Boston Private Bank, retires after a 40-year career and more than 30 years of community development experience. Her responsibilities at Boston Private included managing Community Reinvestment Act programs and overseeing community development lending, residential and small business lending.
A total of 135 well-wishers attended the Zoom event—affordable housing advocates, housing-related organizations and agencies, former and current co-workers and colleagues. Many offered reminiscences about working or collaborating with her, describing her as having a passion for her work and commitment and determination for promoting opportunities for low- and moderate-income people.
Joe Flatley, President and CEO of Massachusetts Housing Investment Corporation praised Schlorholtz for valuing partnerships. "Esther has an appreciation for partnerships, for relationships, for working together to build a better system. Esther understands that it's only by working together in partnership that we're going to move things forward."
"Mergers can be challenging and I have been on both sides of them in my career," said Craig Robinson, head of corporate social responsibility of Silicon Valley Bank, which Boston Private is now a part of. "I could not have found a better partner to work with than Esther. When Esther introduced me to several members of the Boston community, the first thing I noticed was there adoration for Boston Private, but also for Esther."
In an emotional farewell, Schlorholtz expressed thanks to colleagues and her "special family" that supported her throughout her career. She wished them the best on the great work they will continue to do.
Under Schlorholtz stewardship, Boston Private has been one of MHP's top lenders to first-time homebuyers through Soft Second and ONE Mortgage programs. MHP Director of Homeownership Elliot Schmiedl recently reflected on working with her.
"While she worked for a private lending institution, it truly felt like she was part of the broader mission-oriented affordable housing team here in Massachusetts. She was knowledgeable, thoughtful, creative."
Elliot Schmiedl, MHP Homeownership Director
"Gaining Esther's blessing on something you were proposing or formulating always felt like the gold-standard. I was able to work closely with her on our program's transition from SoftSecond to ONE Mortgage, our efforts to lower our credit score requirements, and our creation of ONE+Boston," he said. "While she worked for a private lending institution, it truly felt like she was part of the broader mission-oriented affordable housing team here in Massachusetts. She was knowledgeable, thoughtful, creative, and was always willing to lend a hand or ear to ideas as they related to our programming and policies. I must admit, I was fairly intimidated by Esther at first, but once I got to know her after working on a few projects that feeling completely went away."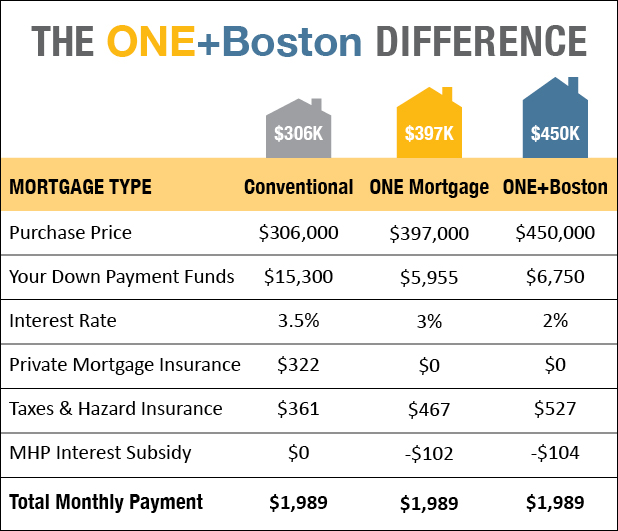 ONE+Boston continues to reach encouraging numbers
MHP's partnership with the City of Boston to offer an enhanced version of ONE Mortgage continues to notch encouraging numbers. So far in 2021, 127 ONE+Boston loans have closed.
ONE+Boston combines the low-cost features of the statewide ONE Mortgage program with city funds to help more first-time Boston homebuyers buy in the city. With the additional city funds, ONE+Boston is able to offer heavily discounted 30-year-fixed interest rates (1.79 percent average so far) and increased down payment assistance to first-time buyers.
Five lenders currently offer the program --- Santander Bank, Boston Private (now Silicon Valley), Cambridge Trust, Citizens Bank and most recently, the City of Boston Credit Union, which just closed its first loan. More information can be found on the ONE+Boston web page.
Statewide ONE Mortgage numbers
Through Dec. 22, total volume consists of 735 closings totaling $238 million in private bank financing in 2021. Of particular note, Citizens Bank has closed 198 loans totaling $36 million this year. Also, thanks to ONE+Boston, we're seeing the strongest volume in years in Boston, with 182 closed loans totaling $64 million.
(This notebook was compiled by MHP Communications Coordinator Lisa Braxton. MHP Program Manager Isabel Cruz contributed to this report. Questions or comments? Email lbraxton@mhp.net).