Posted on October 29, 2021
By Lisa Braxton
BOSTON --- It was a festive passing of the baton from Massachusetts Affordable Housing Alliance (MAHA) Executive Director Tom Callahan to Symone Crawford during a celebration of Callahan's lengthy career leading MAHA.

Affordable housing advocates, first-time homeowners and representatives of housing-related organizations and agencies across Greater Boston attended the nighttime event on Wednesday, Oct. 27. Held at Boston's Lawn on D, a popular outdoor venue, well-wishers were entertained by a dee jay and dined on a catered meal. They roasted and toasted Callahan, who led MAHA for more than 30 years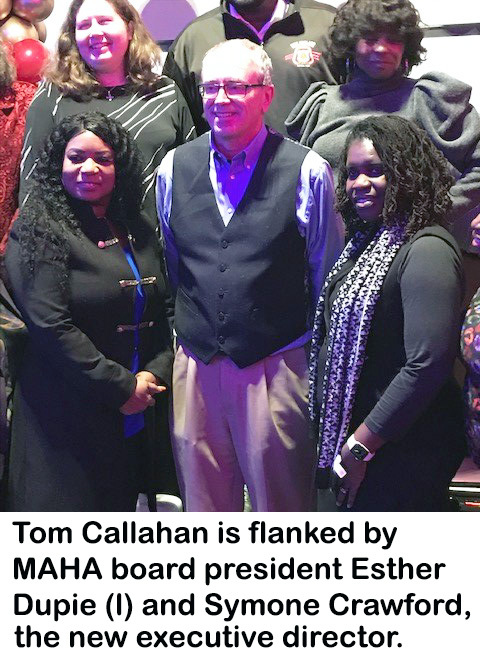 MHP's Clark Ziegler read a proclamation issued by Governor Charlie Baker applauding Callahan's years of service. Callahan worked with the state, MHP and banks to help create MHP's SoftSecond Loan program, now known as ONE Mortgage. The program has helped over 23,000 low- and moderate-income households buy their first home, 6,000 in Boston. The program has generated $4.4 billion in bank financing, $1.2 billion in Boston. About 50 percent of loans have gone to people of color, 67 percent in Boston.
Other speakers who praised Callahan and congratulated Crawford included longtime advocate and former MAHA staffer Lew Finfer, MassHousing Executive Director Chrystal Kornegay, MAHA board vice-chair Thadine Brown, Sheila Dillon, Chief of Housing for the City of Boston and longtime MAHA staffers Hillary Pizer and Regine Waters. Video tributes were delivered by U.S. Rep. Ayanna Pressley and Debby Goldberg, vice president at the National Fair Housing Alliance. MAHA board chair Esther Dupie was the master of ceremonies.
Crawford will assume the executive director position on Jan. 1, 2022. Currently, she is the director of STASH, a matched savings program for first-generation homebuyers, and homeownership operations at MAHA.
She is credited with helping to make programs like ONE Mortgage a key tool to building wealth and was one of 20 women honored by MAHA in 2011 for spending hundreds of hours advocating to bring basic banking and mortgage lending services into Roxbury and Dorchester, and for establishing SoftSecond as the state's most affordable program. When she takes the helm at MAHA, Crawford will be one of the first women of color to lead a statewide nonprofit housing organization.
She grew up in Jamaica and came to Boston in 1999. A few years later she enrolled in classes MAHA offered and purchased her home with a SoftSecond loan. She became an activist, with a focus on increasing homeownership opportunities for first-time and first-generation homebuyers. Before her current position, she served on MAHA's board of directors.
"As an immigrant from Jamaica and a Black woman in this town, it means a lot to me to see women like myself being lifted up in this community. It means a lot to me to be able to call Tom a mentor and a friend," she said. "For me, it is life changing, Tom saw something in me that he was able to pull out. Even though I knew that I had it inside of me. He also noticed it and was able to cultivate and coach me into this confident and cultured woman that I am today."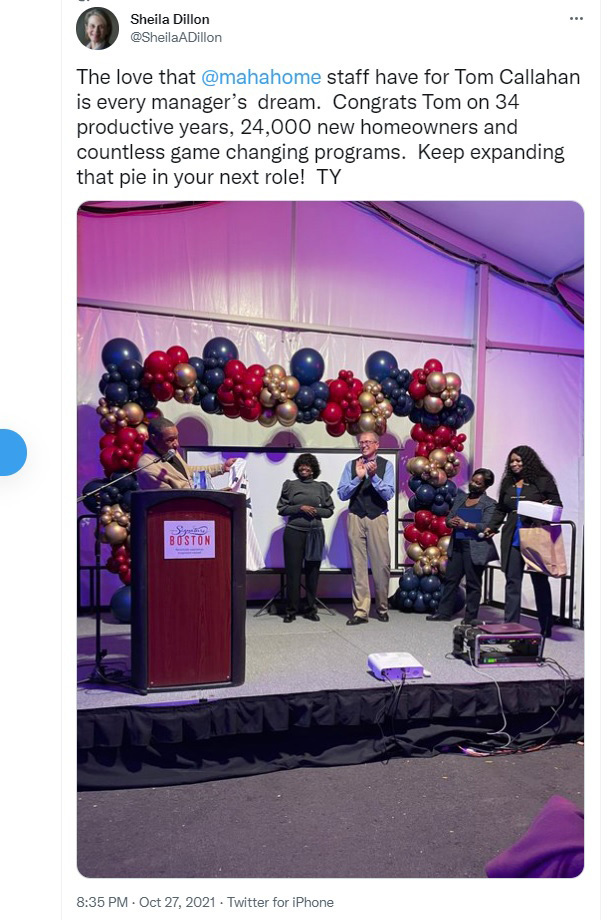 Callahan moves to Massachusetts Community and Banking Council
Callahan will continue his work advocating for private investment for housing and homeownership when he takes over his new role in January 2022 as the executive director of the Massachusetts Community and Banking Council (MCBC). Callahan, who announced in June he was leaving MAHA, is a founding board member and current board member of MCBC, which was created in 1990 to promote partnerships between communities and financial institutions to promote more access to credit and financial services in underserved communities.
When Callahan begins his new role, he will likely tackle challenges and opportunities outlined in the 2021 Mortgage Lending Trends in Massachusetts report, the council's annual mortgage lending report that focuses on underserved borrowers and neighborhoods in Boston.
The report points out that while FHA loans were designed as a federal program for low- to moderate-income borrowers often unable to get a conventional loan, Massachusetts has good affordable alternatives like ONE Mortgage, which offer more favorable terms than FHA loans. The report has emphasized that more work needs to be done to create awareness about programs like ONE Mortgage.
To address this, MHP has an ongoing ONE Mortgage media awareness campaign on radio and social media through iHeart Media. Public exposure to ONE Mortgage has increased dramatically as documented in social media impressions and website traffic. Through iHeart, MHP has been placing audio spots and print ads on multiple media platforms, and is producing testimonial 15-second, 30-second, and two-minute video spots featuring the success stories of homebuyers who benefited from the ONE Mortgage product.
ONE Mortgage benefits family
One family that recently financed the purchase of their first home through ONE Mortgage is the Nunez's of Springfield. Carlos and Sasha and their children moved into their new home in 2020. You can read more of their story here.
Homeowner Assistance Fund addresses financial hardship
MHP will be administering most of the state's $178 million federally funded Homeowner Assistance Fund (HAF), which provides financial relief to homeowners adversely affected by the pandemic to protect them from foreclosure.
Established by Congress under the American Rescue Plan, HAF mitigates financial hardships caused by COVID by providing funds to prevent homeowner mortgage delinquencies, defaults, foreclosures, loss of utilities or displacement of homeowners experiencing financial hardship after Jan. 21, 2020. MHP is well-aligned to administer the program, having overseen a similar initiative through its HomeSafe program, which assists ONE Mortgage borrowers with Mortgage delinquencies.
ONE+Boston continues to reach encouraging numbers
MHP's partnership with the City of Boston to offer an enhanced version of ONE Mortgage continues to notch encouraging numbers. Since launching in July of 2020, the program has made 121 loans, each one representing a current Boston renter who was able to remain in the city.
Of that total, 71 percent of the buyers were households of color, 38 percent were Black, non-Hispanic households. 63 percent of the buyers purchased market-rate properties. This reverses a trend over the last several years where approximately two-thirds of ONE'S Boston volume was for deed-restricted affordable units.
ONE+Boston is off to a fast start with in FY22 with 48 loans closed to date. With the anticipated addition of more lenders, we are hoping to do even more ONE+Boston loans this coming year.
ONE+Boston combines the low-cost features of the statewide ONE Mortgage program with city funds to help more first-time Boston homebuyers buy in the city. With the additional city funds, ONE+Boston is able to offer heavily discounted 30-year-fixed interest rates (1.815 percent average so far) and increased down payment assistance to first-time buyers.
Five lenders currently offer the program - Santander Bank, Boston Private (now Silicon Valley), Cambridge Trust, Citizens Bank and most recently, the City of Boston Credit Union, which just closed its first loan. More information can be found on the ONE+Boston web page.
Statewide ONE Mortgage numbers
FY22 volume as of Oct. 17 consists of 228 closings, 67 percent of loans to households of color, totaling $78,908,394.
(This notebook was compiled by MHP Communications Coordinator Lisa Braxton. Questions or comments? Email lbraxton@mhp.net).