Posted on March 7, 2011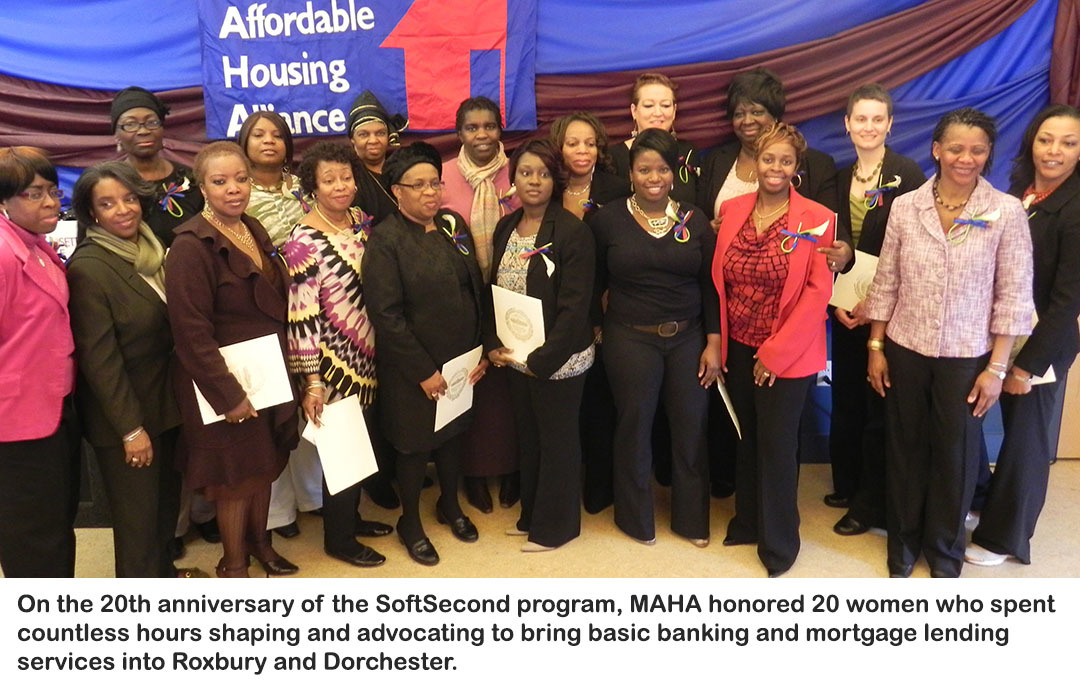 BOSTON, March 5, 2011 --- Scores of community residents, area bankers, and public officials filled the Massachusetts Affordable Housing Alliance headquarters on Dorchester Ave. on Saturday, March 5 to honor 20 women who helped create and build the nation's most successful and longest running private-sector mortgage program for first-time homebuyers.
The 20 women, who spent hundreds of hours campaigning and advocating to bring basic banking and mortgage lending services into Roxbury and Dorchester, were honored for playing a pivotal role in the establishment of the state's SoftSecond Loan Program in 1990.
(Update: The program changed its name to ONE Mortgage in 2013 and has now helped over 23,000 households purchase their first home, over 5,700 in Boston. Read more about the program's history).
"Who could've guessed that your efforts have resulted in homeownership for so many thousands of households in Massachusetts," said LaTanya Ramsey, MAHA's board president, who moderated the event and was also one of the 20 honorees. "I myself was a single mother who wanted to move beyond subsidized housing and SoftSecond helped me buy a home and helped change my life."

MAHA honored these 20 women by creating a 20/20 vision wall outside its homebuyer education classroom. Pictures of all 20 women are on this wall, along with a description of what they did to increase homeownership opportunities for minorities and low and moderate-income households.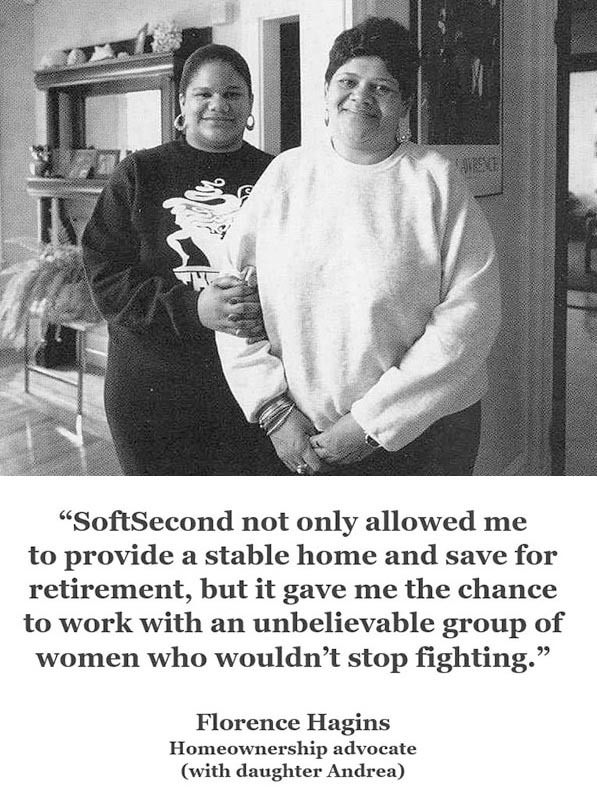 "Twenty years ago, we fought hard to be at the table with banks and public officials to develop an appropriate response to the Federal Reserve study on racial disparities in Boston mortgage lending," said Diana Strother, a Dorchester resident and co-chair of MAHA's Homebuyers Union from 1988-92. "I'm proud to have been a part of something that has helped so many people achieve their dream of homeownership over the past 20 years."
The 20 women honored were Acia Adams-Heath of Dorchester; Sonia Alleyne of Dorchester; Adrianne Anderson of Methuen; Thadine Brown of Mattapan; Symone Crawford of Mattapan; Teodolinda Darosa of Jamaica Plain; Marilyn Douglas of Dorchester; Arnetta Ferguson of Dorchester; Juana Gayle-Flores of Roxbury; Roslyn George of Roxbury; Karen Glass of Roxbury; Cheryl Grannum of Dorchester; Skye Kessler of Dedham; Esther Maycock-Thorne of Brockton; LaTanya Ramsey of Allston; Mary Singleton of Mattapan; Diana Strother of Dorchester; Cortina Vann of Dorchester; and Anna Young of Roxbury.

The SoftSecond program is administered by the the Massachusetts Housing Partnership (MHP), which helped create the program along with MAHA and banking leaders. More than 40 banks participate in the program.
"The loans work because everyone has skin in the game - the public sector, banks, homebuyers, and our non-profit partners like MAHA," said Clark Ziegler,MHP's executive director. "It has been an enormously successful program and it continues to be a model as Washington policymakers begin debating the future of mortgage lending and the secondary market agencies."
Ziegler added that the program would not have been successful had it not been for the 20 women "whose voices were strong, persistent and well-informed, and who helped make the program what it is today."
"I was the first person to get a SoftSecond mortgage and it changed my life", said former Dorchester resident Florence Hagins, who is now retired and lives with her family in Jacksonville, FL. "SoftSecond not only allowed me to provide a stable home and save for retirement, but it gave me the chance to work with an unbelievable group of women who wouldn't stop fighting."
The 20 founders of SoftSecond were honored with proclamations from the City of Boston, which were presented by city councilors Charles Yancey and city council president Stephen Murphy. Among the other state and local leaders attending were State Representative Russell Holmes and Evelyn Friedman of the city's Department of Neighborhood Development.
ONE MORTGAGE in 2021: SoftSecond and ONE Mortgage have combined to help over 23,000 households across Massachusetts purchase their first home. The median household income of those buyers is $50,000 and half of the first-time buyers are people of color. It is offered by more than 43 lenders statewide. In Boston, the program has made over 5,700 loans, 57 percent to people of color.
In 2020, ONE made 748 loans statewide, 60 percent to people of color. Of the 93 loans made in Boston, 80 percent to people of color. In gateway cities, 80 percent of the 282 loans went to people of color. In 2020, the program launched ONE+Boston, which is using $8 million in city funds to buy down interest rates and provide down-payment assistance to Boston residents buying in the city. So far, 94 percent of the 32 loans made have gone to people of color.