Posted on October 22, 2020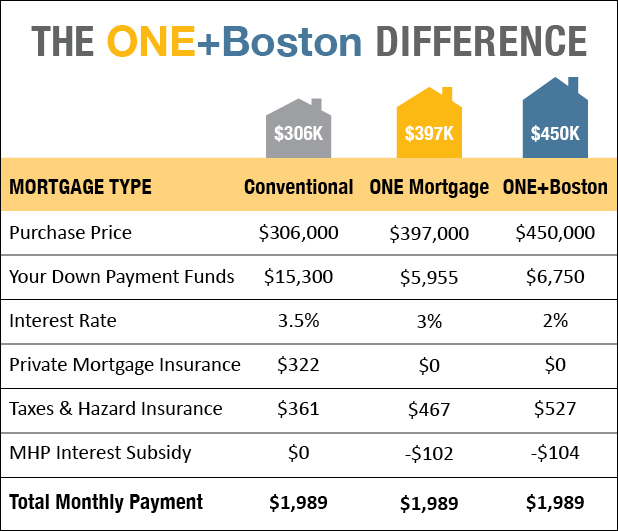 BOSTON --- Four months after its launch, a joint effort by MHP's ONE Mortgage Program and the City of Boston is showing encouraging results helping low- and moderate-income Boston residents and people of color purchase homes in the city.
The new program - called ONE+Boston - combines the low-cost features of ONE with $8 million in city funds to help more first-time Boston homebuyers buy in the city. So far, ONE+Boston has 140 applications in process, and 20 of those applicants have accepted offers and are moving toward closing. Seven loans have closed and five buyers were people of color.
"Our hope is that we will reach more people who are renting in Boston and help them buy in the city before they are priced out ," said Moriah Cummings, a relationship manager and legal analyst for MHP who recruits, trains and manages lenders that participate in the ONE Mortgage.
Cummings said the closing process has been relatively quick, given that the program is new and was launched during the COVID-19 state of emergency. She praised the City of Boston and the three participating banks - Santander, Cambridge Trust and Boston Private - for working together to get ONE+Boston up and running. She is looking forward to Citizens Bank joining the new program later this year.
State's most affordable program
ONE Mortgage is the state's most affordable mortgage program. With additional funding from the city, ONE+Boston is able to offer discounted interest rates and increased down payment assistance to first-time buyers. Features include:

Boston residents who earn between 80 and 100 percent of area median income will receive a half percent (0.5%) discount rate off the already low-interest rate offered through the ONE Mortgage product (currently about 3 percent).
Boston residents who earn below 80 percent of area median income will receive up to one percent (1%) off of the current ONE Mortgage rate.
Qualified buyers will also be eligible for down payment and closing cost assistance through the Boston Home Center.
ONE+Boston gives income-qualified Boston residents more buying power. For example, with a conventional loan, a family of four making 100 percent of area median income ($119,000) could afford a $410,000 single-family home in Boston. With ONE+Boston, the same family could afford a $539,000 single-family home in Boston.

Down payment assistance has been a key to the city's strategy to increase homeownership through programs like ONE Mortgage. Since 2014, the Boston Home Center has provided down payment assistance to over 700 homebuyers, 70 percent to people of color.
ONE Mortgage has made over 22,000 loans statewide since 1990 and over 5,800 loans in Boston, 57 percent to people of color. It is offered by over 40 lenders across Massachusetts. State funds are used to reduce monthly payments during the early years of homeownership and to fund a loan loss reserve, which helps the borrower avoid the cost of purchasing private mortgage insurance.
"Thanks to the City of Boston's commitment, ONE+Boston is expanding our ability to help moderate-income households and people of color," said Elliot Schmiedl, MHP's homeownership director. "We've always had great support from the Baker-Polito Administration and we're thrilled to partner with Mayor Marty Walsh and the Boston Home Center to help more people build wealth in Boston."
Closing the racial homeownership gap
This new program came out of Mayor Walsh's Barriers to Homeownership Working Group, which included a business group, realtors, local lenders, MHP, and advocacy groups such as the Massachusetts Affordable Housing Alliance (MAHA) and the Greater Boston Interfaith Organization (GBIO).
The creation of ONE+Boston began in 2018 when MAHA and GBIO applied for $3.8 million in Community Preservation Act funds. In 2019, Mayor Walsh announced that the funding would be used for ONE+Boston. In 2020, the mayor and Boston City Council supported a measure that added another $4 million in CPA funds. Mayor Walsh has since recommended that an additional $1 million to support the program. It's estimated that ONE+Boston will help between 150 and 250 residents buy homes in the city.
"Thousands of Boston families, including mine, have benefited from the ONE program, which was originally developed 30 years ago to address racial disparities in lending," said Symone Crawford, Director of Homeownership Education for MAHA. "We are excited to build on that program and see it help more people buy homes in the city and help us make progress in closing the racial homeownership gap."