Posted on February 10, 2020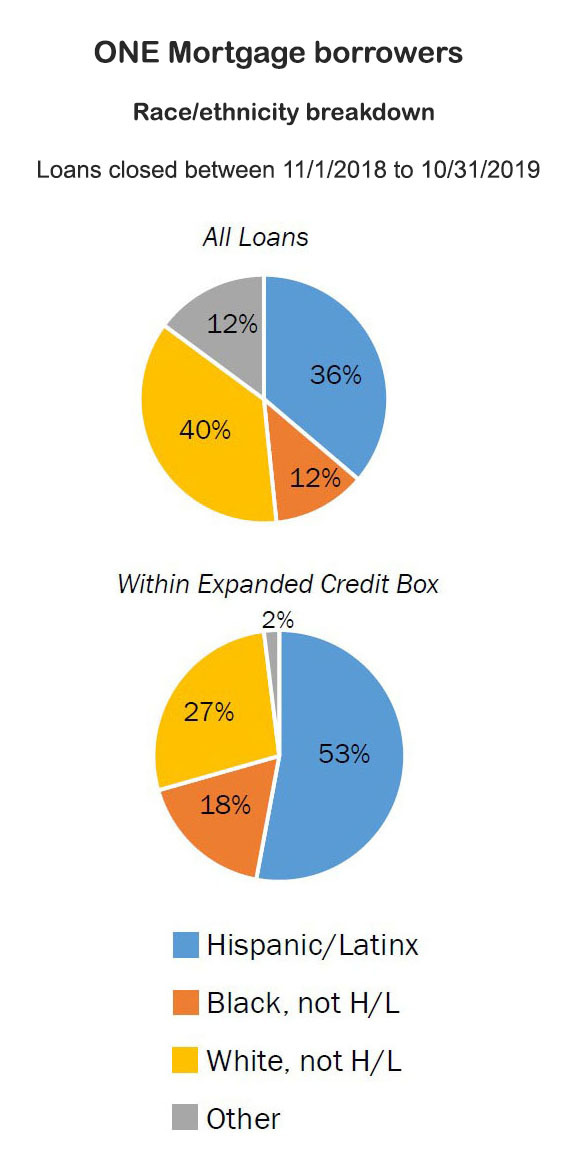 BOSTON --- One year after changing its requirements to help more credit-worthy buyers, MHP's ONE Mortgage found that its decision delivered more opportunity for low- and moderate-income homebuyers of color.

Since changing credit requirements for the purchase of single- and multifamily properties in October 2018, ONE Mortgage found that in the first year of the changes, 51 of the over 700 loans made were closed within the new credit requirements – 29 for condos and single-family homes and 22 for multi-family properties. Within these categories, 55 percent of the mortgages for condos and single-families went to non-white households and 95 percent of the multi-family loans went to non-white households in gateway cities.
"It's heartening to see that the decision to expand opportunity by changing our credit score requirements resulted in what we were hoping for - more opportunities for people of color to own homes and build wealth," said Elliot Schmiedl, MHP's homeownership director.
The Massachusetts Housing Partnership (MHP) began looking at how to make ONE Mortgage even more effective for first-time buyers of color in 2015 when it began to examine the ongoing impact of more stringent credit, debt-to-income and loan-to-value requirements that were enacted during the foreclosure crisis. MHP's ONE Mortgage did what many lenders did during this time, raising its credit scores in 2010 to 660 for single-family and condo buyers and 680 for two- and three-family buyers.
MHP first looked at racial disparities in mortgage lending outlined in a 2014 Federal Reserve Bank of Boston study. The Fed's research showed that among those who purchased homes in 2014, the majority of Black and Latino borrowers had credit scores below 660 while the majority of their white counterparts had credit scores in the mid 700's. "The Fed report showed that borrowers of color were at a distinct disadvantage when it comes to qualifying for an affordable mortgage product like ONE Mortgage," said Schmiedl. "Their only choices were products that were more expensive than ONE."
MHP then did extensive analysis on the performance of more than 5,000 existing loans in its portfolio. Many were from before 2009 when MHP closed loans for buyers whose credit scores were below 660. MHP found that found that single-family and condo loans between 640 and 660 performed a lot more like 660-680 loans than loans in the 620-640 tier. Similarly, MHP found that two- and three-family loans between 660 and 680 performed a lot more like 680-700 loans than loans in the 640-660 tier. From this analysis, MHP concluded that changing credit requirements presented only a nominal risk and would help ONE Mortgage reach a new group of borrowers that were heavily Black and Latino.
Once this analysis was established, MHP methodically went through the process of recommending credit score changes with over 40 participating ONE Mortgage lenders. In October 2018, MHP officially lowered credit score requirements for ONE by 20 points, from 660 to 640 on single-family homes and from 680 to 660 on multi-family homes. The 51 loans made within the new credit score range represent the time period from Nov. 1, 2018 to Oct. 31, 2019. During this period, ONE Mortgage made 749 loans overall to borrowers with an average income of $65,000.
Why does this matter? MHP estimates that buyers who have access to ONE Mortgage save approximately $317 a month and $3,800 a year in payments versus comparable loan products for low- and moderate-income first-time buyers. These savings can be used in a variety of ways, from paying off debt to making home renovations to saving more money.
"Throughout our research and implementation we encouraged by the number of lenders who were not only comfortable with this change, but wished it had come sooner," said Schmiedl. "This is a great example of, while we always need to responsibly manage risk when using public funds with private financing, we also need to be continually be thinking outside the box and push beyond the status quo to find new ways to provide more opportunity."
ABOUT ONE MORTGAGE: Created in 1990 to address racial disparities in mortgage lending, ONE Mortgage – formerly known as SoftSecond - has provided over $4 billion in private mortgage financing to help over 22,000 low- and moderate-income families purchase their first home, half to people of color. The program has made loans in 306 of the state's 351 communities and 39 percent of its loans have been made in gateway cities to borrowers with an average household income of $46,300.
More information: