Posted on August 4, 2020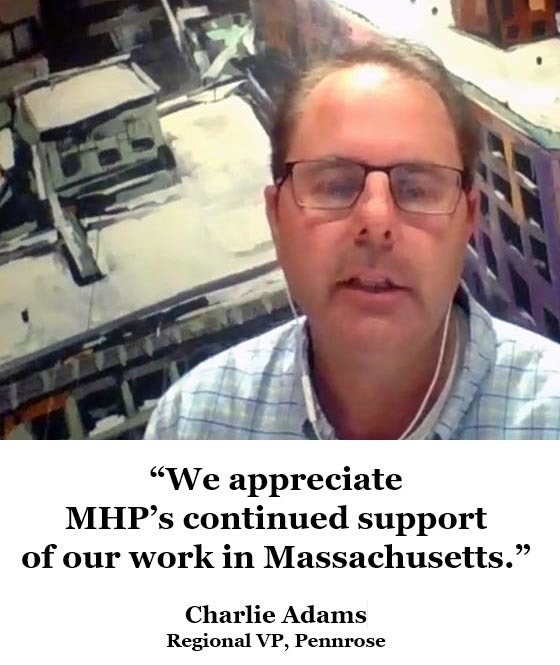 AUBURN --- The Massachusetts Housing Partnership (MHP) has committed $1.8 million in permanent financing to Pennrose to support the transformation of the Mary D. Stone School into 55 mixed-income apartments for seniors.
The commitment marks the second time in two years that MHP has used one of its capital sources to provide financing to Pennrose. In 2018, MHP provided a $4.4 million loan commitment to support the construction of the Village at Nauset Green, a 65-unit mixed-income development in Eastham.
This time, MHP's low-interest permanent loan will support the construction of 45 affordable and 10 market-rate apartments for seniors 62 and older. The affordable apartments will be for households at or below 60 percent of area median income.
"We appreciate MHP's continued support of our work in Massachusetts as well as the affordable housing community throughout the Commonwealth to bring critically needed housing to those most vulnerable – families and seniors," said Charlie Adams, Pennrose's regional vice president for New England. "MHP is a valued partner in the affordable housing industry."
The redevelopment includes the renovation of the 100-year-old historic school, the demolition of wings added later, and the construction of a new four-story addition behind the original school. The new housing will offer 11 studios, 34 one- and 10 two-bedroom apartments.
The $21.5 million project is being financed with federal and state low-income housing tax credits, and state historic tax credits. The state is providing additional funding through its Affordable Housing Trust, Housing Stabilization and Community Based Housing funds. Besides MHP, debt and equity partners include CREA, Dorfman Capital, BlueHub Capital, and Citizens Bank.
5-year effort by town
The beginning of construction of the Mary D. Stone School marks a five-year effort by Town of Auburn to turn two former school properties into senior housing. The Mary D. Stone School and the Julia Bancroft School closed in 2015 when a new middle school opened.
The town prioritized that both schools be redeveloped into senior housing and selected Pennrose as the developer in 2017. In addition to redeveloping Mary D. Stone School, Pennrose is working with the town on plans to rehabilitate the Bancroft School into 60 mixed-income senior apartments.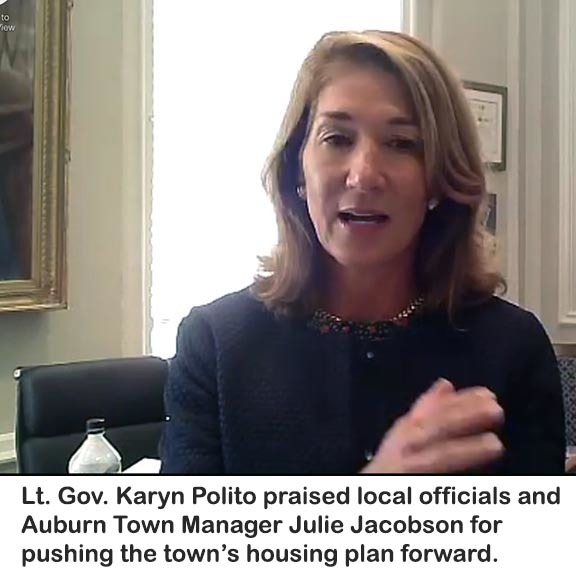 Upon being designated as developer, Pennrose collaborated with Enterprise Community Partners to hold a charrette, a community process in which key stakeholders are brought in to provide input and ideas about the project. This helped Pennrose develop a list of priorities to ensure that the two senior developments meet the needs of the community and its seniors. Participants in the charrette included the local Council on Aging, the Elder Services of Worcester (local ASAP provider), Fallon Health (a PACE provider), the Auburn Senior Center, and the state's Executive Office of Elder Affairs.
To create the zoning to allow multifamily at the Mary D. Stone School, the town issued Pennrose a Ch. 40B comprehensive land use permit, which allows developers to override local zoning if at least 25 percent of the apartments are affordable.
"This has truly been a collaborative effort involving our local, state and federal officials that will result in much-needed affordable housing for seniors as well as saving a historic building and putting it on the tax rolls," said Town Manager Julie Jacobson at a virtual groundbreaking event on July 27. The well-attended event included remarks from U.S. Rep James McGovern, Lt. Gov. Karyn Polito, state Sen. Michael Moore, state Rep. Paul Frost and Jennifer Maddox, the state's undersecretary for housing.
LG praises local officials
Polito praised the town and especially the efforts of Jacobson to deliver on a housing plan that called for the two schools to be reused as affordable housing. "This is a credit to all the local officials," said Polito. "You've been serving a long time and you care a lot. You've always embraced services to older residents and now you have converted a school so residents can age in a place like Auburn, where local ties are really important."
"To be able to take a building and make it useful is fantastic for seniors and it frees up housing so young families can move to the community," said state Rep. Paul Frost, whose daughter – now a graduating senior – attended pre-school at the Mary D. Stone School.
As part of the development plan, Pennrose has contributed $25,000 to the town for new equipment for the playground which will remain behind the building and will be owned by the town. Pennrose will also be adding landscaping and benches to enhance the area. When complete, the Mary D. Stone School Apartments will include community rooms available to the town for meetings and events.
"Since being selected for the project, Pennrose has worked closely with the town on the design and financing plan," said Adams. "We see great opportunities here to create some intergenerational experiences for our residents and the community."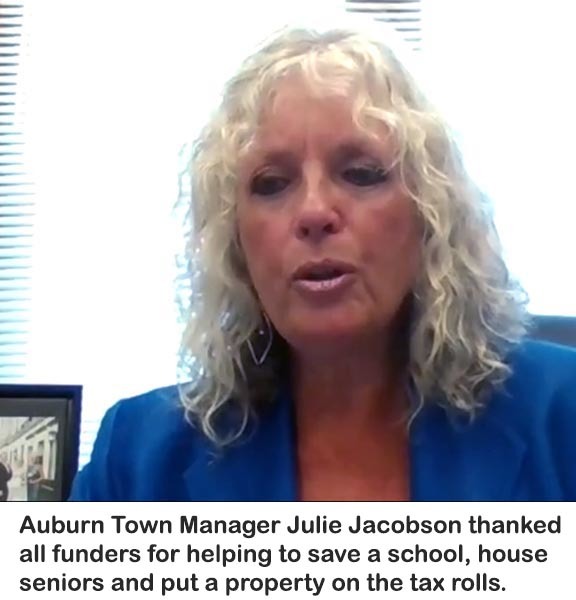 Founded in 1971 and based in Philadelphia, Pennrose has created over 200 properties and over 15,000 mixed-income apartments in the eastern United States. The Mary D. Stone School Apartments is Pennrose's second project in Massachusetts and second time the company has worked closely with a community to provide affordable housing. The recently-completed 65-unit Nauset Green in Eastham was also built on town land and also received $1 million in local funds and additional local funds from Orleans and Wellfleet.
"Congratulations to Pennrose and the Town of Auburn for breaking ground on Mary D. Stone School Apartments," said Nancy McCafferty, MHP's director of business development. "Your commitment to provide affordable homes for seniors is inspiring. MHP is honored to be a financing partner for this important development."
About MHP: MHP offers a variety of capital sources to provide permanent financing for affordable housing, including bank funds and lending programs offered by Fannie Mae, the Federal Housing Administration (FHA). Since 1990, MHP has provided over $1.4 billion for the financing of over 26,000 apartments and has helped over 21,000 low- and moderate-income households buy their first home through the SoftSecond and ONE Mortgage programs, resulting in over $3.7 billion in mortgage financing. MHP has provided support and technical assistance to over 300 communities. In 2017, MHP created the Center for Housing Data to support all its work and promote policies to allow more housing in response to demand.