Posted on July 8, 2020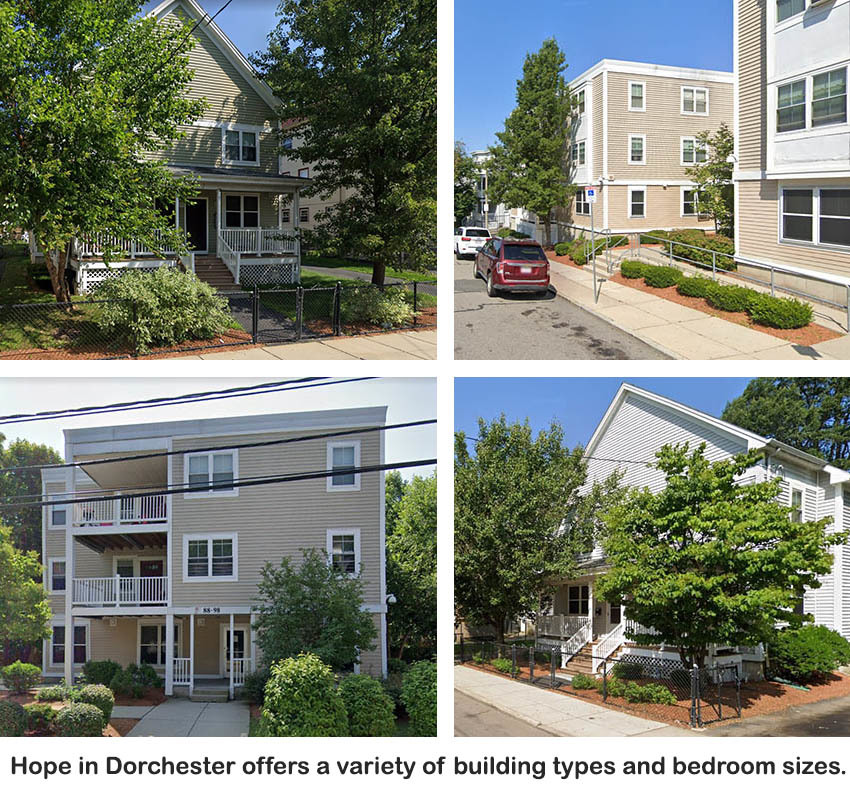 BOSTON --- The Massachusetts Housing Partnership (MHP) has closed on a $1.285 million Fannie Mae loan to Nuestra Comunidad to preserve the affordability of Hope in Dorchester, a scattered site development of 40 affordable apartments.
Hope in Dorchester consists of nine buildings spread out over five streets east of Blue Hill Ave. and north of Harambee Park and Talbot Ave. It features four single-family homes, three two-family homes, a 12-unit building and an 18-unit building.
It offers 14 one-, 16 two-, 6 three- and 4 four-bedroom apartments. All are affordable at or below 60 percent of area median income and 37 apartments are supported with project-based Section 8 vouchers.
MHP is a long-term lender that offers a variety of tax-exempt and taxable financing. The fixed-rate loan to Nuestra Comunidad has an 18-year term and a 30-year amortization schedule. The loan and a new 20-year Section 8 contract ensures that the homes will remain affordable for years to come.
"Nuestra was pleased to secure a long-term mortgage for our Hope In Dorchester property on good terms with a long-standing lending partner in MHP," said David Price, Nuestra Comunidad's executive director. "With this transaction, we extended the affordability period and created deeper affordability levels. With the MHP loan in place, we know that the Hope In Dorchester complex can continue to provide much-needed affordable housing for low-income families for decades to come."

Hope in Dorchester was developed in 2003 as part of a City of Boston revitalization effort that donated 21 vacant parcels to a nonprofit for the development of affordable, rental housing. Previously known as Boston's Hope, Nuestra Comunidad acquired it from the original developer, Boston Aging Concerns, Young and Old United, in 2009.
The refinancing also enabled Nuestra Comunidad to recapture nearly $500,000 in escrows and reserves held by one of the prior mortgagees. The loan closed this spring as Nuestra Comunidad was helping residents and children of Roxbury and Dorchester deal with the impacts of COVID-19. According to a recent newsletter, Nuestra Comunidad provided 8,605 meals, launched two food distribution sites and made 3,412 wellness calls.
MHP has now made seven loans to Nuestra Comunidad totaling $10.5 million for the financing of 299 affordable apartments.
"We are pleased to make this loan to help stabilize the property and strengthen Nuestra Comunidad's bottom line by bringing in Fannie Mae financing and its long-term, low-rate debt," said David Rockwell, senior advisor to MHP's lending team. "Nuestra Comunidad has long been a source of strength in the community and we're pleased to be a partner in its mission to build wealth and enhance the physical and social well-being of Roxbury residents and all the underserved populations of Boston."
For more information about this loan and MHP's capital sources, contact Loan Officer Steve Gandt at sgandt@mhp.net or 857-317-8551.
About MHP: MHP offers a variety of capital sources to provide permanent financing for affordable housing, including bank funds and lending programs offered by Fannie Mae, the Federal Housing Administration (FHA). Since 1990, MHP has provided over $1.4 billion for the financing of over 26,000 apartments and has helped over 21,000 low- and moderate-income households buy their first home through the SoftSecond and ONE Mortgage programs, resulting in over $3.7 billion in mortgage financing. MHP has provided support and technical assistance to over 300 communities. In 2017, MHP created the Center for Housing Data to support all its work and promote policies to allow more housing in response to demand.