Posted on November 25, 2020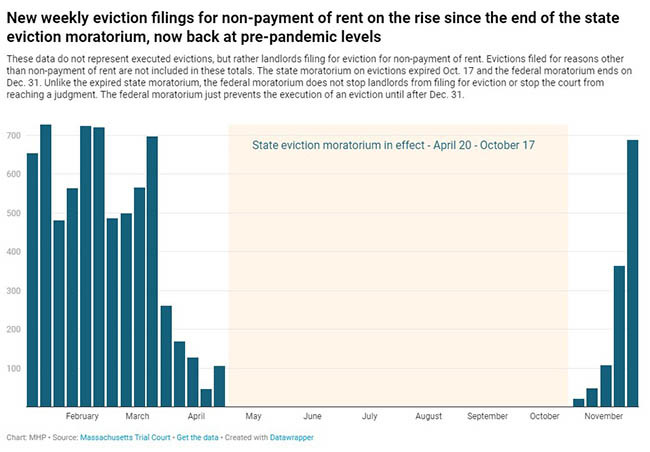 BOSTON --- On Oct. 17, Massachusetts' eviction moratorium expired, opening the door for eviction filings to resume. While a national CDC moratorium is preventing eviction executions for qualified households until Jan. 1, 2021, it is not preventing filings from picking up across Massachusetts.
In its latest research for the COVID Community Data Lab , MHP's Center for Housing Data found that during the first few weeks after the moratorium, eviction filings steadily increased. By mid-November, weekly filings had returned to pre-pandemic figures (over 600/week).
Concerns remain that without additional support & protections, eviction filings will continue to rise in the coming weeks. Read the brief to learn more about the state of evictions and housing stability in Massachusetts & the policies in place to mitigate a dangerous surge.

For more on the efforts of the COVID Community Data Lab, go to the CCDL site. The site features research on employment, housing, transportation, and more, along with data and graphs on a wide array of COVID crisis indicators.
For additional information about the CCDL housing research, contact Lucas Munson at lmunson@mhp.net.

Also from MHP's Center for Housing Data:
DataTown - Demographic and housing data visuals for all 351 Massachusetts communities. This user-friendly site allows you to compare communities, print out the graphics for presentations and download the supporting information in excel.
TODEX - Transit-Oriented Development Explorer maps housing densities around all 261 Greater Boston transit stops. Like DataTown, TODEX is easy to use. You can print the graphics, explore the methodology and access the GIS files to explore or use the data for your own work.