Posted on December 11, 2020
(Note: This is another in a series of updates on state and local responses to housing issues related COVID-19. Go to our COVID-19 file for ensuing reports).

BOSTON, Dec. 8, 2020 --- As COVID-19 continues and eviction filings return to pre-pandemic levels, more communities are using local funds to start emergency rental assistance programs (ERA).
Groton and Needham are the latest communities to start programs. Both went live in November and both are being administered by Metro West Collaborative Development, a nonprofit that is administering eight local ERA programs around Metro Boston.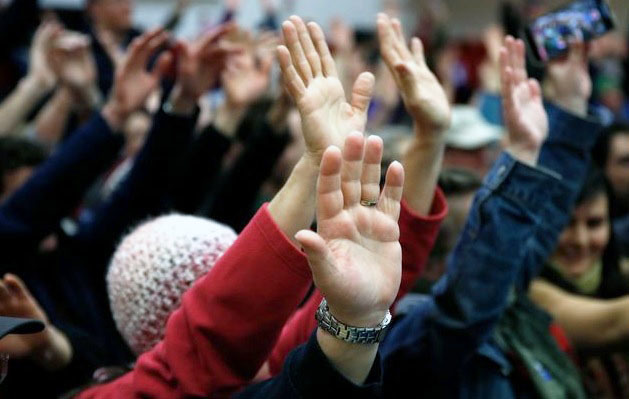 The start of these programs is timely, given the rise in COVID rates and the recent rise in eviction filings following the end of the state's eviction moratorium in October.
The following update takes a look at the new programs and also reports on how eviction filings may put more pressure on assistance programs.
Groton fuels program with CPA funds
Groton is supporting households earning up to 80 percent of the area median income (AMI) for up to four months. Maximum monthly payments are set according to the number of bedrooms in the home - $800 for a one-bedroom, $1,000 for two-bedroom and $1,200 for a three-bedroom. Households currently receiving other housing assistance are excluded from eligibility.
Groton has allocated $200,000 in Community Preservation Act funds to the program. The deadline to apply is Dec.18.
Needham OKs $120K for rent assistance
In October, Special Town Meeting approved $120,000 of Community Preservation Act funds for an ERA program. The town is combining that with a $50,000 grant from the Massachusetts COVID-19 Relief Fund to support the program.
Applicants may receive help with 50 percent of their rent (or up to $1,500 per month) for up to three months. To qualify, applicants must earn at or below 80 percent of the area medium income and live in a private rental unit. Households receiving other housing assistance (Section 8 Housing Choice Voucher or the state's Rental Voucher Program subsidy) are not eligible for local rental relief. The deadline to apply was Dec. 4.
Metro West Collaborative Development reports it has not yet experienced a spike in applications in the eight communities where it's administering ERA programs. However, we know that current eviction filings for non-payment of rent are surpassing the average weekly filings prior to the pandemic. As positive COVID-19 cases rise across Massachusetts, we can assume continued disruption to our economy and housing market.
Newton extends its ERA program
Some communities are responding by extending their ERA programs. Newton has extended its program by three months and is now considering extending assistance for an additional six months. This means some households may be eligible for up 12 months of relief. Other communities are considering bringing ERA proposals to spring Town Meeting
Program administrators like Metro West Collaborative Development are learning how to increase program efficiencies and respond to the unique challenges of the time. As state resources help ramp up legal assistance to households facing eviction proceedings, connecting these vulnerable folks with rental assistance before filings remains a challenge.
Keep us updated on your program
ERA programs adopted on the local level inform policy at the state level. Help us stay updated by filling out the form at the top of the ERA Database whenever your community adopts a new program or modifies an existing one.
Contact MHP's Shelly Goehring at sgoehring@mhp.net if you have any questions on local ERA programs.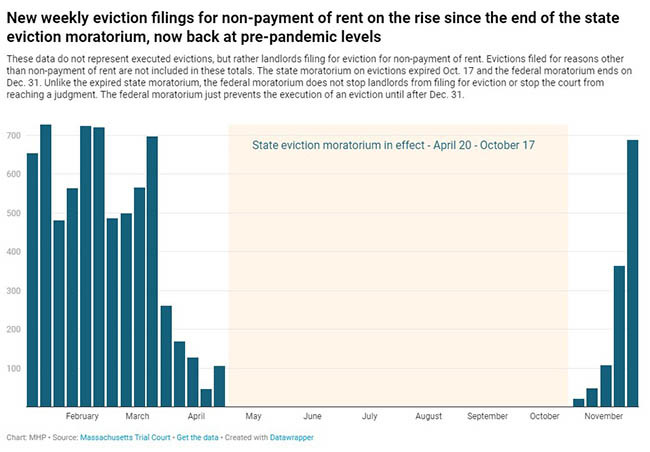 Evictions are back to pre-pandemic levels
On Oct. 17, Massachusetts' eviction moratorium expired, opening the door for eviction filings to resume. While a national CDC moratorium is preventing eviction executions for qualified households until Jan. 1, 2021, it is not preventing filings from picking up across Massachusetts.
In its latest research for the COVID Community Data Lab , MHP's Center for Housing Data found that during the first few weeks after the moratorium, eviction filings steadily increased. By mid-November, weekly filings had returned to pre-pandemic figures (over 600/week)
Concerns remain that without additional support & protections, eviction filings will continue to rise in the coming weeks. Read the brief to learn more about the state of evictions and housing stability in Massachusetts & the policies in place to mitigate a dangerous surge.
For more on the efforts of the COVID Community Data Lab, go to the CCDL site. The site features research on employment, housing, transportation, and more, along with data and graphs on a wide array of COVID crisis indicators.
For additional information about the CCDL housing research, contact Lucas Munson at lmunson@mhp.net.