Posted on January 22, 2019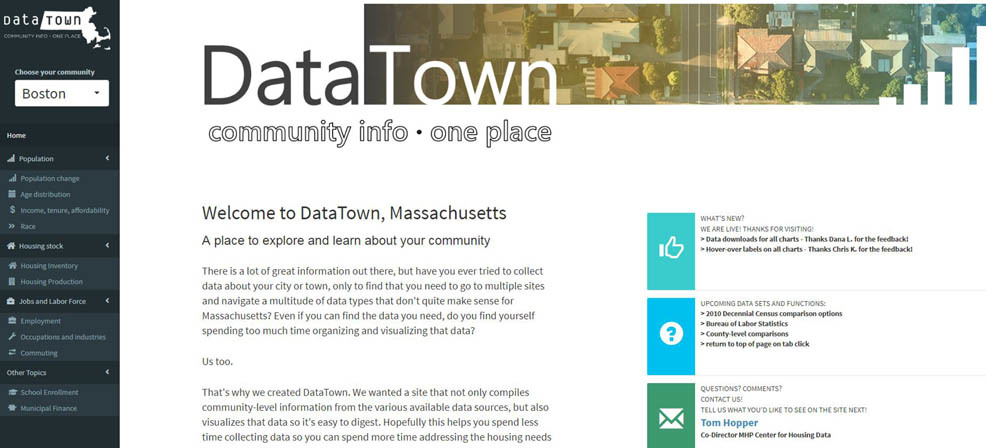 BOSTON --- Have you ever tried to collect data about your city or town, only to find that you need to navigate through multiple web sites and data types that don't quite make sense for Massachusetts?

Us too.
That's why the Massachusetts' Housing Partnership's Center for Housing Data is officially launching DataTown – www.mhp.net/datatown. This new interactive web site compiles community-level information from various available data sources for all 351 Massachusetts cities and towns, and visualizes that data in graphics and charts so it's easy to understand, print out and bring to a community discussion.
"We hope that this site will help community leaders spend less time collecting data and more time using data to help address their housing needs," said MHP Center for Housing Data Co-Director Tom Hopper, who led the development of the site, built entirely by MHP.
DataTown begins with analyzing town populations, with sub-sections that portray a town's population growth history, age demographics, income, tenure, affordability and racial composition. There are additional sections on housing inventory and production, and labor force (employment, commuting, occupations and industries). More sections are planned.
"This isn't our site, it is your site," said Hopper. "We want you to have the resources and information you need to have more informed conversations about housing in your community. If there's something you'd like to see on DataTown that we haven't thought of, please let us know."
Over the past several months, MHP asked over 20 housing experts and local officials from across the Commonwealth to take DataTown for a test drive. These experts have provided insights and recommendations that have led to a better resource.
"DataTown makes it simple to quickly grab the key components of each community's housing story," said Dana LeWinter, municipal engagement director at the Citizens' Housing and Planning Association. "By limiting the time we have to spend gathering data, we can jump right into the interesting conversations about how best to assist each community in reaching their goals. DataTown is helping us to identify communities that have similar housing needs and concerns, making it easier to reach out for best practices and lessons learned. We are very excited that DataTown is now available to every community in Massachusetts and know it will spark thoughtful dialogue at the local level."
DataTown has several unique features
Coaching text that explains the underlying data, accompanied by exploratory question prompts to get you thinking about what's happening in your community and how one data point might be associated with another.
Grab-and-go graphics. We want you to use our data visualizations in your community to have a discussion about housing. That's why we've made it very easy to download presentation-ready graphics directly from the site. Each chart has an image download link directly below it.
Data downloads. In addition to chart images, DataTown allows you to download the underlying data as well. We've organized the data so that it's easy to use. Just download the information and use your own data skills to craft your own materials.
Responsive to its users. Tell us what you need from the site, what you'd like to see, and we'll do our best to make it happen. In exchange, we want to know how you're using DataTown, and if it's helping you talk about housing in your community.
Multiple data sources. DataTown compiles data from a variety of sources and brings them to the same place. Data sources include the U.S. Census Bureau, the state Department of Education, and the state Division of Local Services, among others. DataTown is your one-stop shop for all this data so that you don't have to hunt down the individual pieces.
The impetus for DataTown came from MHP's community assistance team, which since 1991 has provided technical assistance and support to over 330 cities and towns in the Commonwealth. When speaking to communities, MHP senior staff would gather data or ask an associate to pull together data for a specific town. In 2016, Program Assistant Phil Crean began to build data files on all 351 communities.
"Increasingly, we were relying on data to help tell a town's story and to start a conversation about housing needs and how to identify ways in which the community can address them," said Susan Connelly, MHP's director of community assistance. "DataTown gives us the ability to provide up-to-date information to cities and towns who are trying to understand and address their needs for housing."
At the same time the community assistance team was compiling data, MHP Executive Director Clark Ziegler reorganized MHP's public affairs team to increase its focus on data and policy. Hopper was brought over from MHP's portfolio management team and was named co-director of the new Center for Housing Data along with Callie Clark, a public affairs and policy specialist. Callie Clark had previously worked with Carsten Snow (now at Cambridge Housing Authority) and the community assistance team to expand and relaunch the Massachusetts Housing Toolbox, a comprehensive web site filled with resources to help communities increase their supply of affordable housing. This effort was supported by the Citizens' Housing and Planning Association (CHAPA) and the state Department of Housing and Community Development (DHCD).
In their new roles, Hopper and Clark became part of Governor Baker's interagency housing task force and provided analysis that helped shape the Housing Choice Initiative and legislative proposal. Simultaneously, they began working with the community assistance team on expanding its community data base into what is now DataTown. The working title for the project in the early days was PHILS or Profiled Housing Information for Localities in honor of the original data base Crean had built. Crean is now in a planning graduate program at Rutgers.
"From the start, part of our vision for DataTown was to make it a complement to the Housing Toolbox," said Callie Clark. "DataTown will strive to provide up-to-date data analysis that will to help local leaders understand and explain what's going on so they can build strategies to address their housing needs. Housing Toolbox provides the context, explains all the resources and list the tools that are available so that communities can spring into action."
Check DataTown out and let us know what you think. To make comments, suggestions or get more information, contact Tom Hopper at thopper@mhp.net, Callie Clark at cclark@mhp.net or Lucas Munson at lmunson@mhp.net.