Posted on October 31, 2019
By Rus Lodi
Larry Curtis remembers the first time he saw Fitchburg Yarn. He was driving to western Mass. with his family to visit his wife Marla's parents and he decided to pull off Route 2 to check it out. He drove through the city and then west along the Nashua River. When he reached the mill, he peered through the winter darkness and drank in the size of the giant, boarded-up windows, the high-ceiling power plant room, and the massive chimney reaching toward the heavens. He remembers saying how unbelievable and great it was and then noticing that his family was looking at him like he was dreaming.
As his enthusiasm hung like a breath in the cold night air, his family also had to be thinking what everyone else says about Larry Curtis. He's an eternal optimist, a visionary and a focused, passionate leader who has helped secure WinnCompanies' place as one of the foremost developers of historic properties in the country. "There are several Larry-isms that have been the guiding inspiration for Winn over the last 35 plus years," said his son Meade, a vice president at WinnDevelopment, a Winn affiliate. "One is to never say the words 'never, won't or can't.' Those are just not in his vocabulary."
Fitchburg Yarn is one of the most recent examples of that. Today, it features 96 spacious mixed-income apartments – 57 market rate and 39 affordable. The power plant room is now an inviting, spacious community room. The chimney stands guard over Fitchburg's industrial past. Big, black-framed windows offer views of the river and the hills that frame the valley.
"They've connected the old with the new and put a vacant mill back on the tax rolls," said Fitchburg Mayor Stephen DiNatale. "People love those old wooden columns and the large windows and the light. Winn has taken something that was abandoned and made it a place where people really want to live."
A lot of local leaders could say that. Winn's track record with historic properties dates back almost 40 years to when, under the direction of founder Arthur Winn, it redeveloped a former Georgia cannon factory into a new bank headquarters. Under Curtis, Winn has turned historic revival into a trademark, having transformed 36 historic schools, mills, factories and other properties in five states into more than 3,600 units of mixed-income housing. Fifteen have been done in Massachusetts in cities like Boston, Fall River, Lawrence, Lowell, Ludlow, New Bedford and Worcester. Fitchburg Yarn and three other mill redevelopments in Ludlow and Lawrence have been rehabbed with long-term financing from MHP. MHP is supporting Winn's next mill development in Attleboro.
"Winn is one of the best at turning historic mills into housing," said Clark Ziegler, MHP's executive director. "Larry has built a team that makes the complicated look simple while preserving history and creating homes that will serve working people and families for years to come."
Larry Curtis is the son of a Long Island real estate attorney who practiced out of a storefront law office in Massapequa, New York. Curtis caught the real estate bug when he was eight years old when he attended the Christmas party of his father's best client. Curtis described their host as "the big real estate developer with the big house on the hill" and remembers proclaiming that night that he wanted to be that guy. Curtis chuckles now, calling it a moment of "perceived largesse."
By 18, he had bought and sold his first property and did so a few more times during his undergraduate years while studying to be an architect at The Cooper Union in New York City. On the side, he started a painting company that was so successful that comedian Jerry Seinfeld's father Kalmen tried to recruit him to eventually take over his commercial painting company, which was located two doors down from Curtis' father's law office.

Instead, Curtis went to Harvard, where he got a master's in urban planning and architecture. He cut his teeth managing the real estate portfolio of investor John Kaneb, who now owns HP Hood and is part owner of the Red Sox. In 1987, Curtis decided to branch out. He had site control of some land in Andover and wanted to develop it into mixed-income housing. Real estate lawyer Howard Cohen, who later founded Beacon Communities, arranged a meeting with Arthur Winn. Curtis presented his Andover idea. Winn agreed to partner with Curtis on the development, and that partnership has lasted 32 years.
In his early years at Winn, Curtis focused on purchasing "naturally occurring affordable housing" – failed condos or tired suburban garden apartments. MHP used its private financing to help support one of Winn's early developments in 1997 – the acquisition of 290-unit Meadow Green apartment complex in Chicopee. This was the first loan MHP ever did with Winn. As of today, MHP has provided Winn with over $58 million for the financing of over 1,500 apartments in 12 communities. More than 1,200 are affordable.
During these years, Curtis often did not promote that he was an architect because "from a banker's point of view, you were not a serious businessman, you were a dreamer." Winn did some historic revitalization in strong markets like Boston but its work in this niche took off in 2003 when Massachusetts created the state historic tax credit. This program, used in combination with federal historic credits and housing tax credits, made the financial math work in gateway cities, said Curtis.
"Now, that old mill building or old high school with the broken windows and the weeds two feet tall in the parking lot could be redeveloped," said Curtis. "These buildings may not be the most iconic structures on the face of the earth, but there's a long-term community association with them. People remember that their grandparents or great grandparents worked there. The whole story of the community is in these buildings."
With these historic buildings, the architect in Curtis could come out. Whenever possible, he tries to keep the characteristics of the mills visible. He scoffs at the idea of hiding bricks and beams with wallboard and dropped ceilings. He describes the challenge as "building a building within a building," and because of that "everything matters: the design of the building, the dimension of the building, the column grid of the building, the ceiling height, the window pattern. This is where I lead with my architecture background."
Fitchburg Yarn presented a unique problem because it is 130 feet wide, much wider than most mills that have a corridor down the middle and apartments on each side. Curtis and his wife Marla – also an architect – figured out how to fill the space one night at the dining room table with pencil and tracing paper. Part of the solution was adding a den area just inside the apartment door.
The den was one of the rooms Fitchburg Yarn residents Carlos and Mariah Reberon pointed to proudly when giving a tour of their 1,100 square-foot, two-bedroom, market-rate apartment, which they rent for $1,700 a month. The room is tastefully decorated with lots of photos of their families.
A few steps from the den is the kitchen, which is part of an open floor plan that feeds into the living room and the large windows beyond. The Reberons can scarcely believe their good luck, considering they were frantically looking for a place to live just a few months before.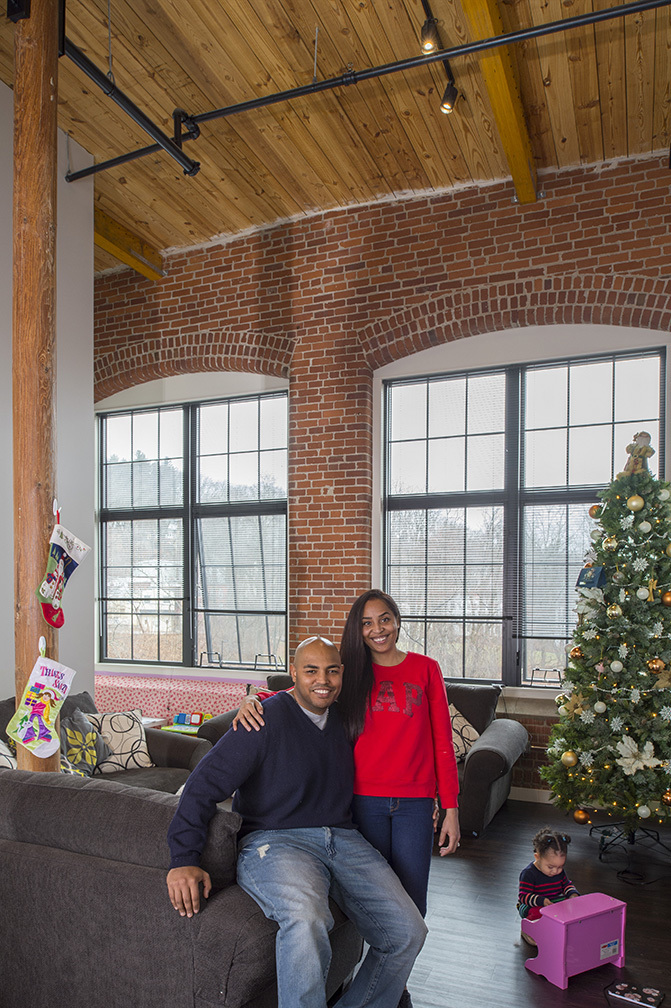 Carlos Reberon is "career Army". He's lived all over the country and the world, with two tours in Iraq and one each in Afghanistan and Bahrain. In the fall of 2018, while stationed in Illinois, he was transferred to Worcester to be an army recruiter. He left for his new assignment while his wife Mariah and daughter Adyline went to El Paso to live with family. Carlos started his new job while Mariah searched online. Their early focus was on communities around Worcester, and they immediately experienced sticker shock. "Everything is double here," said Mariah. "I was seeing 900-square foot apartments for $2,200."
Then Fitchburg Yarn caught Mariah's eye. She told Carlos to check it out. By December 2018, they had signed a lease and were settled in. "I've been in the Army for 15 years, I've lived in a lot of places, and I've never seen apartments like this," said Carlos. "I like that the building isn't too big. It's just three floors but the apartments are huge."
Mariah agrees. "I love that we got a big place with a decent rent," she said. "And I love the history. It has this raw texture. It's fascinating."
Curtis is quick to credit his team for Winn's success. At the Yarn Works grand opening, he specifically praised the work of Bob Verrier and The Architectural Team, which has done many of Winn's mill developments. He singled out Winn Director of Acquisitions Rachel Edwards for spotting Fitchburg Yarn and Vice President LeAnn Hanfield for overseeing construction of Fitchburg Yarn Works and the creation of new homes for working people like the Reberons.
"Communities like Lawrence, Fitchburg, Lowell and Ludlow have these incredible physical structures that have been rehabilitated into housing at a price that's affordable to people with normal paychecks," he said. "People who are coming to live here are becoming active members of these cities and they are bringing life back to places that had no life. They are great places to rehabilitate, great places to live in and, collectively, one building at a time, they are remaking communities."
(This article was written for the 2018 MHP annual report).