Posted on June 27, 2019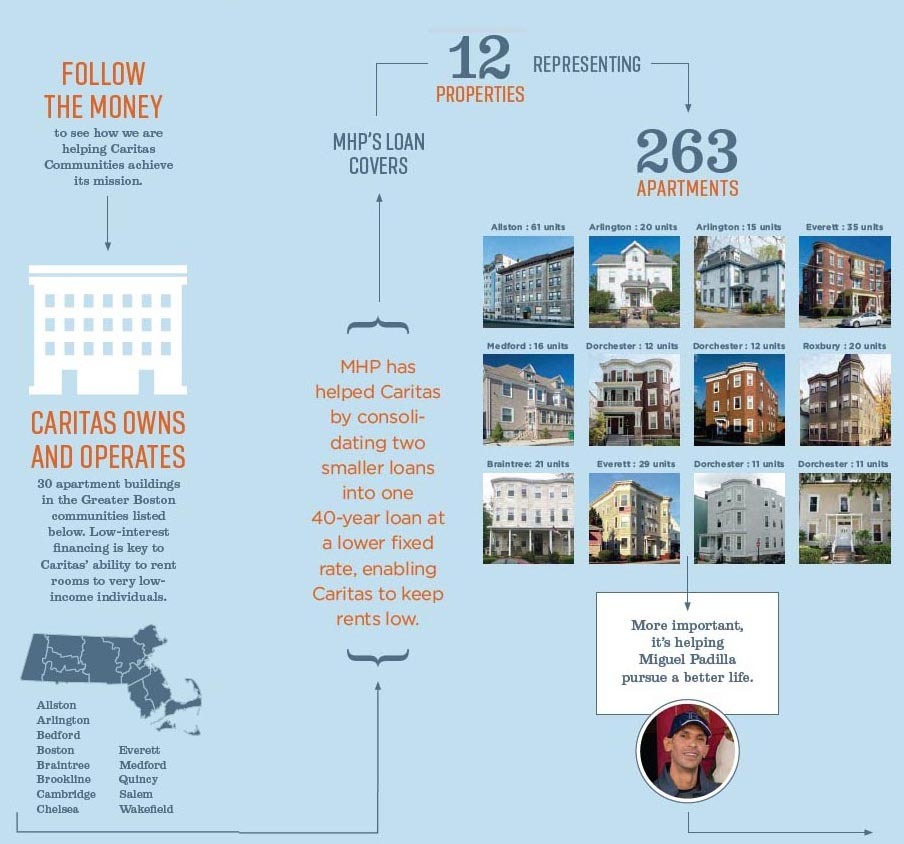 By Rus Lodi
BOSTON --- On the phone and in person, Miguel Padilla is rigorously honest. The first time we called him about appearing in the MHP annual report, he was blunt about his past, grateful for today and hopeful for tomorrow. "I'd been living on the streets so long, I didn't know life could be better," he said. "Now I just want to keep going up and up."
Padilla can be optimistic because he has a roof over his head, a job and counselors he can talk to thanks to Caritas Communities, one of Greater Boston's most effective providers of homes and services to the very low-income and formerly homeless.
Founded in 1985, Caritas owns and operates 30 single-room apartment buildings in Greater Boston. The over 1,000 men and women who live in Caritas homes are the ones who need it most – over 70 percent have been homeless, 20 percent have been chronically homeless for two consecutive years, and 60 percent earn less than $15,000 a year.
Caritas' job is made tougher by the fact that it operates in one of the most expensive real estate markets in the country. It is able to offer rents between about $500 and $700 a month because of lenders like MHP. Since 1994, MHP has made eight loans to Caritas to help it purchase properties or refinance them on better terms. Most recently, MHP helped Caritas by consolidating two small loans representing 12 properties and 263 apartments into one $4.4 million, 40-year fixed-rate loan. This loan lowered Caritas' overall interest rate to 4.38 percent and extended the affordability of these homes from 2022 to 2057.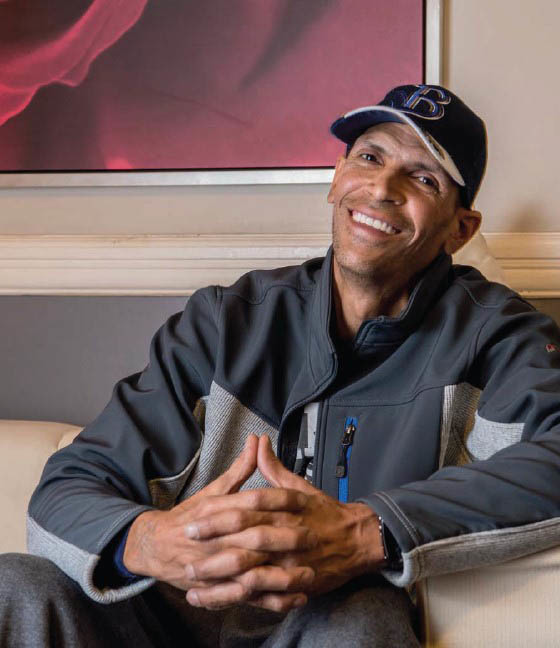 "Through the years, MHP has been a valuable partner in our mission to offer homes to those who can't afford it and those who are at risk of being homeless or homeless again," said Karin Cassell Mitterando, executive director of Caritas. "MHP's latest loan will help us keep rents low for the people who need it most."

The trickle-down effect of this financing is that it provides a launching pad for people like Padilla. On drugs since 15, Padilla did two prison terms, became estranged from his family in Holyoke and ended up on the Boston streets addicted to heroin. Many nights, his bedroom was Boston Common.
"Every morning I'd get up and I'd see families walking their kids to school and people going to work all dressed up, and I just was in a daze," he told us when we met with him at his apartment at a Caritas residence in Dorchester. "I would say to myself, 'These people are fools.' That was my mentality."
It all changed one morning when Amanda Proctor from the Pine Street Inn walked up to Padilla in Boston Common and handed him her card. "She told me there's a better life out there if I wanted it," said Padilla.
Padilla wanted it. He was tired of waking up each morning wondering about where he'd eat, sleep or get his next fix. He called Proctor and began his long daily journey out of addiction. There were rehab stays in Boston and Worcester, and then a room at Caritas. For the first four years, he seldom left his room. "I was like a bear," he said. "I hibernated. I'd just come out to use the rest room and eat soup. I made sure nobody saw me. I was so used to being incarcerated."
The turning point came about two years ago when a Caritas property manager hired him to clean his apartment building's common areas. That worked out and today Padilla works 32 hours a week cleaning his building and another building and painting at other Caritas sites. He gets up every day, gets in his car and goes to work. He goes to substance abuse meetings, speaks with counselors and hasn't used heroin in two years. "Caritas saw something in me and my life changed," he said. "I've learned how to speak more professionally. I observe the way (my bosses) speak and practice being more professional so I can make my life better."
Now 48, clear-eyed and strong, Padilla hopes to keep going and rebuild relationships with his family. He calls his mother regularly and is working to reconnect with his two adult sons. "I just want to be a good father now that I'm doing the right things," he said. "I can show them that I'm the man I can be and the father I can be and I want to be there for my grandson. My sons are grown now but whatever I didn't do for them I want to do for my grandson."
(Rus Lodi is director of public affairs at the Massachusetts Housing Partnership).