Posted on April 17, 2018
When communities brainstorm about creating affordable housing, building more apartments on housing authority properties is an idea that's often explored. In pricey Brookline, MHP helped the Brookline Housing Authority (BHA) assess the development potential of its properties and that resulted in 32 affordable apartments and more opportunities for families.
The new housing is called 86 Dummer Street and it is just a stone's throw from Commonwealth Ave., Boston University and the MBTA's Green Line. The apartments were built next to the housing authority's Trustman Apartments, creating a community that now includes 118 affordable apartments, a new playground, and courtyard.
Ruth Lebron is one of the residents who is building a better life on Dummer Street. A single mother, she used to rent in Canton. Every morning, she'd drop her daughters Naomi and Celine off at elementary school and make the serpentine drive along the back roads to Brigham & Women's Hospital's business office in Brookline, where she's a senior patient accounts representative. At rush hour, the drive would take up to 90 minutes. She had no time to herself. It was go to work, sit in traffic, and pick up her daughters. On weekends, she worked at second job at Wegman's in Chestnut Hill.
It was at Wegman's where she heard about the new housing at 86 Dummer St. and when she was picked in the housing lottery, she began to get her life back. Her job is now seven minutes away. She's paying $1,400 per month for a three-bedroom apartment, which is more than what she was paying in Canton, but she's saving on the commute, after school day care expenses, and her daughters are in the Brookline Public Schools.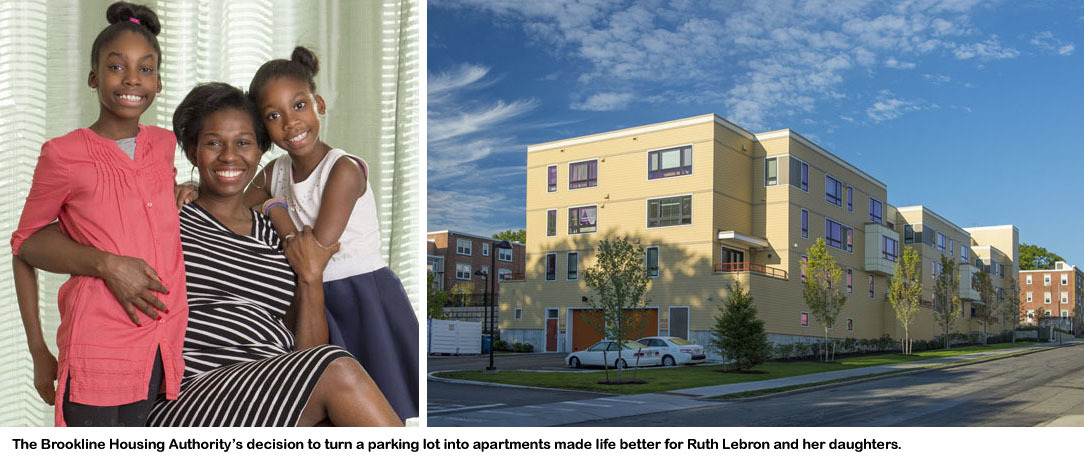 "When I lived in Canton, I was always on edge," said Lebron. "I felt like I wasn't providing a safe home for my children and I wondered what I was going to do when they were teenagers. What I needed was safe housing closer to work so I could manage my kids better. This apartment helps me do those things."

This is the type of story the BHA had in mind but answers on how to build more housing weren't immediately clear. Early on, it turned to MHP, which provided a pre-development planning grant that identified 86 Dummer Street as the best place to build more housing.
Then, the financial puzzle was pieced together. 86 Dummer St. was financed primarily with federal low-income housing tax credits, and the Town of Brookline left no doubt about its support, contributing over $4 million in local and federal funds.
In addition to its grant funding, MHP provided $1.8 million in permanent financing and $400,000 in low-interest second mortgage financing through Home Funders, a philanthropically-supported loan fund MHP offers to help developers offer lower rents.
"As it has done countless times across the Commonwealth, MHP played a central role in the success of 86 Dummer St.," said Patrick Dober, the BHA's executive director. "We would not have reached this day without MHP's early support and their permanent financing was indispensable to our success."
Note: On April 12, 2018, a documentary film debuted at the Coolidge Corner Theater on 86 Dummer St. and how it changed the lives of three residents, including Ruth Lebron. It was done by journalist/photographer Aynsley Floyd with support and funding from the Brookline Interactive Group. Check it out: