Posted on June 15, 2018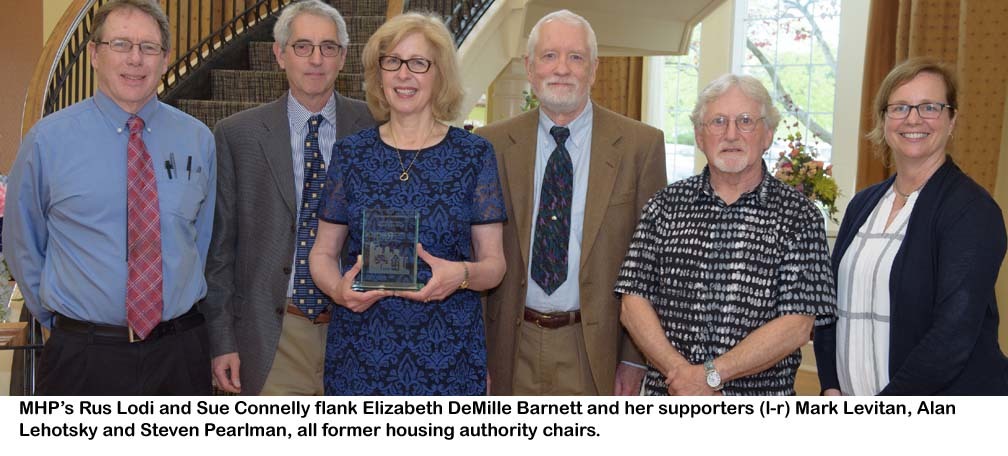 DEVENS --- The Massachusetts Housing Partnership (MHP) has recognized Elizabeth DeMille Barnett with a 2018 Housing Hero Award for her 11 years of achievement as housing coordinator for the Town of Carlisle.

"Elizabeth Barnett epitomizes local leadership," said MHP Director Community Assistance Susan Connelly at MHP's Housing Institute Awards luncheon on June 7. "She worked hard to understand the need for housing in her community and was knowledgeable about the various local and state resources that were needed to move developments forward."
During her tenure from 2006 to 2017, Barnett was a driving force in seeing two affordable housing developments come to fruition:
Benfield Farms, a beautiful development with 26 mixed-income rental homes for seniors built on part of a property the town purchased with Community Preservation Act funds.
An equally attractive 9-resident group home for the developmentally disabled that was built on land purchased by the town's Affordable Housing Trust.
"Elizabeth not only brought a technical understanding of what to do but also a fervor to the mission of meeting the town's housing needs," said Alan Lehotsky, former longtime chair of the town's housing authority board. "She worked tirelessly on housing. For example, during the recession, she spent an enormous amount of time providing credit counseling to residents who were in danger of foreclosure. A lot of people are grateful to still be in town because of her."
Barnett was praised for her work in keeping Benfield Farms on track through local and financing delays. "Elizabeth was involved in everything from helping the housing authority do a Request for Proposal to working patiently with the local boards, groups, and personalities to explain all the steps that go into making affordable housing a reality," said Phil Giffee, executive director of Neighborhood of Affordable Housing (NOAH), the non-profit that developed Benfield. "She held it all together."
Barnett grew up in Buffalo, the daughter of a police detective. As a child, her dad took her around the neighborhoods and she says this is where she first learned about racial and economic inequality. When she was a teen-ager, her dad took a teaching job in rural New York. Here, she saw rural poverty.
This was the foundation of her interest in affordable housing. After studying at MIT, she built a career that included stops at DHCD and the Cambridge Housing Authority. In 2006, she had two job offers and picked Carlisle because they had land and expressed a desire to do housing. In her interview, she told them that if they were interested in building affordable housing, she was the person for the job. She told them she was not interested in just talking about affordable housing.
In accepting the award, Barnett thanked many local people for their support, including Carlisle Housing Authority chairs Alan Lehotsky, Mark Levitan and Steven Pearlman. She also thanked former local affordable housing trust chairs John Williams and Greg Peterson.
In closing, Barnett advised the 100 local officials and volunteers in the audience to be dogged in their preparedness and in understanding all rules and regulations. She urged them to gather information relentlessly and develop relationships with peers.
She closed with the following: "Finally, when you are driving home at night from another long meeting, and wondering if this work is really worth it, remember it was Winston Churchill who said, 'never give in, never give in, never, never, never, never.' For in developing affordable housing, each of you has the opportunity in your hands, to literally change someone's world by allowing them to live with dignity in a safe and affordable home."
She received a standing ovation.
About the Housing Hero Awards: Since 2011, MHP has presented 22 local Housing Hero Awards to communities, housing authorities, chambers of commerce and local volunteers. The awards luncheon is held each year at MHP's Housing Institute, a two-day training for local officials and volunteers. Also receiving a 2018 Housing Hero Award was the City of Beverly.
MHP is a quasi-public state organization that uses private bank funds and other capital sources to support the creation and preservation of affordable housing. MHP provides technical assistance to communities, housing authorities and non-profits; long-term loans for multi-family developments; and administers the ONE Mortgage Program for first-time buyers. MHP also provides data analysis on housing issues through its Center for Housing Data.
For more information about this award and MHP's assistance to communities, contact Rus Lodi at rlodi@mhp.net.