Posted on May 19, 2017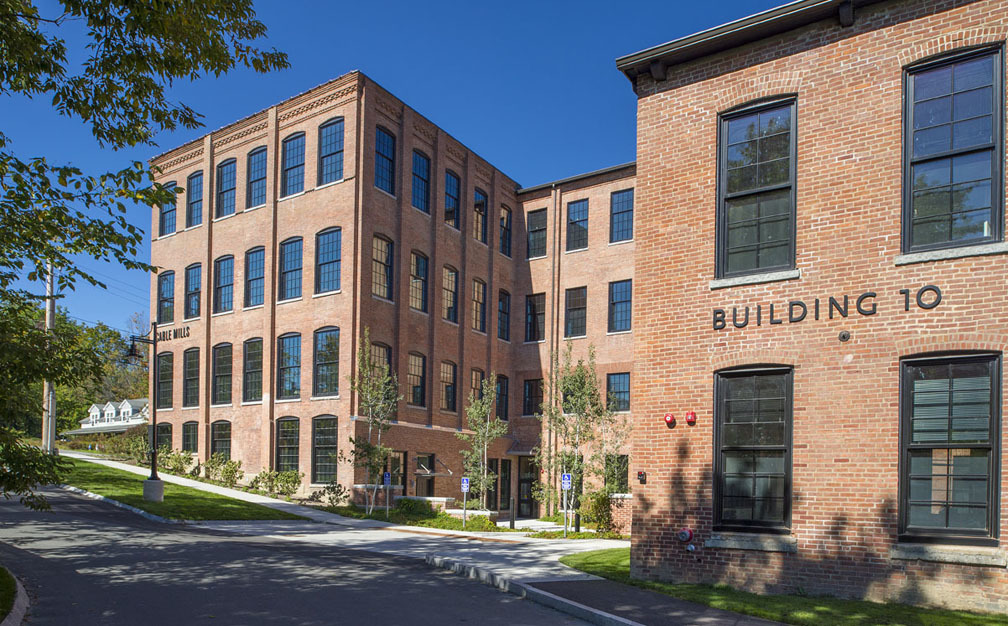 WILLIAMSTOWN --- If conventional wisdom is cities are on the rise and small towns are in decline, then why did James Barry and Tara Franklin leave New York City for Williamstown? The answer says a lot about why Williamstown is trying to do more housing like Cable Millis.
Ten years ago, it made sense for James and Tara to be in New York City. Both actors, Tara had a good run in the play "Sleep No More" and James did "Bloody Andrew Jackson" on Broadway. As the years flew by, their lives changed. They had a son, Sam. Increasingly, their acting took them on the road. The rent for their Brooklyn apartment climbed from $1,350 to $2,550. "We weren't getting anything out of New York anymore," said Tara.
Their eyes turned New Jersey first, then the Berkshires. They had met there doing summer theater and Tara had grown up in nearby Dalton. Tara went online and saw Cable Mills. "It's perfect," she thought.
Cable Mills' journey to perfect was long and winding too. Built in 1873, it was used by various companies to produce twine, textiles and cable. In the 1950s, it employed nearly 500. By 1996, it was closed.
Historic preservation pioneer Bob Kuehn bought it in 2003, but died of a heart attack three years later. Boston developer and Williams College grad Bart Mitchell stepped in. Together with developer Dave Traggorth, they worked through the economic crisis and finished the first phase in 2016, thanks in part to a $9.8 million loan from MHP.
"If you want more folks like us, keep it up. We like apartment life."
Featuring 61 mixed-income apartments in three brick buildings along the Green River, lease-up went fast, especially the market rate units. Health care workers, graphic designers, downsizing Baby Boomers, municipal employees and professors were attracted to the loft apartments, mountain views, and closeness to downtown and the college. "Cable Millis is a rare combination," said Mitchell. "It's near downtown and it's connected with nature. These days, that's important. There is massive interest in spending less time in cars and more time walking."
The town took note, not just because it had supported Cable Mills with zoning and $1 million in Community Preservation Act funds. In the fall of 2016, the Planning Board released a mission statement noting the need for smaller places to house "the next generation of workers, employers, families, and seniors." With grant funding from MHP, the town launched a "Future Williamstown Neighborhoods" campaign in hopes of building consensus for denser zoning and more housing like Cable Mills.
It's an initiative, James Barry and Tara Franklin support. "If you want more folks like us, keep it up," said James. "We like apartment life."