Posted on October 24, 2017
In its ongoing effort to help communities learn about the value and effectiveness of local affordable housing trusts, MHP recently held regional workshops in Williamstown and Amherst.
The workshops were geared toward talking to towns about the benefits of establishing a local affordable housing trust, and to have towns with trusts get together to discuss successes, challenges and ways to make their trusts more effective. Both workshops were preceded by tours of recent affordable housing developments that received significant local funding from Community Preservation Act funds, which are often a primary source of funds for local trusts.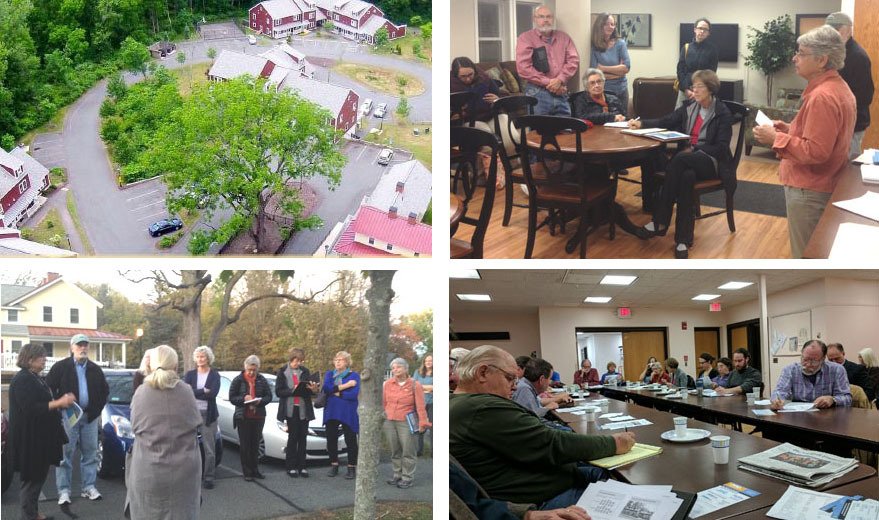 The regional trust workshops were organized and led by MHP's Shelly Goehring, and made possible thanks to a three-year grant to MHP from the Kuehn Charitable Foundation. Created by housing developer Bob Kuehn, the foundation supports affordable housing and historic and open space preservation. Kuehn died in 2006 and left the majority of his estate to his foundation.
On Oct. 17, MHP's Williamstown workshop featured a tour of Cable Mills, a downtown mill complex that was rehabilitated into 61 mixed-income apartments. Seventeen local officials or volunteers from Great Barrington, Lenox and Williamstown attended. All three of these communities have trusts so the discussion focused on sharing specifics about their successes and brainstorming about ways to make their trusts more effective. This event was co-sponsored by the Town of Williamstown and the Berkshire Regional Planning Commission.
On Oct 18, MHP's Amherst workshop featured a tour of Butternut Farm, an attractive 26-apartment affordable housing complex that was built after years of local resistance. This workshop attracted 29 people from 10 communities in the Pioneer Valley and Franklin County. Most of the communities represented did not have trusts, so the conversation centered on whether a trust would be an appropriate tool to adopt.
Guest speakers included Amherst Select Board Member Connie Kruger and Faith Williams of Wayfinders, which developed Butternut. Towns represented at this workshop were Agawam, Amherst, Hadley, Hatfield, Leverett, Pelham, Shelburne, Shutesbury, Turners Falls, and Whately. The Amherst event was co-sponsored by Wayfinders, the Pioneer Valley Planning Commission and the Franklin County Council of Governments.
For more information about local affordable housing trusts, contact MHP's Shelly Goehring at sgoehring@mhp.net or 857-317-8525.
Related resources:
Municipal Affordable Housing Trust guidebook (good for getting started)