Posted on May 16, 2017
LAWRENCE --- The color outside his window was a perfect blue. In the distance, a textile mill tower pierced the sky.
Inside, the 51-year-old man sat on the edge of his bed. He shifted often to ease his back pain, but his eyes never wavered. He was rigorously honest and at peace with the clarity of daily recovery.
"My life took a wrong turn," said Juan Marrero. "I was in and out of detox. I lost my family. I lived under bridges, in hallways, in shelters. Everyone around me was dying. Without this place, I'd be dead."
The place is Windsor House in Lawrence and it has a recovery story all its own.
Turn the clock back to 2004. The Commonwealth Land Trust (CLT) was looking to expand beyond Boston, where it owned and managed over 300 apartments. Its dream property had to be at least 50 rooms and had to be where people were struggling with mental health issues, drug addiction and HIV/AIDS.
"It is part of our mission," said Ellen Tan, CLT's executive director. "We want to work where other folks aren't."
Windsor House fit the mission. It had 69 rooms. It was located in a city with high rates of homelessness and substance abuse. With low-interest financing from MHP, CLT bought Windsor House and went to work.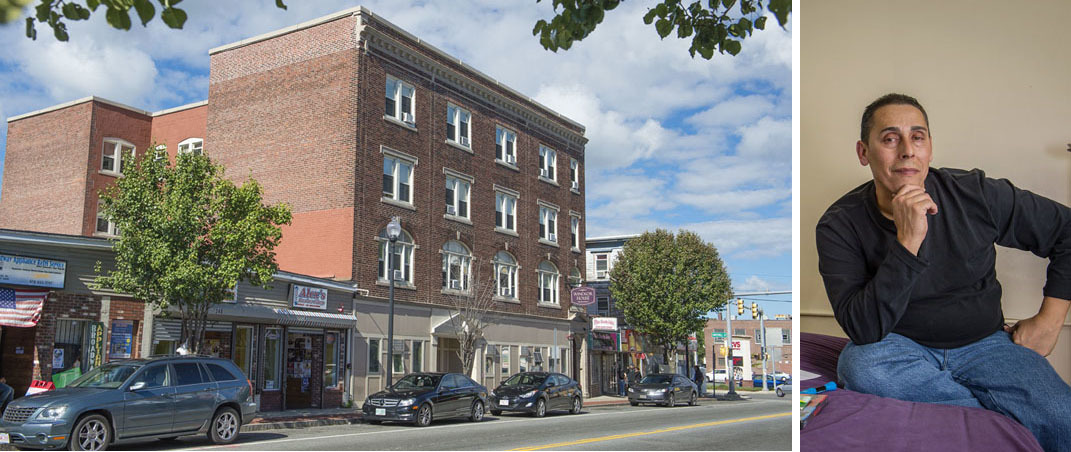 Tan still sounds shocked at what she and her team found. Drug dealers lived in the building. Prostitutes roamed the halls. When the CLT staff set the rules, the dealers cut the phone lines. Police came up to three times a day. Near the end of the first year, a woman overdosed and died in Tan's arms.
That's when the building hit bottom. Tan lowered the rents so residents could pay without committing crimes. The dealers moved out. CLT's "compassion with consequences" philosophy began to take hold. Take the people no one else wants. Get them a room. Connect them with health care. Find them jobs or volunteer work. Help them get sober. Acknowledge they may slip. Let them stay as long as they don't hurt others. Provide on-site care and 24-hour presence. Keep office doors open so residents can come in.
Tan said it took a year to establish basic safety and 10 years to stabilize the building financially. According to Lawrence police, annual police calls have averaged 61 the last four years. Tan says 98 percent of the residents stay housed for at least a year.
"We couldn't have done this without MHP. They were great partners as we struggled financially to stabilize the property."
"Housing first is something everyone should get behind because you can help people at a fraction of the cost of having them in jail or emergency rooms," she said. "But I want to make it clear we couldn't have done this without MHP. They were great partners as we struggled financially to stabilize the property."

Juan Marrero is living proof of the transformation. He quit heroin five years ago, but remained homeless. Two years ago, he took the next step and got a room at Windsor House. Since then, he has re-established relations with his two sons, has worked installing solar panels and is taking daily steps to get off methadone so he can be a person again.
"This is where I started doing the right things," he said. "I have my self-esteem. When I see others like me, I give them my number and tell them to call me anytime. The people here are good. They talk to you. They've helped me. I'm proud of what I am and what I've done."