Posted on July 13, 2016
BROOKLINE --- When communities brainstorm about creating more affordable housing, building on underutilized housing authority sites is one idea that's often explored.
In pricey Brookline, the housing authority took a hard look at the development potential of its properties several years ago and that initiative has resulted in 32 new apartments for medical workers, retirees, students, families and a youth pastor.
The name of the new housing is 86 Dummer Street and it sits just a stone's throw from Commonwealth Ave., Boston University and the MBTA's Green Line. The 32 new apartments were built next to the housing authority's Trustman Apartments, creating a community that now includes 118 affordable apartments, a new recreation area and courtyard.
"This is a culmination of years and years of efforts by this community to reach out to one another and find ways to invest and extend to everybody the opportunities that this neighborhood has to offer," said U.S. Rep. Joseph Kennedy III at grand opening ceremonies on May 14.
Brookline's efforts began back in 2009 when the Brookline Housing Authority (BHA) applied for and received a $25,000 planning grant from MHP and the state Department of Housing and Community Development (DHCD). These funds were used to identify which BHA site would be conducive to further development and to ultimately come up with a conceptual and financial proposal.
The location identified was the open end of the Trustman Apartment complex, which was a parking lot facing Dummer St. The new housing - six one-, 22 two- and four three-bedroom apartments - was built here, creating a quadrangle with the three Trustman buildings. 86 Dummer St. is the largest new construction of affordable housing in Brookline in more than 30 years.
In addition to awarding the DHCD-funded pre-development grant, MHP committed $1.8 million in permanent financing and $400,000 in low-interest second mortgage financing through Home Funders, a philanthropically-supported loan fund MHP offers to help developers offer lower rents.
"MHP played an indispensable role in 86 Dummer," said Patrick Dober, executive director of the Brookline Housing Authority. "We could not have done this without the planning grant and their early support and their below-market financing and additional financing through HomeFunders helped us close a significant financing gap."
The total development cost was $16.3 million - $13.9 million for the housing and $2.4 million for the playground and courtyard. The housing was financed primarily with federal low-income housing tax credits awarded by DHCD. DHCD also provided funding through its Housing Stabilization Fund, Community Based Housing Program and the state's Affordable Housing Trust Fund, which is administered by MassHousing.
Bank of America was the construction lender and tax credit investor. Additional funding was provided by the Town of Brookline's Affordable Housing Trust, the Federal Home Loan Bank, and Community Development Block Grant funds through the BHA.
All the apartments are affordable to households at or below 60 percent of the area median income. The apartments have many green features, including high efficiency windows, boilers, storm water management, low-energy appliances and native plantings.
Over 1,900 eligible households applied for the 32 new apartments at 86 Dummer St. Seventy percent of the apartments (23 units) were reserved for families who live or work in Brookline, or who have students in the Brookline Public Schools METCO Program.
A few days after the grand opening, the Brookline Tab profiled three new residents at 86 Dummer Street – youth pastor SuYung Kim, retired grandmother Betty Williams and Ruth LeBron, a mother of two and a Brookline health care worker who was able to reduce her commute down to seven minutes by moving from Canton to 86 Dummer St.
"The best thing I can do for my daughters is provide them a good education and a stable environment," she told the Tab. "My new apartment allows me to do these things."
For more information about this development and MHP's community assistance and financing options, contact Community Assistance Director Sue Connelly at sconnelly@mhp.net or Senior Loan Officer David Hanifin at dhanifin@mhp.net.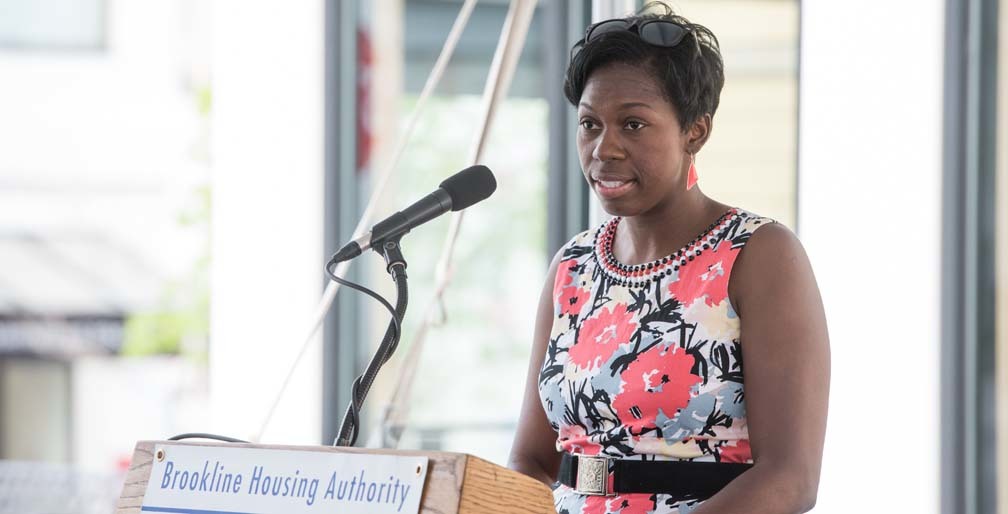 Ruth LeBron said her new apartment will help her provide a good education and stable environment for her daughters.