New housing within "a symphony of architectural form ... more than just a brick building'
Posted on December 2, 2015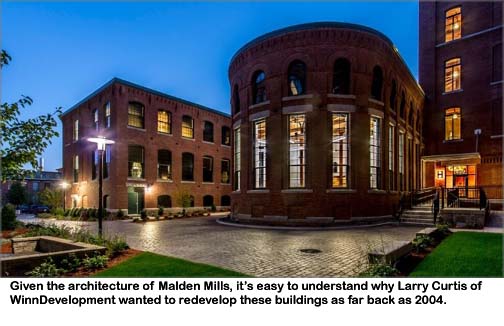 LAWRENCE --- Back in 2004, the MHP board and staff took a tour and held a community meeting in Lawrence to gain a better understanding of the city's housing priorities.
One major point of discussion was what to do with all the vacant mills in the city and one of the stops on the tour was Malden Mills, where WinnDevelopment's Larry Curtis explained how some of the factory buildings could be transformed into housing.
Fast forward 11 years to November, 2015 and there was Larry Curtis speaking again at Malden Mills, only this time it was to talk about how the City of Lawrence is rebuilding itself and how WinnDevelopment partnered with the city, the state and private funders to transform some of the Malden Mills buildings into LoftFive50, a 137-unit mixed-income apartment complex.
"In the last 10 to 15 years, the decline of many decades (in Lawrence) has begun to reverse itself, not with any grand plan but with the realistic plan that each building can be redeveloped one at a time," he said. "That rebuilding is what we love to be a part of."
The Nov. 18 event was held to celebrate the completion of Phase 2 of LoftFive50, which features 62 apartments, 55 available to residents at or below 60 percent of area median income and seven units reserved for households at or below 30 percent of median income. Phase 1, completed in 2012, consists of 75 mixed-income apartments in a 160,000 square foot adjacent mill building.
The Massachusetts Housing Partnership (MHP) is the long-term lender for both phases, providing $1.45 million in fixed-rate financing for Phase 1 and $1.4 million for Phase 2. MHP has now used its bank-funded loan pool to support 11 Winn projects totaling over $50 million for the financing of 1,052 apartments.
"Rebuilding old mills is hard but WinnDevelopment does a great job and makes it look easy," said Clark Ziegler, MHP's executive director.
LoftFive50 Phase 2 was financed primarily with federal and state housing tax credits awarded by the state Department of Housing and Community Development (DHCD) as well as federal and state historic tax credits.
Additional funding was provided by DHCD and the state's Affordable Housing Trust Fund (administered by MassHousing), the Mass. Historical Commission, the U.S. Park Service, the City of Lawrence, Bank of America and WNC & Associates.
Malden Mills gained notoriety first for its manufacturing of polartec fleece and then when a 1995 fire put 3,000 people out of work. The owner, Aaron Feurestein, gained national attention by continuing to pay his workers for 60 days following the fire.
Following the fire, the business struggled and became part of the conversation of what to do with all the vacant mills around the city. Following up on Curtis' original interest in rehabilitating the property, WinnDevelopment acquired four of them in 2011 after they had been vacant for more than a decade.
"Malden Mills, now Loft Five50, is unique for two principle reasons," said Curtis when asked what caught his eye when he first saw the mill. "Socially, over the course of 100 years, manufacturing at the complex and its ownership epitomized American ingenuity – the high tech of its day! Architecturally, the assemblage of nine mill buildings, is a symphony of architectural form, height, fenestration and detail – far from just another brick building."
For more information about this development or MHP's financing options, contact Director of Lending David Rockwell at drockwell@mhp.net.