Posted on June 19, 2015
Talk to anyone connected with what First Resource Companies has done in Springfield and the conversation inevitably turns to its president, Gordon Pulsifer.

One of his architects, Stephen Caswell, said Pulsifer is not afraid to walk into the most crime-infested neighborhoods to better understand what's going on. "I'm impressed by how he listens to what any and all tenants have to say," said Caswell."He once told me you can learn something from anyone."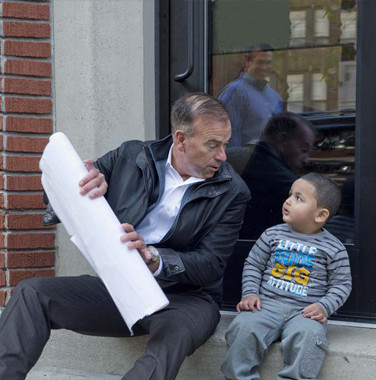 Gordon Pulsifer spends time with a resident.
Gerry McCafferty, the city's housing director, talked about how Pulsifer sticks to his plan. "Everything is on time," she said. "There's no need to hold his hand. In fact, he's usually pushing us. You can rely on him. He hires from the neighborhood and he hires diverse."
Mayor praises Pulsifer
The numbers don't lie. Since 1999, First Resource Companies has acquired and rehabilitated 989 apartments spread across three neighborhoods and 65 buildings. His work has received national recognition from the federal government and kudos from local leaders like Mayor Domenic Sarno, who once said the difference between Pulsifer's buildings and others is like "night and day."
Pulsifer's latest achievement is just off Main St. in downtown Springfield, where he has rehabilitated 24 buildings and 316 apartments. To do this, he had to acquire Outing Park and Concord Heights apartment buildings. He did the same thing a few years earlier, targeting Worthington Commons and then buying City View Commons. A few years before that, he revitalized the abandoned High Street Commons after stabilizing nearby Maple Commons. "The key with neighborhood revitalization is to wrap your arms around as many buildings as possible", Pulsifer said. "Another key is make your building management visible. So many management offices I see are below ground. Ours are above ground."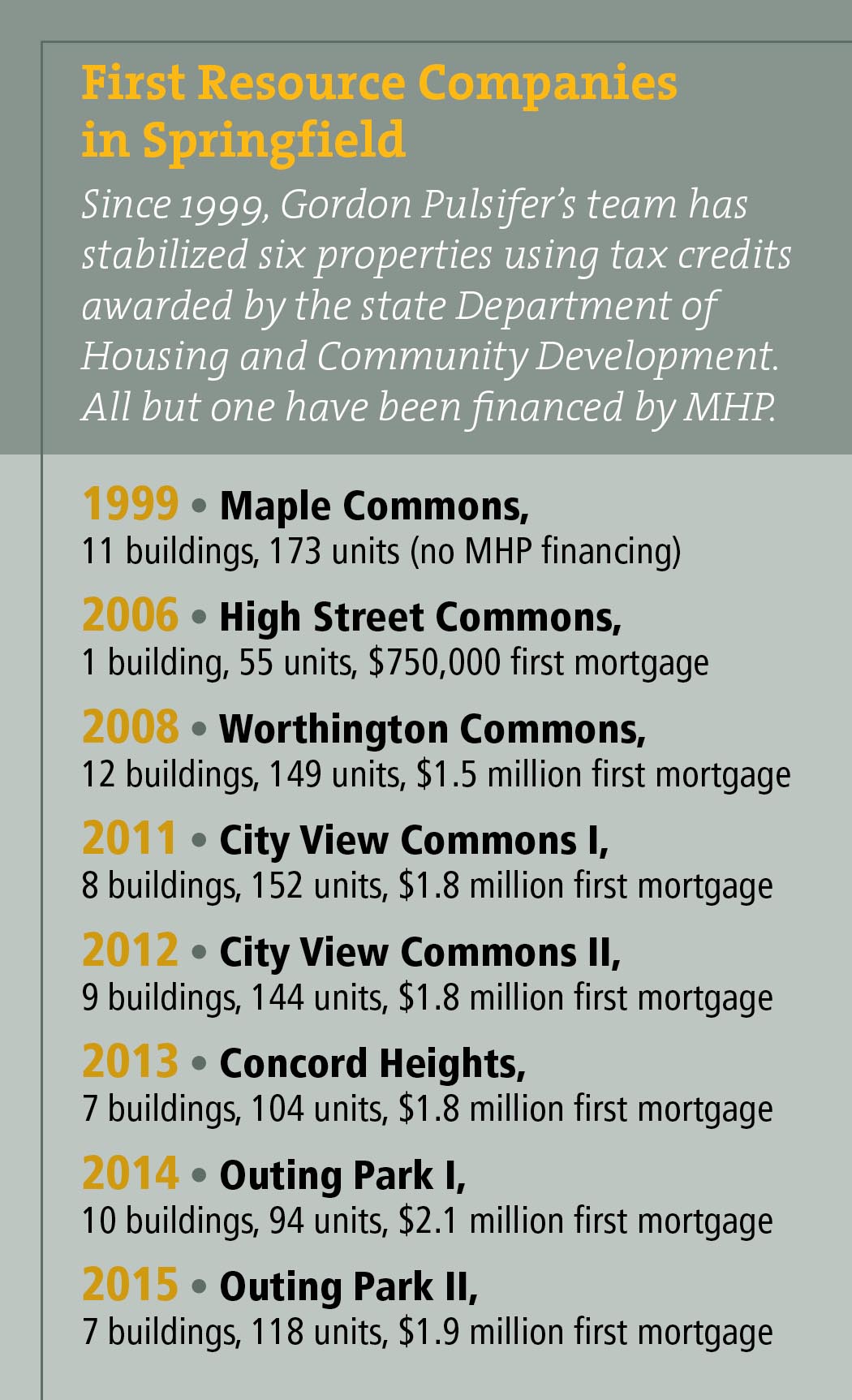 First Resource has six local offices, many of them stand-alone suburban-looking buildings that are a visible contrast to the classic four-story brick buildings where most residents live. Many of these offices have security camera systems that enable staff to monitor common areas. These buildings serve as hubs, creating natural foot traffic that is the antithesis of a neighborhood run by absentee landlords. "He establishes a management presence that is strong on safety," said McCafferty, noting that crime is down 25 percent in Outing Park.
Pulsifer deflects credit, instead praising his team, which includes his wife Annellen the company president, son Brenton, The Architectural Team, NEI General Contracting and the City of Springfield. "Everyone is supportive," he said. "If you have a problem, you can go to the city and talk it through."
A human touch
Pulsifer also embraces residents. One example is what he did for longtime Outing Park resident Dinorah Guillermo and her son Joel. One night back in 2005, Joel got up from the dinner table and said he was going out. Dinorah remembers saying "don't go" and Joel saying, "I'll be right back." Minutes later, a friend knocked on the door. Joel was hurt. Dinorah raced down the street. She saw an ambulance. Her son had been stabbed in the neck. The wound left him paralyzed and legally blind.
In 2013, Pulsifer came to Dinorah's apartment to show a contractor what work needed to be done. Dinorah had never met her new landlord, didn't even know his name. When Pulsifer asked what she was cooking, Dinorah got a good feeling and asked him to take a look at the bathroom off Joel's bedroom. Pulsifer learned that Dinorah was taking care of her son in a unit that wasn't accessible and that she had to lift him into the shower. Pulsifer said he would do something.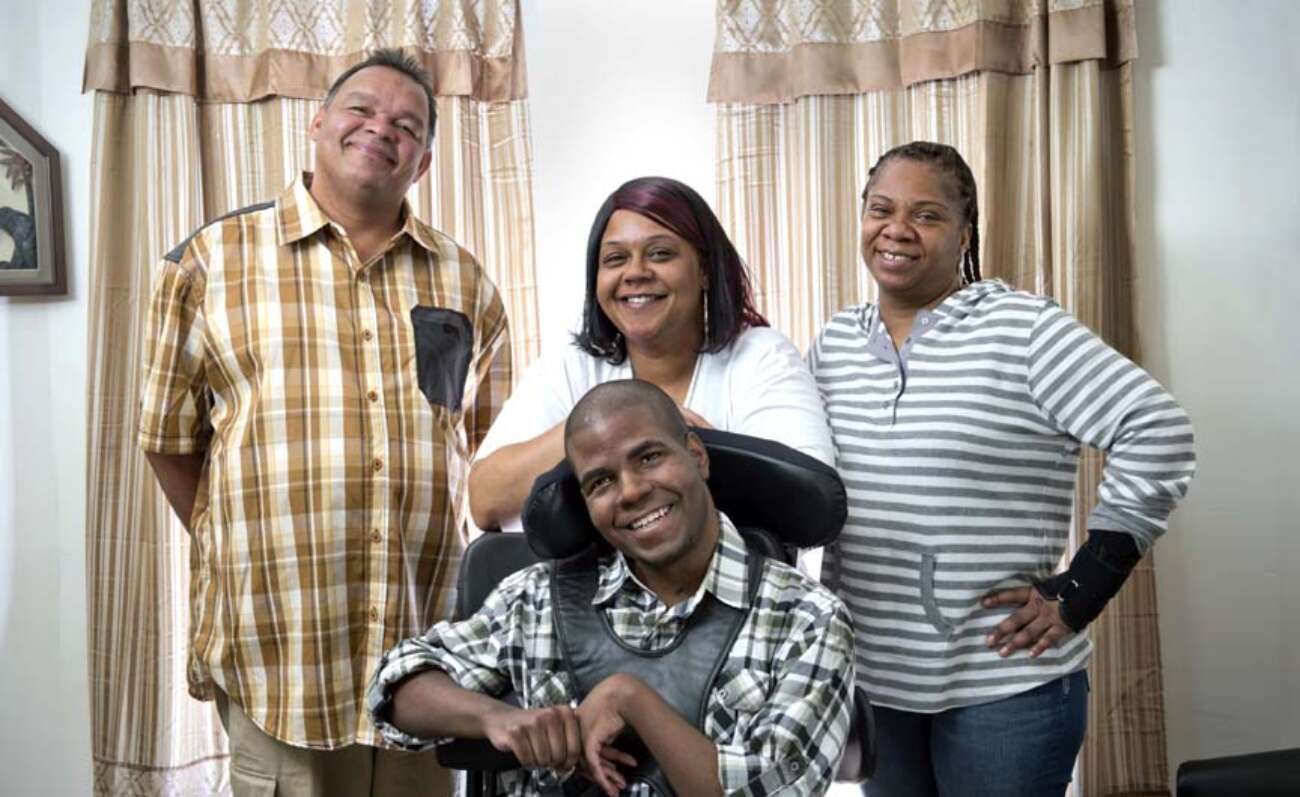 Dinorah Guillermo is grateful for what Pulsifer did.
Dinorah didn't know whether to believe him. Pulsifer's team put in a second wider doorway in Joel's bedroom wall so that he could directly access the bathroom and a new roll-in shower from his bedroom.
Pulsifer's crew also created a den off Joel's bedroom so the family would have a place to gather. The sub-contractors did the work for free.
"What they did makes you feel like somebody," said Dinorah. "The neighborhood is much better now. You don't see drug addicts walking around. Things have improved. You know there are people like Gordon who will help you."
(This essay appeared in the 2014 MHP annual report. The online print version has more photos of First Resource's work in Springfield. There is also a video on how First Resource helped this family. See below).
).