Posted on May 13, 2015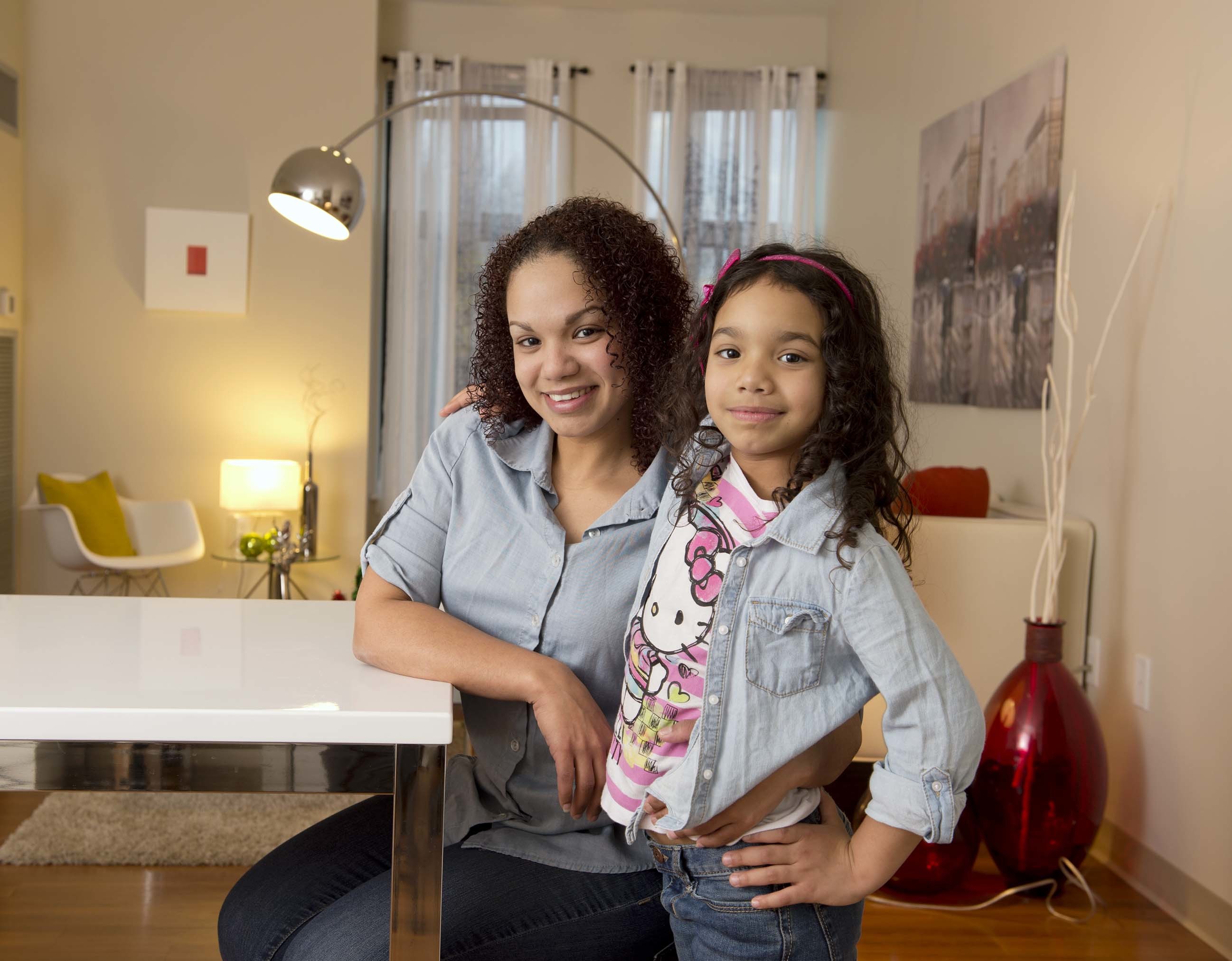 SALEM --- Since coming here from the Dominican Republic, Amanda Nunez's climb up the job ladder has included Dunkin Donuts, Payless Shoes and a lighting store in Lynn, where she is now putting her education and love of home design to work.
The housing ladder has included the shelter system, living in a motel and two years in the state's HomeBase program, which helped her pay for an apartment in Lynn. During this time, she worked, raised her daughter, went to school, got a degree in computer and graphic design and became a U.S. citizen.
Such is life in Greater Boston's low-wage work zone where full-time work sometimes isn't enough to afford a home. Through it all, Amanda Nunez kept working. Today, she's off welfare and living with her daughter Liz in a brand new two-bedroom apartment near downtown Salem. Credit Nunez' work ethic for reaching this goal, but give assists to the Archdiocese's Planning Office for Urban Affairs (POUA), Salem Mayor Kim Driscoll and the state Department of Housing and Community Development (DHCD).
POUA gets an assist for working through four legal challenges and eight years of community negotiations in order to build 51 affordable rental homes on the former St. Joseph's Church site. Mayor Driscoll gets an assist for never wavering on her vision that housing with ground floor commercial would be the best outcome for the neighborhood. DHCD gets an assist for providing funding so that all the apartments are affordable and for administering the HomeBase program, which helps the homeless find permanent housing.
Driscoll thought razing the vacant St. Joseph's church for housing would be a no-brainer when it was first suggested in 2005. "It was a great site, a gateway to downtown and the Point neighborhood," she said. Instead, her vision met stiff resistance. Four times, the project was stalled by lawsuits. Driscoll never wavered. She attended most community meetings and faced her opposition. "She was extraordinary from moment one to completion," said Lisa Alberghini, who developed the site for the Archdiocese. When asked why she remained steadfast, Driscoll said, "I thought the neighborhood needed somebody in their corner. When things get harder, it's important to be more involved, not less."
These assists are not lost on Nunez. She appreciates that her $975 per month rent is something she can afford. She loves that it's a short drive from her job and near downtown, the YMCA, her bank and her daughter's school. She dreams about the next rung on the career ladder. "Someday, I would like a career in interior design," she said. "Designing lighting is the first step."