Posted on December 18, 2014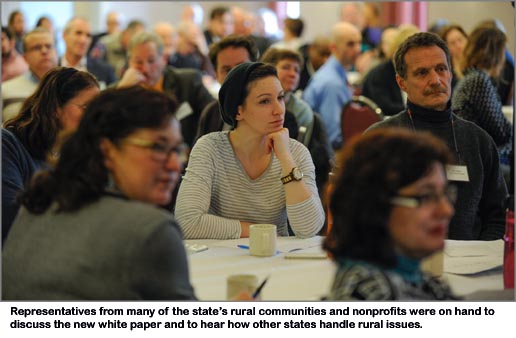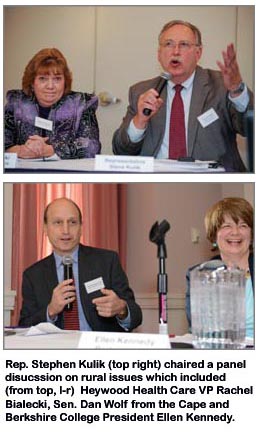 Ninety leaders from rural communities across the Commonwealth gathered today at the College of the Holy Cross for a Rural Housing Summit.

The summit featured the release and discussion of a white paper that included six policy recommendations to help rural communities with their housing and economic challenges. To download the white paper, click here.
The event was the latest in an ongoing effort by the Massachusetts Housing Partnership (MHP) to work with rural leaders to understand their challenges and to build consensus on policy solutions.
The white paper is the product of public meetings, research and data collection, the investigation of best practices in other states and the guidance of a 19-person steering committee representing rural communities from Cape Cod to western Mass.
Opening remarks at today's event were made by Aaron Gornstein, the state's undersecretary for housing. "This is a very solid start in terms of figuring out how we can adapt our programs to serve the special problems in rural areas," said Gornstein.
MHP Senior Advisor Rita Farrell then discussed details of the white paper and the six policy recommendations, which include establishing an office of rural policy, making it easier to establish regional cooperation and, establishing funding set-asides for projects under 20 units.
Farrell said challenges in rural communities can be boiled down to the four "I's": isolation from services; the lack of key infrastructure like water and sewer; lack of income; and lack of investment and economic opportunity. Click here to see her presentation.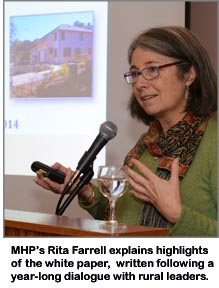 Defining a rural community as any municipality with fewer than 500 residents per square mile, the white paper represents the concerns of 170 of the state's 351 communities across 13 of the state's 14 counties. Here's the breakdown of rural communities in each county: Barnstable (9), Berkshire (30), Bristol (5), Dukes (5), Essex (7), Franklin (25), Hampden (13), Hampshire (16), Middlesex (10), Nantucket (1), Norfolk (2), Plymouth (9) and Worcester (38).

In making the case for specific rural policies, the white paper notes that rural communities are a vital part of the state's economy. The study notes that tourism in Berkshire, Cape Cod and the Islands accounted for nearly 20 percent of the state's tax receipts in 2012 and that agriculture and fishing – most of it located in rural communities – accounts for a significant amount of state sales output per year ($13 billion in 2010 for example).
After the white paper was presented, state Rep. Stephen Kulik led a roundtable discussion on key challenges in rural areas. The expert panel included state Sen. Dan Wolf from Cape Cod, Berkshire College President Ellen Kennedy, and Rachel Bialecki, vice president at Heywood Healthcare.
"We need to create good jobs so that people can afford housing," said Wolf, who said his region's home prices have been driven up by off-Cape residents buying second homes. "This is what's hitting some rural communities hard and it's wreaking havoc on the Cape."
Bialecki said the region's lack of services includes child care. "It's a circle," she said. "You can't increase jobs without people and you can't attract people if you don't give them access to child care, transportation and housing."
Kennedy worried about not attracting jobs and the population getting older. "The demographics are crashing before our very eyes," she said. "We don't have enough skilled workers to attract employers."
Kulik said establishing an office of rural policy is worth considering because it would create an opportunity to find "integrated solutions" on jobs, housing and connecting rural residents with social services.
Keeping young people was also one of the themes emphasized by guest luncheon speaker Charlotte Davis, executive director of the Maryland Rural Council, a federal and state-funded organization that represents rural communities in Maryland. Davis said her organization has surveyed young people in rural areas and found that more than 50 percent liked where they grew up but saw no economic opportunity. Davis said her council has made special efforts to talk to young people about starting their own businesses in rural communities. Click here to view her presentation.
If you need more information about this event or the initiative, contact MHP Director of Public Affairs Ruston F. Lodi at rlodi@mhp.net or 617-330-9944 x227.