Posted on February 7, 2023
BOSTON --- MHP is pleased to announce a new series of tax-exempt financing options for our borrowers.

Our newest tax-exempt offering is an expansion of MHP's direct bond placement program, under which MHP utilizes its bank capital to provide a cost-effective direct placement, with the following terms of note:
Maximum loan term of up to 20 years, with maximum amortization term up to 40 years
Forward rate lock fixed for up to 30 months
Lower fees than comparably sized transactions under a public offering
Under the program, debt financing comes in the form of tax-exempt bonds, which are issued by either MassDevelopment or MassHousing when a project closes on its construction financing.

At or prior to near the time of construction closing, MHP can provide a forward rate commitment of up to 30 months for its permanent financing. When the project is fully constructed and stabilized, MHP purchases the permanent, tax-exempt bond, and assumes the role of permanent lender and servicer to the project. For more information, download our term sheet.

Leveraging private funds for tax-exempt financing
MHP has a long history providing tax-exempt permanent financing. To date, it has closed on over $166 million in tax-exempt financing, through both direct bond placements and credit-enhanced public offerings. In both funding structures, MHP has leveraged its private bank capital to offer borrowers competitive interest rates, forward rate locks, and ease of execution.
Additionally, MHP continues to offer competitively priced taxable take-outs of tax-exempt construction financing, through both its direct lending and its FHA Risk Share programs, under which borrowers can access loan terms and amortization periods of up to 40 years, with forward rate lock periods of up to three years. For some transactions, a taxable permanent loan with a longer term may offer a more attractive execution.
$69M in commitments in last 5 months
With the newly revised term sheet, MHP is committed to creating financing solutions for developers and to increasing affordable housing stock across the state. Over the past five months, MHP has committed a total of $69 million in tax-exempt, direct bond placements for six developments.

MHP's track record in working with and executing funding for a variety of sponsors includes our commitments to non-profit housing authorities – Cambridge Housing Authority, Framingham Housing Authority, and Medford Housing Authority – and to private developers such as Beacon Communities.
MHP is proud to be a funding partner in these vital projects. Two developments detailed below illustrate how this financing can create affordable housing and revitalize neighborhoods.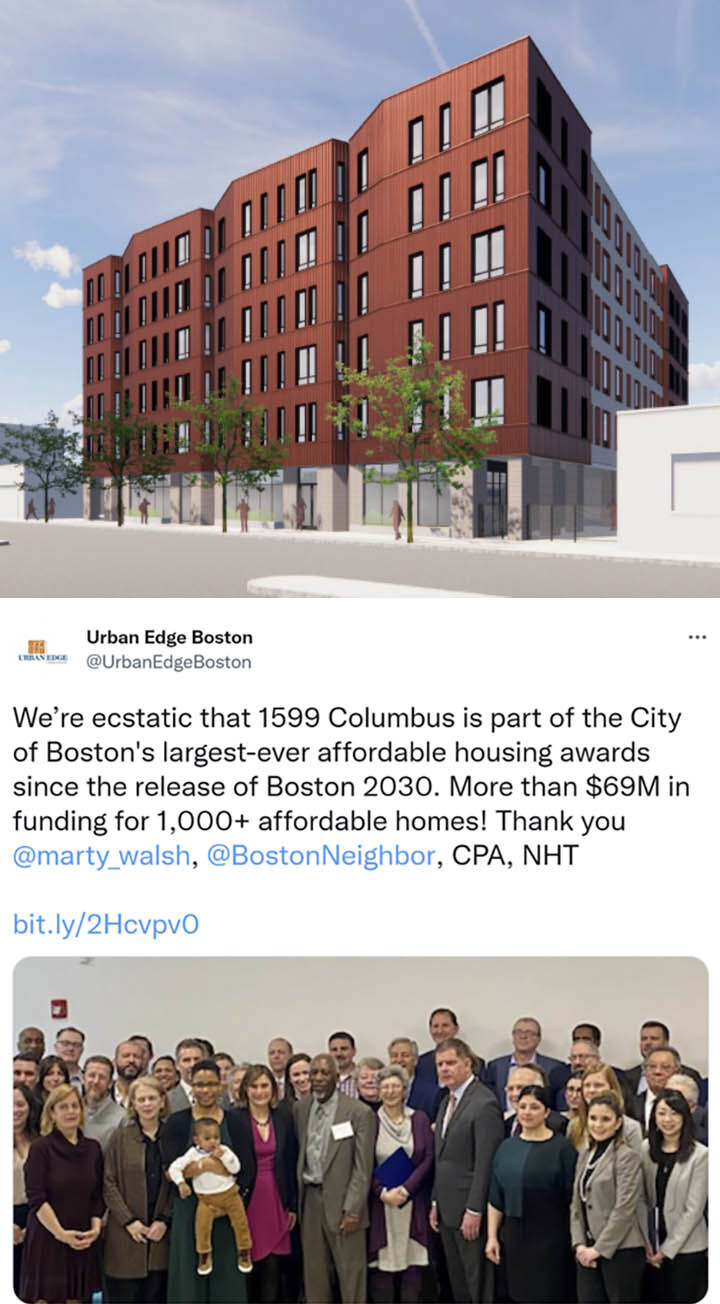 1599 Columbus, Boston (Urban Edge Housing Corporation)
MHP has committed $8.2 million in permanent, tax-exempt financing to the non-profit Urban Edge Housing Corp. support the construction of 65 affordable apartments in Jamaica Plain.
Known as 1599 Columbus, the development will be built on previously undertutilized land at the corner of Columbus Ave and Amory Street in the Jackson Square neighborhood, which has been the focus of community-led revitalization efforts for many years.
1599 Columbus is located within walking distance of the Jackson Square MBTA station, playgrounds and recreation areas, and commercial services. In coordination with HomeStart and Bay Cove Human Services, Urban Edge will also provide a suite of residential services ranging from stabilization services and counseling to job and after school placements.

Table Talk Lofts, Worcester (Boston Capital Development, LLC)
MHP has committed $5.6 million in permanent, tax-exempt financing to support Table Talk Lofts, a multi-phase, mixed-use development in Worcester's Canal District.
This district is part of the city's revitalization of Kelley Square and includes the constrution of Polar Park. Boston Capital will continue this revitalization with multi-phase, mixed-use transit-oriented project near rail services and close to downtown. The first phase of this redevelopment effort will be constructed as a seven-story building on the former site of the Table Talk Pies factory. It will include 83 units, 75 affordable to households at or below 60 percent of area median income (AMI) and eight affordable at or below 30 percent AMI.
Financing will include both 4 and 9 percent low-income housing tax credits awarded by the state Department of Housing and Community Development (DHCD). The building will offer 16 one-, 38 two- and 5 three-bedroom units. Eleven of the units will be accessible and three will be funded through DHCD's Community Based Housing Program, which supports integrated housing for people with disabilities.

In addition to the tax-exempt interest rate benefit, Boston Capital hopes to further reduce their interest rate by pursuing a healthy housing certification through MHP's Green and Healthy Housing Incentives program.
More information: Contact MHP's Senior Relationship Manager Alma Balonon-Rosen or MHP's Director of Business Development Nancy McCafferty