Posted on April 1, 2023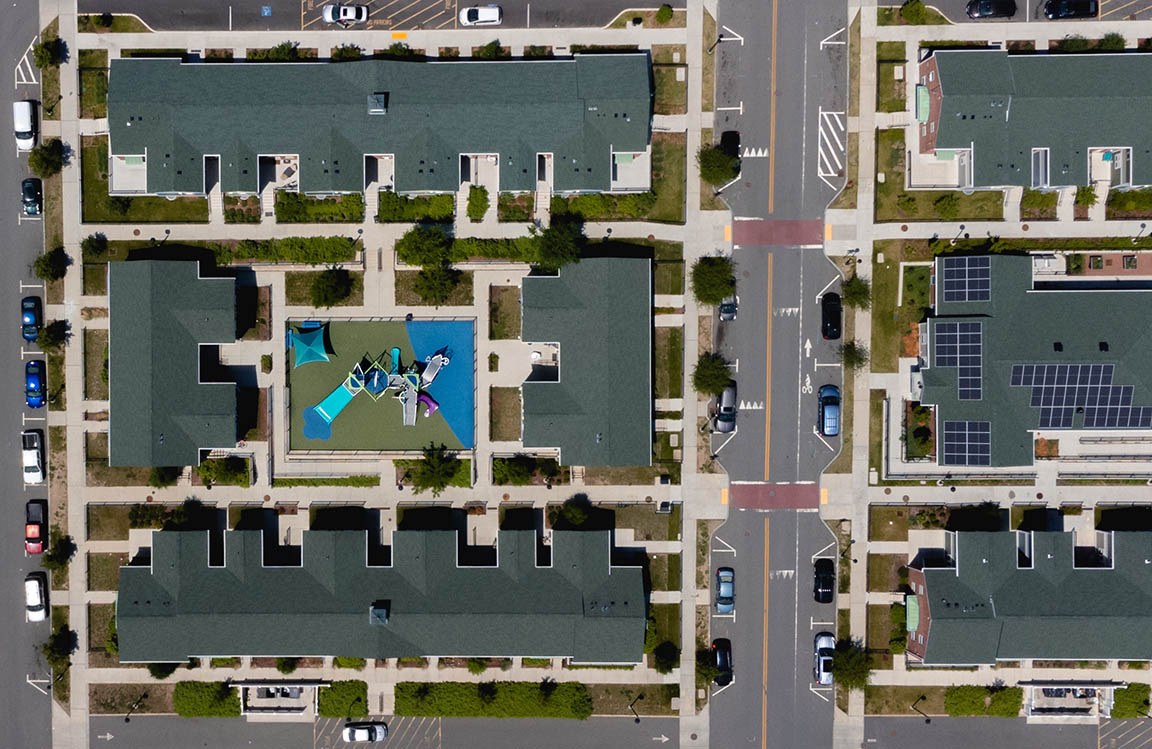 By Deepti Kamma
HOLYOKE --- You may be familiar with the story of Holyoke's Lyman Terrace, an aging public housing development that was saved from demolition and rehabilitated through a partnership between the city, state and private sector. What you may not know is that in addition to being a nationally recognized redevelopment, Lyman Terrace also received recognition for its inclusion of healthy features in the redesign of its 164 affordable apartments and common areas just steps from downtown Holyoke.
Redeveloped by The Community Builders (TCB), a Boston-based national nonprofit, Lyman Terrace earned certification from Fitwell, a building standard that promotes healthy homes and healthy tenants. This certification earned it a 15-basis point discount on its permanent loan from MHP, which offers these incentives through its Green and Healthy Housing programs.
"The attention The Community Builders, the Holyoke Housing Authority and Lyman Terrace residents paid to adding features to promote good health was inspiring," said MHP Senior Loan Officer David Hanifin, who underwrote the loan and helped guide TCB through the Fitwell process. "From water-management features to the community center to walking paths and playgrounds, they never wavered from making sure healthy features were included in what was a major construction project."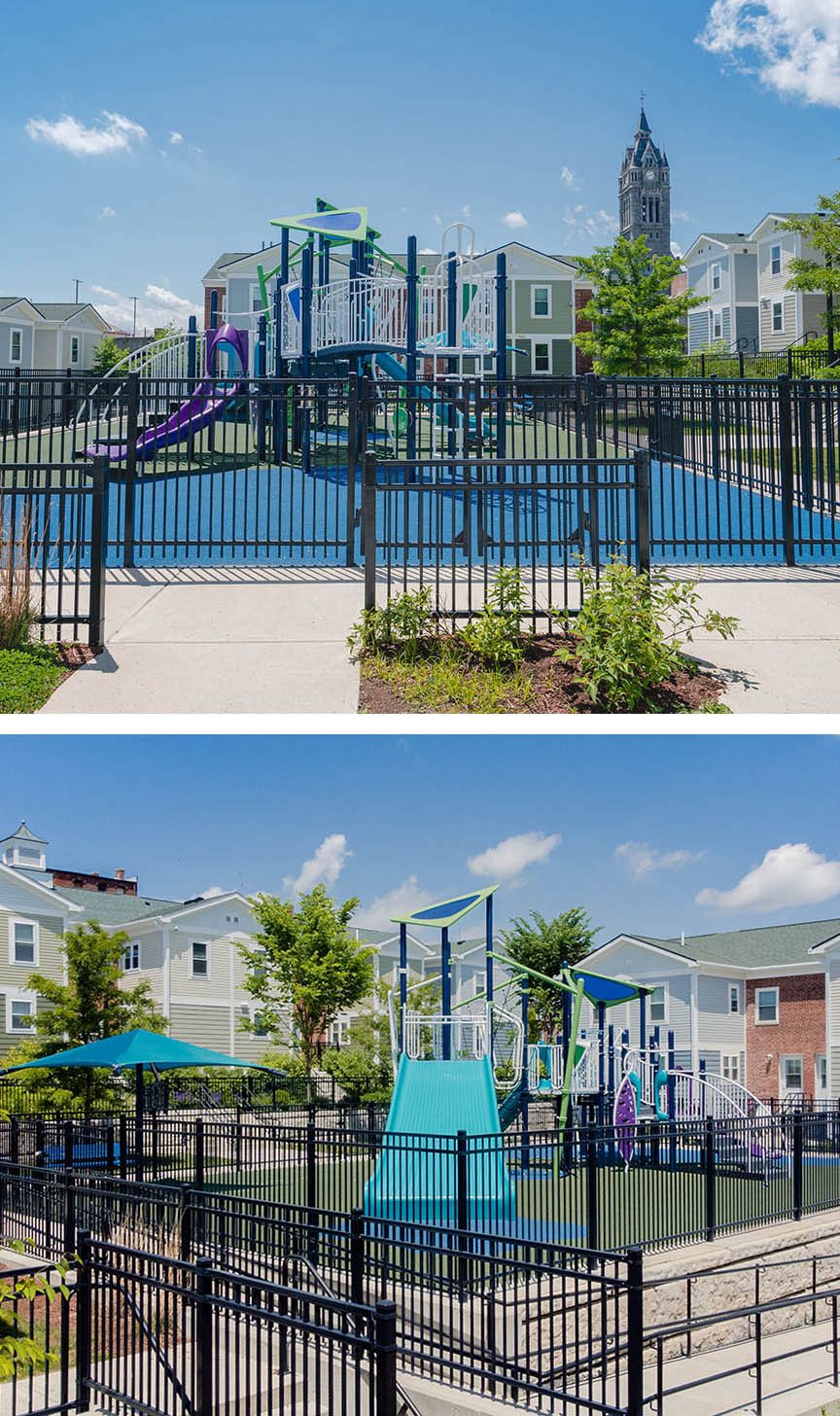 MHP's role in achieving Fitwell certification
Created in 2016 by the U.S Centers for Disease Control (CDC) and the U.S. General Services Administration (GSA), Fitwel was used first for commercial buildings and then expanded to multifamily properties. Lyman Terrace achieved a 1-star Community Certification, making it one of the only affordable developments to be awarded under this new program. Award categories for Fitwell range from built-in design features, operations, resident services, the location of the building, and access to on-site and off-site amenities.
There are many advantages to the Fitwel process. Fitwel has an accessible system and a faster timeline for the application and review in comparison with other healthy housing certifications. Fitwel offers a user-friendly digital portal and full certification scorecard, which developers can use to benchmark as the project progresses.
Developers do not have to contract with a third-party consultant to achieve certification. However, there are advantages to working with partners who are trained as "Fitwell Ambassadors." These ambassadors can expedite the application process and facilitate direct communication with the Center for Active Design, which manages the Fitwell process. At MHP, David Hanifin is a certified Fitwell Ambassador and he worked closely with the TCB development team to build its Fitwel application.
Healthy features at Lyman Terrace
Built in 1939, the demolition of Lyman Terrace would have been a disaster for the community, forcing hundreds of residents to find housing farther away from downtown and services. In 2011, MHP and MassDevelopment spearheaded a dialogue with the community, the city and the housing authority to find a financing solution to save the property, improve the apartments and revamp the access in and out of the neighborhood to make it more secure and resident-friendly.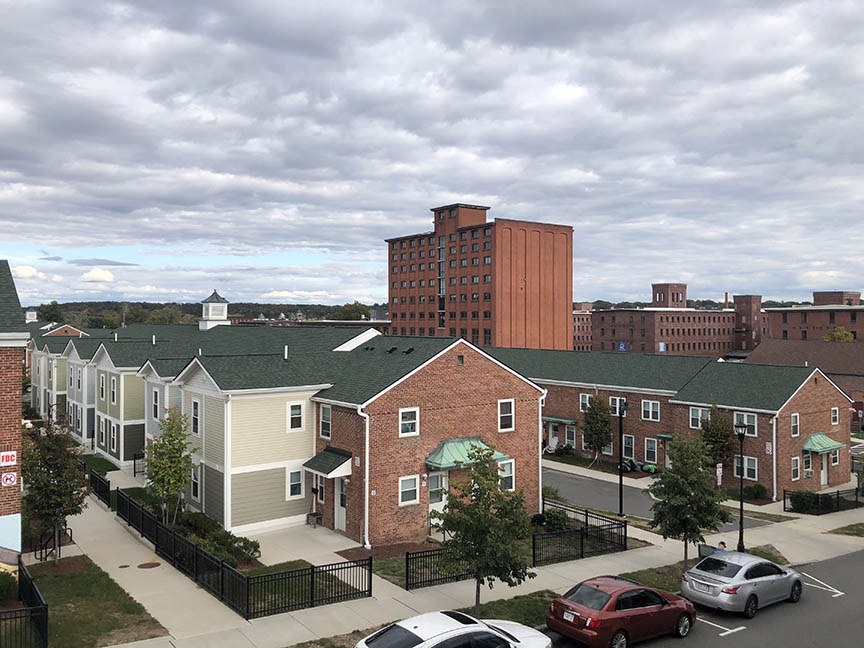 In 2014, The Community Builders was selected as the developer and began an extensive two-phase rehabilitation of the neighborhood. Enhancements included expansion of the square footage for the units, a playground that was designed based on community feedback, and a community center that hosts various programming opportunities for the residents. These design features were a major aspect of Lyman Terrace's Fitwel application, but other awarded features included safe street infrastructure, open spaces, childcare facilities, community gardens, and access to fresh and locally grown produce.
"The Community Builders shares MHP's and Fitwel's commitment to sustainable and resilient development, making Holyoke stronger and more accessible through health-focused resources and community partnerships," said Rachana Crowley, director of real estate development at TCB. "Our residents are at the center of all we do, and the cost-savings from our Fitwel certification through MHP allowed us to expand our Community Life initiatives for 164 local families. Residents have access to volunteer opportunities, programming for seniors, after-school education and an onsite food pantry, and benefit from a community center, playground and community gardens, which contribute to the overall health and wellbeing of our community."
The collaborative spirit is also seen in the partnerships with external community organizations such as the Food Bank of Western Massachusetts, the City of Holyoke Parks and Recreation Department, the Boys and Girls Club of Greater Holyoke, Learn in Motion, and One Holyoke CDC.

In addition to its early technical assistance to find a solution to save the property, MHP provided a $4.3 million loan for Phase 1 and a $5.3 million loan for Phase 2. Lyman Terrace is the first development to receive MHP's interest rate discount for incorporating healthy features into its project. Since then, MHP has two made two more loan commitments to borrowers who are pursing MHP's healthy housing incentives.
Fitwell isn't the only building standard developers can pursue to achieve discounts from MHP's healthy housing program. Incentives can also be achieved with certifications from the WELL Building Institute or Enteprise Green Community Partners.
For more information about MHP's Green & Healthy Housing programs, and how you can pursue Fitwell certification for your development, email David Hanifin at dhanifin@mhp.net.
(Deepti Kamma is a lending associate at MHP who is deeply committed to promoting how to bring in green and healthy features to affordable housing).