Posted on March 6, 2023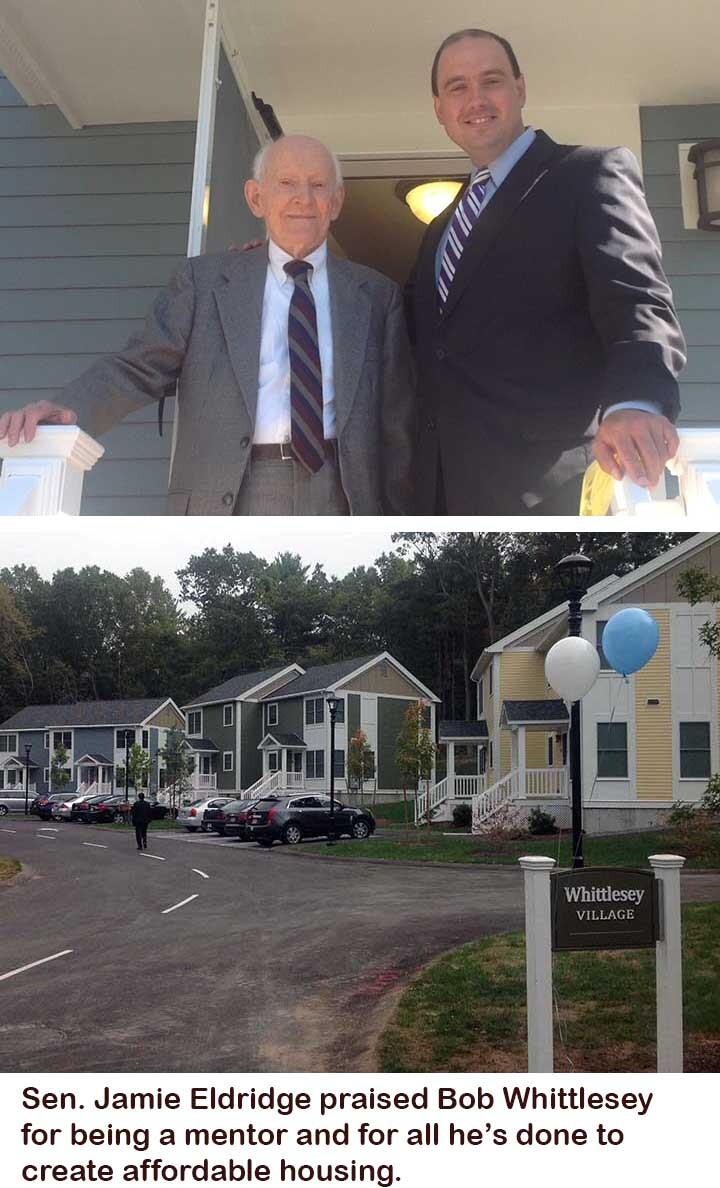 (Update: Bob Whittlesey passed away on Feb. 27, 2023 at age 101. During his career, he created three impactful nonprofits and also was involved in his hometown, serving as chair of Acton housing authority board until age 100. His obituary is a tribute to his public service).
ACTON, Oct. 1, 2013 --- The grand opening of Whittlesey Village was an opportunity to see 12 new affordable rental homes for families and to understand why the town and its housing authority have been successful at increasing the town's supply of affordable housing over the last 30 years.
Developed by the Acton Housing Authority and named after longtime resident and housing advocate Bob Whittlesey, the development features nine two-bedroom and three three-bedroom rental homes, all affordable to families under 50 percent of area median income or no more than $47,200 for a family or four. Three units have been specifically set aside for formerly homeless families.
"Bob Whittlesey is a pioneer, the Acton Housing Authority is a stellar organization and the town has been very supportive," said Aaron Gornstein, the Patrick Administration's undersecretary for housing. "This could not have happened without the town putting in Community Preservation Act funds because CPA funds leverage what the state puts in and helps make it possible for homeless families to live here and have access to supportive services that will help them achieve longterm success."
Legacy in affordable housing
Whittlesey himself served as master of ceremonies and promptly thanked the town for approving three CPA expenditures. All the ensuing speakers thanked the town for its support and Whittlesey for his mentorship, can-do attitude and many years of work in affordable housing.
A longtime housing professional and advocate who is respected across the state for his previous work with the Boston Housing Authority, the South End Community Development Corp. (now The Community Builders) and the Boston Housing Partnership (now Metro Housing Boston). Whittlesey has also served the town as a member and chairman of the Acton Housing Authority and on the board of the Acton Community Housing Corporation. At ACHC, he was integral in the effort to convince the town to redevelop the Towne School into affordable housing.
"When I was in law school and thinking about what sort of public service career to pursue, one of the people I sought out for advice was Bob," said state Sen. Jamie Eldridge, who is now Senate chair of the legislature's housing committee. "He has always been a mentor to me and it is fitting that this housing is named after him, after all he's done for affordable housing."
MHP's high-opportunity program
Whittlesley Village was developed through MHP's Neighborhood Rental Initiative Program, a $5 million privately-funded subsidy program that supports the creation of affordable housing for families in high-opportunity communities characterized by good schools, proximity to jobs, high housing costs, and a shortage of affordable housing. Other communities that have used the NRI program include Barnstable, Chelmsford, Hopkinton, Mashpee, Sudbury and Truro.
For Whittlesey Village, MHP has provided a $1.050 million first-mortgage commitment from its bank-funded loan pool and $750,000 in NRI second mortgage financing. Additional financing was provided by the state's public housing division and from its Housing Stabilization Fund and the Affordable Housing Trust Fund. Property Casualty Initiative provided construction financing. The Community Development Economic Assistance Corporation (CEDAC) provide early funding to help the housing authority get the project started, as well as funds from Home Funders, a charitable fund that helps developers offer units at lower rents to formerly homeless families.
The Town of Acton provided a total of $702,000 in CPA funds and $388,000 through the sale of three condominiums that had been owned by the housing authority. The town also granted a Ch. 40B comprehensive permit. Whittlesey Village was built on land behind the housing authority's McCarthy Village senior housing and family housing on Sachem Way. Triumph Modular did the construction, assembling six modular buildings with two units each.
"Every community in the Commonwealth needs this type of housing and we created the Neighborhood Rental Initiative to demonstrate that this type of smaller housing development could be built on a neighborhood scale that fits in with the community," said Clark Ziegler, MHP's executive director. "If every town were as consistent as Acton in producing affordable housing, we wouldn't have a housing crisis."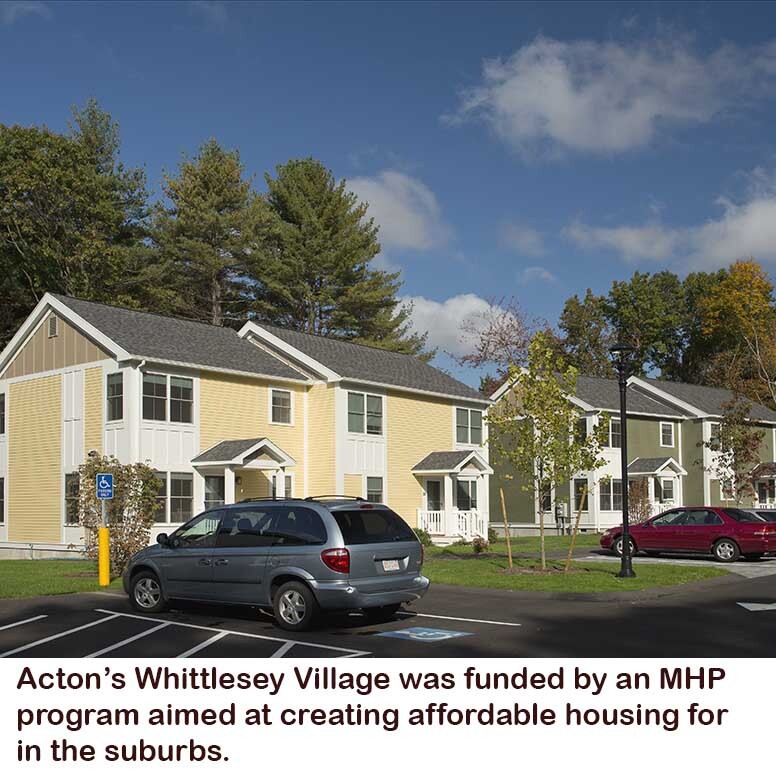 Housing authority director recognized
Also speaking at the event held on Sept. 30 were CEDAC Executive Director Roger Herzog, Acton Board of Selectman Chair Janet Adachi, Ken Sghia-Hughes and Bernice Baran of the Acton Housing Authority board, Nancy Tavernier of the Acton Community Housing Corporation, former housing authority director Betty McManus, Triumph Modular President Cliff Cort and Kelley Cronin, executive director of the Acton Housing Authority.
In her closing remarks, Cronin thanked McManus for her many years of service to the housing authority dating back to 1978, and for overseeing the housing authority as it increased its portfolio from 30 to 300 units. In recognition of McManus' contributions, Cronin announced that the Sachem Way family housing would be renamed McManus Village.
Cronin also thanked the many town boards who provided support for the development, including the Community Preservation Committee, the planning board, the town's building department and the health department, which OK'd the project hooking up with existing sewer lines. Cronin also thanked the town's Land Stewardship Committee for funding a trail that connects the property with nearby conservation land.

For more information about this development and MHP's financing programs, contact MHP's Nancy McCafferty.