Posted on September 11, 2023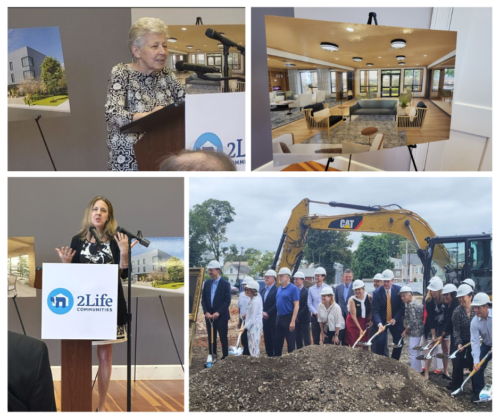 WALTHAM --- Developers, state and local officials, advocates and funders donned hard hats and picked up shovels in celebration of Leland House, an affordable housing development for seniors.
Developer 2Life Communities, a nonprofit senior living organization, will construct 66 passive house units available for residents 62 years of age or older with income at or below 60 percent of the area median income (AMI).
The structure will stand at the site of the former Leland Home, a community founded by Hannah Leland in 1879 that provided residential and nursing care to seniors in Waltham for nearly 140 years. In 2020, Deaconess Abundant Life Communities announced it would shut down the facility and move the remaining residents to other locations.
MHP is providing $2.7 million in permanent financing.
2Life Communities' Vice President Lizbeth Heyer called it an honor to establish a community in Waltham. "We can't wait to be your neighbor. Leland Home was incredible to this community. We're honored at the incredible generosity that Hannah brought to the Leland Home. The board made sure her vision is carried out."
"I am so excited that Waltham has embraced this resource," said Secretary William Augustus of the Executive Office of Housing and Livable Communities. "Isolation is not good for seniors' long-term health. Seniors who grew up in this community can stay here."
This is MHP's second loan with 2Life Communities. The first was Weinberg House, at 132 Chestnut Hill Avenue, Brighton, done as an FHA Risk Share. MHP committed $3.25 million in a permanent first mortgage loan to 2Life Communities to support the six-story building with 61 residential rental units at or below 60 percent AMI for seniors and adults aging with developmental disabilities.
View other developments MHP has supported in the Greater Boston region.
2Life is recognized nationally for its aging in community philosophy, creating communities of mutual support and caring in which senior adults can live independently.
For more information contact MHP Communication Manager Lisa Braxton at Lbraxton@mhp.net or at (857) 301-1526.