Posted on September 22, 2022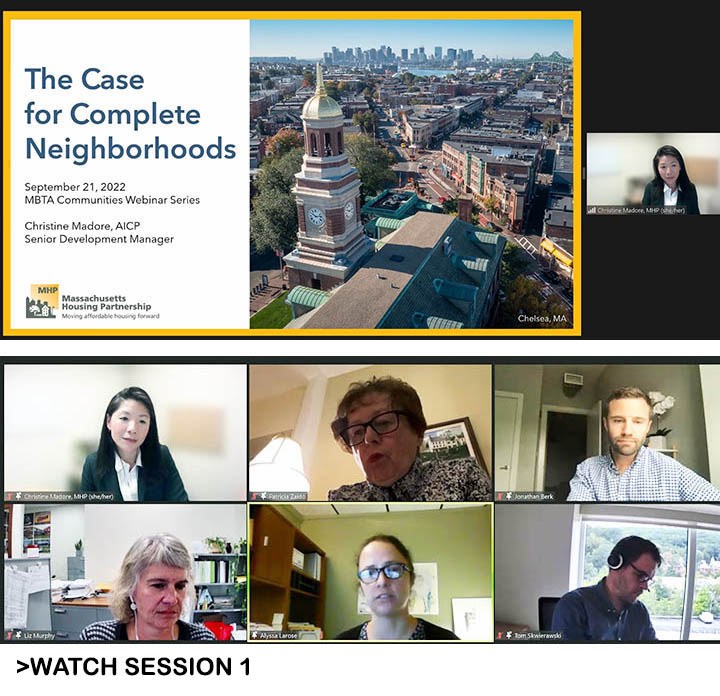 BOSTON --- The Massachusetts Housing Partnership (MHP) kicked off its 9-part webinar series this week with an overview of its Complete Neighborhoods Initiative and a panel discussion on what communities are doing to build housing that's walkable, near transit and our daily needs.

The series - entitled More Than Compliance: Multifamily Districts That Work in Your Community - is being held to provide information about how MBTA communities can take steps to comply with the state's new multifamily zoning requirement and how all cities and towns can use the law's intent to create housing that benefits community needs.
"We want to look at various parts of the compliance process, explain it and talk about how communities can think a little bit bigger and create developments that address broader communities needs, like better transit, climate and equity," said MHP Community Assistance Manager Claire Morton, who is planning this series.
In session 1, MHP Senior Development Manager Christine Madore explained the Complete Neighborhoods concept and how MHP is supporting three communities and two regions through its Complete Neighborhoods Partnership awards program.
Madore then moderated an expert panel discussion on efforts to create housing near transit. The panel included Alyssa Larose of the Franklin County Regional Housing and Redevelopment Authority, Patronicity Vice President Jonathan Berk, Salem for All Ages VP Patricia Zaido and Liz Murphy and Tom Skwierawski from the City of Fitchburg.
Topics & Schedule
The series is scheduled to run for nine consecutive Wednesdays, from 12 to 1:30 p.m. Topics to be addressed include:
Sept. 21: The Case for Complete Neighborhoods with Christine Madore, MHP. WATCH THE VIDEO
Sept. 28: Water and Wastewater Basics for MBTA Communities (Hancock Associates)
Oct. 5: Complete Streets and Neighborhoods for MBTA Communities (Metropolitan Area Planning Council)

Oct. 12: Encouraging Family-Friendly Housing in MBTA Districts (Metropolitan Area Planning Council)
Oct. 19: Including Affordability in Your MBTA District (Metropolitan Area Planning Council)
Oct. 26: Exploring Housing at Different Densities (Southeastern Regional Planning and Economic Development District)
Nov. 2: Siting Your District for Adjacent Communities (Southeastern Regional Planning and Economic Development District)
Nov. 9: Making the Case for Affordable Housing: Local Engagement and Narrative Change (Citizens' Housing and Planning Association)
Nov. 16: Site Plan Review (Barrett Planning Group)
There is no cost to attend the webinars. For more information contact MHP's Claire Morton at cmorton@mhp.net.
This series is part of MHP's Complete Neighborhoods Initiative, which is supporting the state's efforts to build more multifamily housing near transit, downtowns, jobs and services. Additional resources and trainings will be rolled out regularly throughout the law's two-year compliance period. All materials related to MBTA zoning and our Complete Neighborhoods Initiative are on the Housing Toolbox and also at www.mhp.net/mbtazoning.
Read the final guidelines
On Sept. 8, the state held a webinar to provide an overview of the new law, which is Section 3A of the state's zoning act. The webinar covered key changes made from draft to final guidelines and a description of the compliance model that will be used to estimate multifamily capacity.

Watch the Section 3A Guidelines Webinar
Download the Section 3A Webinar slides
Go to the DHCD web site for more information.