Posted on June 15, 2022
BOSTON --- MHP has recognized the Town of Wellfleet this week with a Housing Hero Award for its collaborative efforts and creativity in increasing affordable housing opportunities.
The town was recognized on June 8 in a virtual awards ceremony at MHP's 15th Housing Institute, a two-day training conference for local officials and volunteers. Each year MHP recognizes communities and individuals for excellence in affordable housing and economic development. MHP is a state housing organization that uses bank funds and other capital sources to support and finance affordable housing.
Wellfleet was honored for its efforts to coordinate the activities of its housing authority, housing partnership, housing trust, other groups and interested citizens in advancing its housing goals.
"Wellfleet is building a strong foundation from which it can continue to increase local housing opportunities," said MHP Communications Coordinator Lisa Braxton in her presentation remarks to Wellfleet. "That foundation is already yielding results – the possibility of 46 affordable or mixed-income units on town land."
A key to the town's coordinated effort is the creation of Wellfleet Housing, an umbrella group which represents the efforts of the town's housing trust, housing authority and housing partnership. The group works together to address the town's needs for year-round housing and connect residents with housing assistance.
A unique aspect of Wellfleet Housing is its education, advocacy and fundraising campaign called "Housing Angels." This effort uses volunteers to support efforts to educate the public about the need for affordable housing and raise funds for its housing trust. Donors of land, houses, and money are known as "Housing Angels." Many donations have been received and other Angels donated their professional services to create a brochure and develop a new wellfleethousing.org website.
Last summer, Wellfleet Housing organized an outdoor event at Preservation Hall called "Housing Angels in Story and Song". The public brought lawn chairs and blankets to hear local musicians perform songs about housing and purchase art with a housing theme. Some songs were written for that event. Others told personal stories about the challenges and successes of their own housing journey. Plans are underway for a similar event in August 2022.
Another factor in Wellfleet's efforts to build capacity is the establishment of a Municipal Affordable Housing Trust in 2020. This has enabled the town to better leverage Community Preservation Act funds for housing, add expertise and receive technical assistance from state organizations like MHP.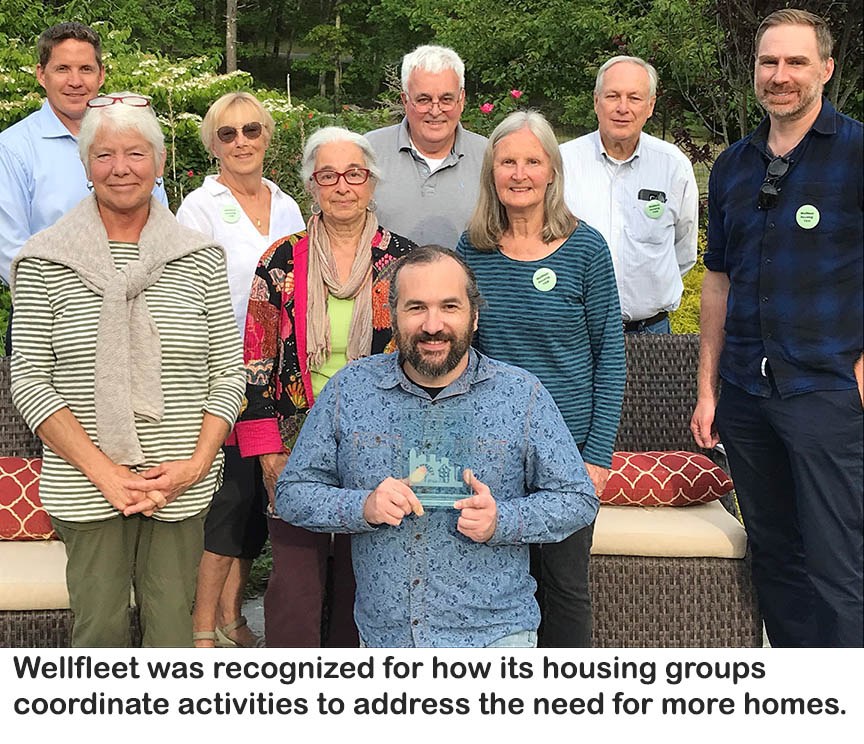 In its efforts to increase housing supply, the town recently passed a bylaw allowing accessory dwelling units, moved forward on a 46-unt affordable housing proposal on town land and hopes to purchase a campground that will be used for more affordable housing.
"Wellfleet has had housing problems and in the last two years, these problems have become pretty catastrophic," said Select Board Chair Ryan Curley in his acceptance remarks. "From 2020 to 2022, the median price of a single-family home has jumped 45 percent and people who lose their housing now have no place to go. That's why it's critical to build out capacity and utilize everybody who is interested in housing and advocating for it."
Wellfleet was one of four to receive Housing Hero Awards from MHP this year. Also honored were the City of Chelsea, Jennifer Raitt, Arlington director of planning & community development, and Engine 6, a community of Newton residents dedicated to expanding housing availability in Newton.
About MHP: MHP is a state non-profit organization that uses bank funds and other capital sources to support and finance affordable Housing. Since 1990, MHP has provided over $1.4 billion for the financing of over 26,000 apartments and has helped over 23,000 low- and moderate-income households buy their first home through the SoftSecond and ONE Mortgage programs. MHP's Community Assistance team has provided support and technical assistance to over 300 communities and its Center for Housing Data does policy research and creates web-based tools to increase understanding and promote policies to allow more housing in response to demand.