Posted on August 11, 2022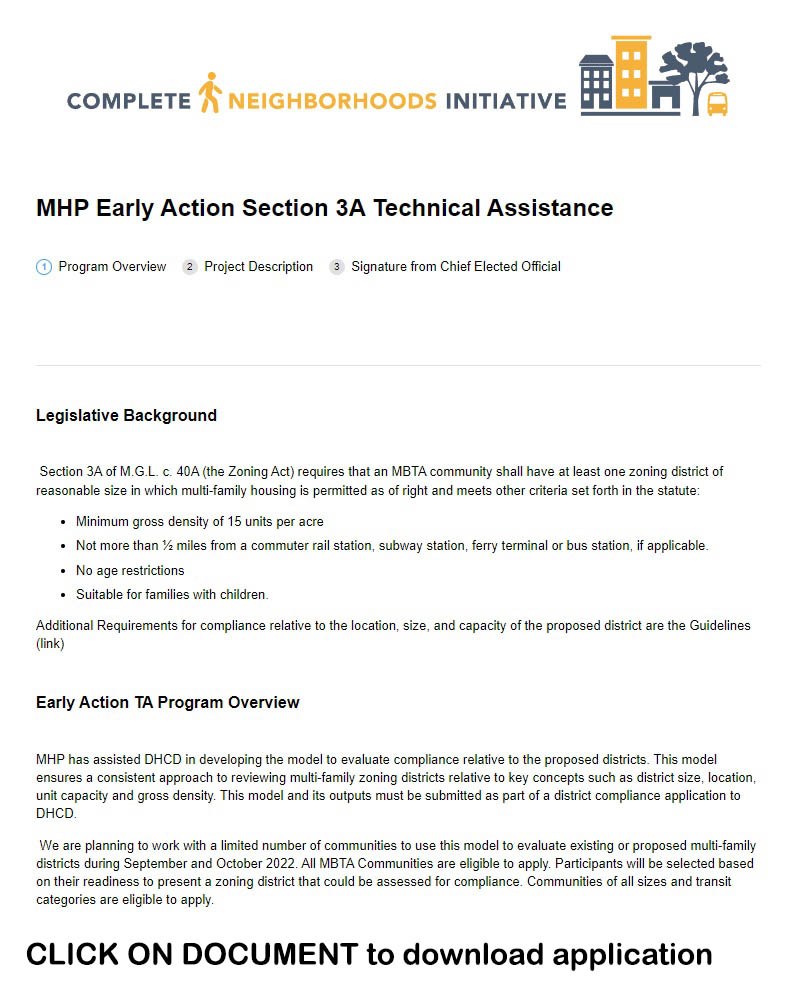 BOSTON --- In conjunction with the release of final guidelines for the new zoning requirement for MBTA communities, the Massachusetts Housing Partnership (MHP) is rolling out a technical assistance program to help communities comply with the new law (Section 3A of the state's zoning act).
"This new law is an opportunity for communities to think differently and plan better," said Clark Ziegler, MHP's executive director. "To that end, MHP will be providing resources, training and direct technical assistance designed to help local officials understand the law and use it to plan for new housing that will relieve pressure on rents and home prices, reduce traffic and help meet the Commonwealth's climate goals."

The final guidelines - released on Aug. 10 by the state Department of Housing and Community Development (DHCD) - include deadlines for interim and full compliance with the law, known as Section 3A of the state's zoning act.
MHP's technical assistance program for MBTA communities is part of its Complete Neighborhoods Initiative, which is supporting the state's efforts to build more multifamily housing near transit, downtowns, jobs and services. Resources and trainings for MBTA communities will be rolled out regularly throughout the law's multi-year compliance schedule.

All told, MHP has $2.5 million in funding that's exclusively dedicated to MBTA zoning assistance, with the ability to increase that amount if needed. MBTA communities may also apply for help from four different state planning grant programs that total more than $14 million annually.
Among the MHP initiatives are:
Communities needed now for Early Action Technical Assistance Program
For several months, MHP has been assisting DHCD in the development of a compliance model that will measure proposed districts according to guideline requirements. Starting now, MHP will provide direct technical assistance to a limited number of municipalities interested in working with us to evaluate an existing or proposed MBTA multi-family zoning district using the compliance model.
Participants will be selected based on their readiness to present a zoning district that could be assessed for compliance. Communities of all sizes and transit categories are eligible to apply. If you are interested, please apply now.
Applications will be accepted through August 30, 2022 and will be reviewed on a rolling basis. To apply, fill out this application form. For more information contact MHP Senior Planner Katy Lacy at klacy@mhp.net.
MBTA Communities Technical Assistance Program (3A-TA)
To help communities comply with Section 3A, MHP staff and pre-qualified consultants will offer free and direct technical assistance to municipalities. Eligible activities will include siting and mapping the district, developing appropriate use and intensity requirements, calculating capacity yield, drafting zoning by-law/ordinance and community engagement.
The application for the 3A-TA program will be available in September. Funding for the 3A-TA program is being provided by the state Department of Housing and Community Development (DHCD), Massachusetts Department of Transportation, the Barr Foundation and MHP. For more information, contact MHP Senior Planner Katy Lacy at klacy@mhp.net.
MBTA zoning webinar series
This fall, MHP will offer a lunchtime webinar series on subjects that communities should consider when planning multi-family districts. Entitled More than Compliance: Multi-Family Districts that Work for Your Community, the series will feature experts on a variety of topics ranging from infrastructure basics to community engagement and messaging strategies.
A full series schedule and registration details are being finalized now. For more information contact MHP's Community Assistance Manager Claire Morton at cmorton@mhp.net.
Read the final guidelines
Go to Mass.gov to read the final guidelines and get the latest information about the new law. In total, 175 MBTA communities are subject to the new multifamily zoning requirement. MBTA communities must submit an action plan to DHCD by Jan. 31, 2023, and achieve full compliance according to the following timetable:
Rapid Transit (12 communities): Dec. 31, 2023
Commuter Rail (69 communities): Dec. 31, 2024
Adjacent (59 communities): Dec. 31, 2024
Adjacent Small Town (35 communities): Dec. 31, 2025
MBTA zoning web sites & mailing list
All materials related to MBTA zoning compliance and our Complete Neighborhoods Initiative will be posted on our Housing Toolbox web site and on our MHP web site at www.mhp.net/mbtazoning.
You can also invite others to sign up for our MBTA zoning mailing list to receive regular updates on resources and webinars related to how to comply with the law.
Related stories
Baker-Polito Administration announce final MBTA zoning guidelines
Advocates OK with compromises in MBTA zoning guidelines
MHP's take: Final guidelines major step forward for Commonwealth